A Taste of Tamil Nadu
I almost swore that I wouldn't publish any more posts about Indian food in Saudi Arabia.   However, a recent journey to the Eastern Province city of Dammam changed that idea.
After a long and cramped bus ride from Riyadh, I was famished.  Immediately after checking into my hotel, I ventured out for a stroll to find a bite of what I hoped would be ethnically exotic.
After walking for about a minute in the direction of the Persian Gulf strip, I peeked my head into a little Indian joint that was astonishingly clean.
Receiving hospitable gestures from a couple of the men that seemed to be running the place, I said:
"What kind of food do you have?  Is it from Kerala?"
"Tamil Nadu."
"Do you have Masala Dosa."
"Yes have".
I was handed a menu and invited to sit down.
My hungry soul was sold.
I'm a huge fan of Masala Dosa.  This one was as good as I've  had anywhere. The extra-long rounded and hollow pancake concoction's center is stuffed with a cooked Indian potato salad.  It's broken off with your hands and dipped into the four refillable sauces in front.  From left to right:  Tomato, coconut chutney, curry, and mint chutney.   This quintessential south Indian dish is  fun to eat, delicious and healthy.  It cost a mere 6 Riyal or $1.60.
This is the Tamil Nadu version of a South Indian Thali.  From left to right the all-you-can-eat side dishes that are refilled on request are, ajar or pickled chutney, curd (like yogurt), sweet rice pudding, a vegetable called porlanga ( the word is from the Tamil language and impossible for me to translate at the moment), bitter gourd or bitter melon, beets, tamarind curry, tamarind soup, dahl (lentils) and fish curry.  My absolute favorite that I tried for the first time here is the tamarind curry which I made sure to get refilled a couple of times.  In the middle you see the Indian flat, crisp bread papadum on top of chapati or roti which is typically served for lunch.  They also brought me rice.  At the top left you see a moist and fresh fish fry which came with this set lunch that cost just 12 Riyal or $3.20.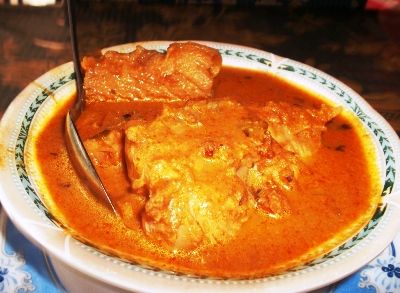 This fish curry is perhaps the best I've ever had.  Like the fish masala photo at the top, it was 'dissolve in your mouth' fresh.  This is because Dammam sits right on the Persian Gulf (called the Arabic Gulf in Saudi Arabia).  The difference in taste compared to the fish in desert-locked Riyadh is colossal.   In Dammam both the air and fish seem many times fresher than in the gigantic capital of Riyadh where I temporarily reside.  This very tasty fish curry I had added to my Thali lunch above for a mere 8 Riyal or $2.13.
This father and son team of produce merchants asked if they could be in the picture I was trying to take of the Mas Restaurant from the outside.   They thanked me and even gave me a banana.  Like many Saudis I come across, they asked me where I'm from and thought it was really cool that I am from the United States.  Saudis really seem to like Americans.
You see the Mas Restaurant right behind these fruit and veggie guys.  It's located on 9th street in Dammam, next to the the Gulf Flower Hotel where I stayed.  This Tamil Nadu restaurant that I highly recommend is across the street from a huge post office.
Tamil Nadu is one of 28 Indian states and sits at the bottom right of the subcontinent,  just above the country of Sri Lanka.
I recently spent about 24 hours in Dammam and the city next door Al-Khobar. During this time I ate exclusively (three times) at the Mas Restaurant because I enjoyed it so much.