Captured for the Camera in Beautiful Baños
Last year at this time I was planted in the laid-back little Andean town of Baños, Ecuador.  It's the type of place you can easily get stuck in for a while, especially if you're feeling weary of traveling.
Because the town thrives exclusively on tourism, it's traveler friendly.  It's also very affordable.  Included in the town's attractions are therapeutic visits to mountain hot springs.  There's also a strip of massage therapy salons, and plenty of nice places to eat.
I'm currently sifting through my Ecuador photos of last year.  I picked out 12 random ones from Baños that I feel deserve to be part of this post.
Included in the 12 is the one above, which shows a picture from high above the small town.
ENJOY!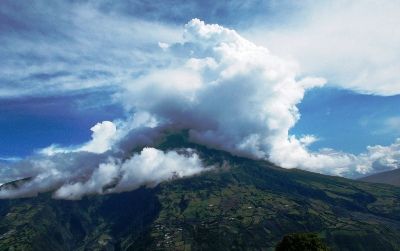 When I took the very top photo, I was on my way to this look out point called Ojos del Volcán  or the Eyes of the Volcano.   This was as close as I'd get to Volcán Tungurahua.  About a week later, while walking to Termas El Salado, I caught a view of this volcano erupting.   I later learned that it had erupted around two hours prior to that view.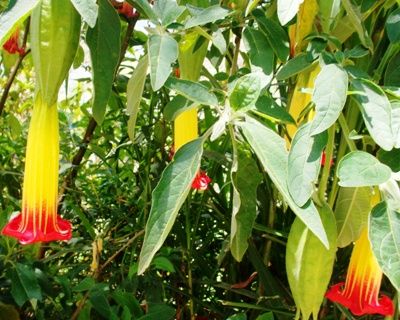 I have no idea what these exotic Andean flowers are called but I came across them on the same trail that led me to the eyes of the volcano.  As Baños sits at an altitude of 1,815 meters or 5,955 feet and just a mere 1.24º south of the equator, the flora can be spectacular, as seen here.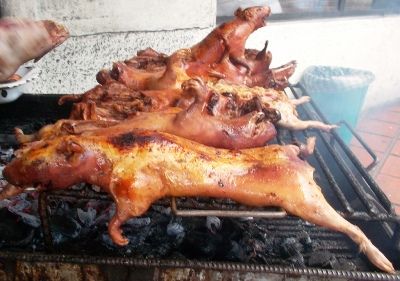 These Guinea Pigs or Cuy were being grilled right on the sidewalk.  A foreigner may find himself shocked but this is second nature to many in the region.  Cuy is a common dish in parts of Colombia, Ecuador, Perú and Bolivia.  What I find especially striking about this shot is the Guinea Pig at the top of the photo. It looks as if it was screaming in agony (and still is) as his world was horrifically terminated.
While meandering along a side street, I came across this pair of photogenic canines.  They had absolutely no interest in me or my camera as they were transfixed upon another one of their own kind being walked by its owner.
This is a walking view from a typical stroll along an idyllic narrow street. Like everywhere I visited in the Andes, the weather varies from sun, to gray, to rain many times daily.  The climate I found to be perfect.
During a personalized tour of the Fundación Arte Del Mundo, a non profit organization that provides poor children with education in literacy and art, these two girls gave me a lesson on world geography.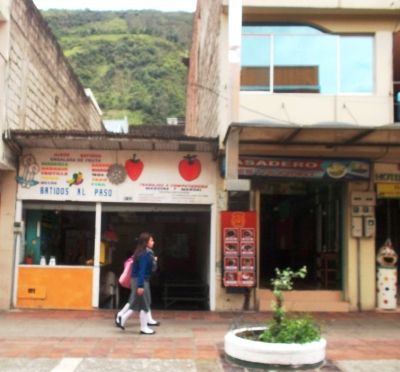 What I find compelling about this shot is that the two girls appear to be walking perfectly in-sync.  Other than seeing two pairs of feet and legs, it appears as if there is only one schoolgirl.
First I walked past the beggar and was horrified by what I think was a Gangrene infested leg.  After walking by the little girl I stopped and looked at her, trying to imagine what was going through her mind as she stood, mesmerized, gawking at the man.  This went on for at least a minute before I pulled my camera out and started snapping.  As I walked away, this very young girl was still transfixed on the man.   I'm sure that her gaze implanted a lifelong memory.  I thought: Reality can be brutal.
I will chalk this up as a controversial shot.  I bought their food but didn't ask if I could have a photo. At the time, I didn't notice that the two women were unhappy as I was merely taking what I thought were inconspicuous shots.  This is in the central market.  These two women must be tired of foreign tourists wielding their cameras about.   I don't mean to be malicious.  This photo was an accident.  Because of its uniqueness, I found it to be worthy of posting.
This photo was also shot in the central market.  I found this woman to have the best selection of fruit in the whole place so I bought from her on numerous occasions.  Fortunately, she was more than happy to pose in front of the wonderfully colorful array of tropical fruits and veggies that she sold daily.
Baños is a town that's known throughout Ecuador for its production of melcocha or fresh taffy made from sugar cane.  While walking along the taffy shops strip, this happy and kind lady insisted I try some and take a photo of her.
- – - – - – - – - – - – - – - – -
Baños is one of the most popular tourist destinations in Ecuador.  It's a natural wonderland that boasts over sixty waterfalls.  It's known as the gateway to the Amazon and is a town that I  recommend visiting if you ever make it to Ecuador.
- – - – - – - – - – - – - – - – -
If you like this and other posts, feel free to like my Facebook page.