Captured For the Camera: 20 Photos From Hindustan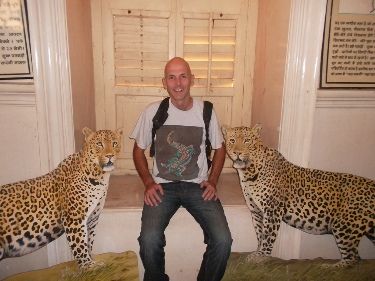 Back in 2011, I was fortunate to spend many months traveling through subcontinental India, known as Hindustan in the Hindi language. Hindustan is the most eastern of the Stan countries.
I'm still in the midst of a photo overhaul from the last two years of travel and am currently on I for India.
I've sifted through and come up with 20 desirable shots that have yet to find a home on this blog.   They come from eight of the 28 Indian states.  That reminds me.  I've only made a dent in this huge, diverse and magical country.
Feel free to click on the following images to get a grander view and a manual slide show.
This photo of Chowpatty Beach was taken in the Colaba District of Mumbai in the state of Maharashtra. With a population of over 20 million people, Mumbai is India's most populated city.
This one was taken at the Gateway of India in Mumbai, formerly Bombay, and still often colloquially known by that name.  This structure was built in 1911 to commemorate the arrival of King George V and Queen Mary of England.  In earlier times it was the first structure people saw when arriving to Bombay by boat.  It's currently the city's top tourist attraction.
While walking around Mumbai's Victoria Station, I was looking for things to take pictures of  when this girl walked up and asked if I'd take a photo of her.  Her parents stood obliviously to the side.   I took one snap. She thanked me and walked away.   To this day, India is the only country where people have asked me to take their photo with my camera.  This is the land where karma originated.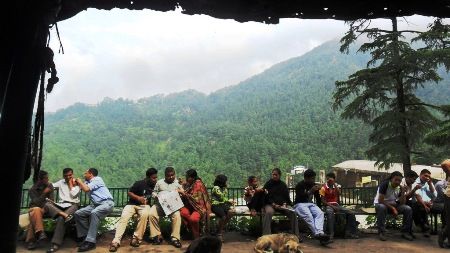 This photo was taken inside a coffee shop in McLeod Ganj, a suburb of Dharamsala in the northern state of Himachal Pradesh.  What I find interesting is observing the personal space factor.  In cold climates like where I'm from, we value our personal space.  But in warmer climates, there tends to be much less need for it.  In the middle you notice three people sharing a newspaper.  It reminds of the intimate Internet cafes throughout India where as many as three or four people would sometimes share a computer right next to me.  This caused me to achieve a greater openness and tolerance for something I wasn't used to.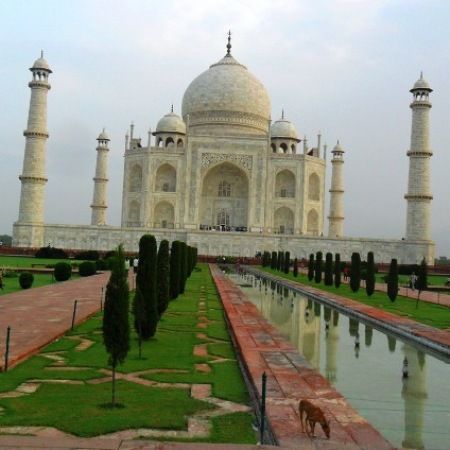 This is the world famous Taj Majal in Agra, in the state of Uttar Pradesh.   I experienced awe and wonder while witnessing this prestigious work of architecture.
This photo comes from the entrance of an ashram in the city of Rishikesh, or more precicely, Laxman Jhuhla, across the Ganges River from Rishikesh in the Himalayan state of Utterakand.  An ashram is a religious retreat for people who practice the Hindu religion.
This photo was taken from the terrace outside my 450 Rupee or $8.33 hotel room in Luxman Jhula. Monsoon season had just commenced.  One night I was awoken by thunder.  I opened my door and looked down to see the Ganges being illuminated by lightning over and over again.  It's one of the most vividly surreal memories of my travels.   Unfortunately, I wasn't swift enough to capture a photo of that.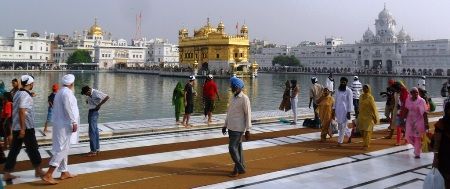 Taken at the Golden Temple in Amritsar in the state of Punjab.   This is the spiritual center for people who practice the Sikh religion.
You see that this one was also shot at the Golden Temple.  As this sacred venue is so photogenically pleasing, I decided to show it to you twice.

This street scene comes from outside the Kalighat Kali Temple in Kolkata in the state of West Bengal. Hindu pilgrims from all over India flock here to worship.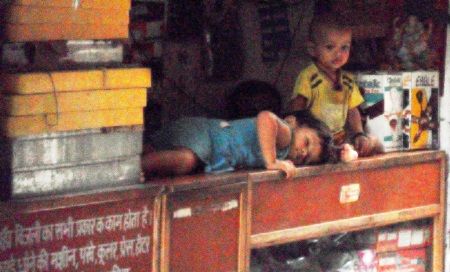 This blurry photo comes from the Pahar Ganj market area in India's capital city of Delhi, in the National Capital Territory, which, like the District of Columbia in the United States, isn't considered a state.  This capital zone is nestled between the states of Haryana and Uttar Pradesh.  If I had stopped, relaxed, and focused in on this photo, it may have been one of my greatest people travel shots ever.  At least we get to see what may have been.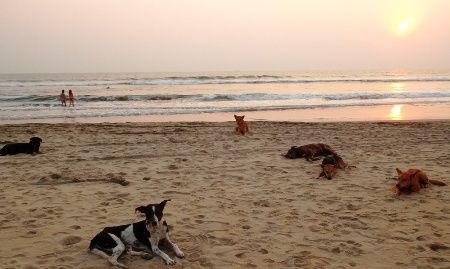 Stray dogs relaxing during sunset on Harmal Beach in Arambol in the state of Goa.  The sun is setting over the Arabian Sea. I assume this is a daily ritual for these tranquil dogs who are probably some of the most fortunate abandoned canines on the planet.
A cow relaxes on a sidewalk in the city of Udaipur,  in the state of Rajasthan.  In most of the cities I visited, cows are able to coexist with humans as they please.   As they're considered sacred in the Hindu religion, beef is not consumed.  Like the dogs of Goa above, cows of India have to be some of the most fortunate bovine creatures on earth.
A baby monkey and mom at the Monsoon Palace outside of Udaipur.  This is the same place where I posed with the two pseudo tigers in the first photo far above.  Troops of monkeys tend to run wild in many parts of India.   As cute as they may be, they're often only after your food.   If they come up to your doorstep, try to resist the urge of feeding them.  If you do, chances are they won't go away.   In India, uneaten food seems to never get thrown away, people and restaurants use it to feed both homeless folks and the seemingly endless stray and wild animals that hover about.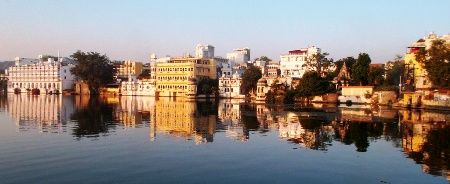 The city of Udaipur has parts that feel like they're out of a fairy tale.  These buildings provide a beautiful mirror effect on Lake Pichola.  Many traveling photographers have dubbed the state of Rajasthan to be the most photogenic place on the planet.
An out of window view of Lake Pichola and Udaipur.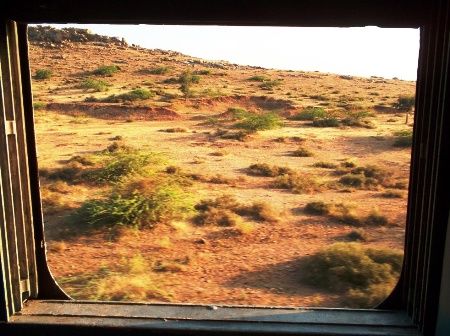 This is a view from a train that I took from Chitor to Bundi in Rajasthan.   It was the only time I had a windowless view while on a train in India.
This one was taken during the same ride as the above photo, just in a different car. What I find compelling is the wide-eyed child in the bottom right corner.  He's the only one aware of the foreigner walking by wielding a camera.
This was taken inside the Chitor Tower in Chitor.  While spending over four months in the grand land that constantly surprises, it was always a pleasure to witness the spectrum of attire worn by groups of women.
Have you been to India?  If not, would you like to go?
If you like this and other posts, feel free to like my Facebook page.