An Impromptu Wedding Guest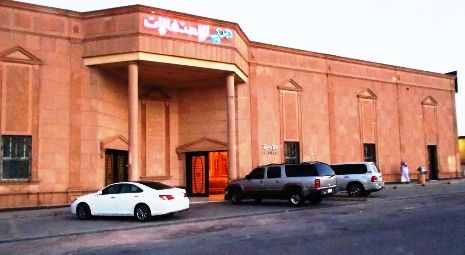 While on my way to find the Thai Restaurant that I'd eventually burn out on after 10 visits, I popped my head into the function hall in the photo. For some reason, I had the idea that someone might be selling Miswak.  As fresh Miswak isn't sold in stores, I hadn't yet figured out that I could find it at a mosque close to my apartment.
As I peeked my head in to see what was going on, a hand grabbed my arm lightly as a head gestured that I come along inside.  I was walked through a large area and to the opposite side of a sizable function room.  There were males of all ages scattered about, looking jovial and at ease.
I was offered a seat in a cushy, comfy chair.  Almost instantly, dates and Arabic coffee were served.  The combination of cardamom and other spices in the delicious caffeinated concoction picked up my spirits.
The man who ushered me in spoke decent English and translated for others who seemed genuinely happy to have me as a spontaneous guest.  I was a lone foreigner in designer khaki pants, a long sleeved, black, half turtle-neck shirt and a blue, hooded, jogging sweat shirt. That was all I'd need to get through the mild Arabian winter.
No one seemed to mind that I was under-dressed for the affair, the only one in western attire and the only person not wearing a thobe: the loose, one-piece, ankle-length, typical Saudi male garment.
I was brought out to the dance floor.  African Saudis played enchanting music powered mostly by drums.  I tried to emulate what everyone was doing, walking in a line with one foot in front of the other while raising the back foot in the air with one arm aloft, swaying the hand of that arm up and down.  After 20 minutes or so I retreated back to my chair.  Kids thanked me for dancing with them.
I had no idea what the special occasion was.  I inquired and was told:
"This is a wedding reception."
"Where are the women?"
"They celebrate in another building."
"Where is the man who got married?"
"There are two, they already left."
Feeling out of place, I stopped asking questions.
Dates, coffee, and tea kept coming.  People of all ages provided greetings of Salam or Hello, warmly welcoming me.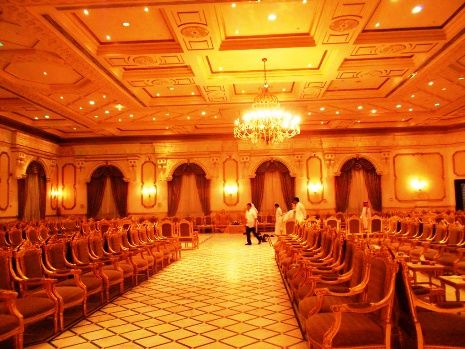 Because it didn't feel right, I didn't pull my camera from my pocket during the experience.  I went back to the venue yesterday evening, popped in, and quickly took this just after snapping the above photo outside.
After some time passed, my host mentioned that it was time for them to eat.  As we got up and started walking towards the food room, I said:
"Thank you so much for your hospitality, enjoy your dinner."
I motioned to leave, thinking that I'd meander out on my quest to find the Thai restaurant that I'd been told about.
But the host said:
"No. You eat with us."
I realized that Middle Eastern hosts are not going to send a guest out when there is food to be eaten, and it was in abundance.
I was lead to a row of sinks where my host and I washed our hands.  We then walked into a huge room that had many tables. Each had a mammoth mound of baby camel meat on a heaping bed of rice.
We sat down and dug our hands into the camel, rice and side salad.  My host pulled off a big chunk of meat and handed it to me.  I wasn't used to my food being handled by others so I made sure to grab hunks for myself while not leaving much leeway between mouthfuls.  The meat was tender and slightly gamy tasting, a bit darker than non-white turkey meat.
Another man and a youngster of about 11 sat down and ate with us.  Without inhibition, the boy started asking personal questions that I could mostly make sense of.  For some reason, the men politely cut him off and kept the conversation frivolous.
When I gestured that I was satiated from the hashi or baby camel meat and rice, the second man went up to a long dessert table and piled pieces of everything onto a large plate that we all shared.
Stuffed, we returned to where we'd been sitting earlier.  At least 150, maybe 200 people seemed to be enjoying themselves.  My host and his friend puffed cigarettes.
I thought:
This is my first wedding reception where I don't know anyone, where there are no members of the opposite gender, and where there is no booze.
It was my first Middle Eastern, and more specifically, Saudi, wedding reception.
I sipped more coffee, made more small talk, and thought:
People in these parts seem to like Americans and Europeans.
I got back on the dance floor a couple of times.  The music grew more intense as midnight approached.  Drums were thumping loudly.
At around 12:30 am I started to feel a little bit tired.  I politely thanked my hosts and told them I was leaving.  Some people made gestures showing that they wanted me to stay.  Children saw me to the door and thanked me for coming.  My first Thai food experience in Riyadh had been postponed for a later date.
If you like this and other posts, feel free to like my Facebook page.