The Saudi Skinny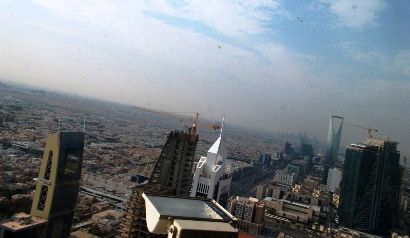 After spending close to 11 months in the forbidden kingdom, I was happy to achieve the goal of finishing a work year there.
On a scale that measures optimism level, I'd probably score high as I have the tendency to focus on the positive side of things.  I'm aware of this habit of paying less attention to the negative. So I'm making it a point to compare the good things with some naturally perceived negatives or realism.  I aim to be objective.
Every land on earth has one definite commonality.  There are pros and cons to everything about it, and various people's perception of these benefits and drawbacks can be vastly different.
I present my story.
14 months ago:  As I anticipated funds drying up, I decided to look for an exotic place to teach ESL, with the hopes of continuing my travel blog.
I researched countries from Chile to China and beyond, finding it tough to target a specific land.  While looking at jobs in random republics, I noticed semi-lucrative paying positions in Oman and Saudi Arabia.  I sent two résumés to each country, for a total of four.
In two days I had a SKYPE interview and a job offer to work at a university in Riyadh, Saudi Arabia's sprawling desert capital.
After reading mostly negative things in online forums, I thought:
I've never been to the Middle East.  For this reason, the whole experience will be fascinating.  I'll learn about a new culture while banking desired drifting dough. How bad can that be? The opportunity feels like a dream.
I'd sometimes heard of people going to Saudi for work.  For a few years, I'd wondered what it would be like.  If you're an engineer, medical professional or ESL teacher, there are always good jobs available.
I arrived on a scorching hot night last August.  During the summer, days and nights present virtual sauna-like temperatures.
Due to a malfunctioned fingerprint machine, I was delayed.   Many men held placards.  One was supposed to have my name.  None did.
I thought:
I'm in Riyadh.  I have no idea what to do or where to go. I was supposed to be picked up.  The person that came probably left because they thought I hadn't arrived.  How ludicrous.
The information from those first episodes in the country was documented in a post published about a year ago.
This sidewalk is across the street from an apartment where I spent seven months. It's in the Granada district and close to the the Granada Mall.  The majority of Riyadh seems to be under construction.  I'd sometimes think:
It would be fascinating to see this city in a few years.
Accommodation
It's easy to acquire affordable apartment/hotels to rent monthly.  They come furnished with living rooms, a kitchen, and bedrooms.  The number of bathrooms often matches the amount of bedrooms.  There's usually a hotel manager and service employee near the door when you enter and leave.  This isn't bad, but do you always want to see the same people hanging out where you live, day in and day out? I prefer to walk into an apartment building that's not staffed with at least one desk man 24/7.
NOTE: If you plan to stay for a while, it's a good idea to get an apartment that requires six months of rent up front.  Advantages:  You typically get more for your money. There aren't always people working in your apartment building. If someone of the opposite gender who's not your spouse comes for a visit, there's only a super-slim chance  that a person will notice and call the religious police for a reward of 500 Riyal or $133.  I can't help but think:
 That's not a bad chunk of change for a mere phone call, especially if a person earns a meager salary.
For some of them, it's the money, while others genuinely feel that they're doing the right thing by turning you in as you're actually breaking the law.
If you get thrown in the slammer for something minor like that, -because you live in an apt./hotel with a worker/concierge- you'll more than likely be held until a company rep comes to get you.  NOTE: This info is based on hearsay, not primary experience.
After two days of doing a little bit of paperwork, I had 12 days off because of the Eid holiday.  Paid time off periods can be generous for ESL teachers in Saudi.
Safety Issues:  Transportation
Saudi seems to be one of the safest countries in the world.  I was able to walk around the capital without anyone bothering me.  There is a small percentage of crazy drivers.  Even though the majority of drivers are OK, you see the erratic ones daily.  Some young men with limited road experience drive like madmen.  They fish tail or burn tire rubber on the pavement from putting the petal to the metal and steering in one direction.  I've seen one-car crashes twice.  The driver in both cases lost control and went off the road.  Accidents are commonplace in Riyadh.  I once got held up by four different vehicle mishaps  during what was otherwise a 20-minute commute home.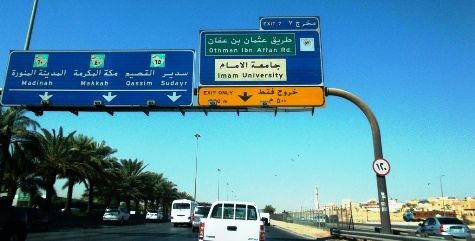 After Venezuela, where gas costs $.10 a gallon, Saudi boasts the second cheapest petrol prices on earth at $.45 per gallon. When petrol is so cheap, a young man with a big American car and a four-barrel carburetor isn't concerned when he crushes his accelerator to the floor.
There are cameras that catch people speeding. I heard of a foreigner who was new to the land and never noticed the cameras.  The outlander supposedly racked up over $5,000 in speeding tickets over one year.  Locals seem to know where these camera traps are so that they can slow down or avoid them.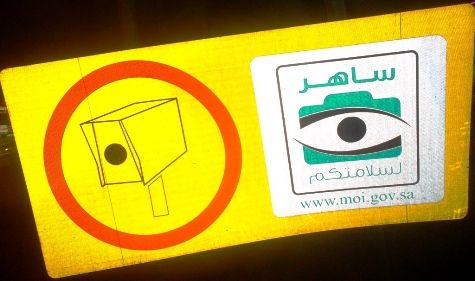 This is obviously not Saudi specific as cameras are now the norm in most cities across the globe.
Riyadh isn't set up for pedestrians.  Always be aware of your surroundings when crossing wide and busy streets.  I once noticed a car speeding up as if it was trying to hit me.  I was extremely fortunate to see this and sprint off the road and onto the sidewalk just in time.
There's very little public transportation in Riyadh.  On some main routes there are small shoddy bus/van hybrids that transport mostly migrant laborers.  These routes are limited and hard to decipher.
Taxis are cheap.  If you're able to share,  getting around Riyadh can be very affordable.  More often than not, cabs are easy to hail.   Taxi fares almost always require haggling.  If you speak Arabic or Urdu, or even just the numbers and a few very basic phrases, you can easily get a fair fare.   My Arabic is rudimentary at best, but I can hold a haggling dialogue with a cab driver.  As the majority of taxi drivers are Pakistani, speaking Urdu or Hindi is a boon, but these guys speak Arabic and often know functional English. Some speak English well.  Still, if you can hammer out a deal in Arabic, you'll get ripped-off less often.
It helps to be aware that taxi drivers work long hours and struggle to support  families in Bangladesh, Pakistan, India, and Yemen to name a few.  If you're a westerner, they're fully aware that you earn a decent wage, so I don't mind paying a little bit more than the going fare.
Many foreigners buy and rent cars.  It's cheaper than in the states, Europe and most other parts of the world.  It's possible to rent a car for as little as 1500 SAR or $400 per month, including insurance and repairs.  There's no tax as nothing is taxed in Saudi. If you want to drive, make sure you get an international driver's license before heading over.  NOTE: Women don't drive in Saudi Arabia, even if you're foreign.
Entertainment
If anyone you know has been to Saudi, chances are they've told you that it's boring.  However, on the weekends, there are ex-pat co-ed groups that drive out of the city to the desert to hike and have cookouts.  Some folks have told me that this social outlet saved them.  I know one guy who even met his wife during one of those gatherings.
There are state-of-the-art gyms available.
Riyadh has a world class history museum.
Riyadh boasts ruins like this at Dar'iyah.
For westerners, there are foreign embassy gatherings and compounds where ex-pats live.  Once you're in an embassy or on a compound, you're not on Saudi soil.  These are the only places where alcohol is openly available and where members of the opposite sex who aren't married can legally mingle.  On Saudi grounds, prohibition and gender segregation are in full effect.
Often you can email your name to an embassy so that they put you on their list.  They're all located in the Diplomatic Quarter.  You only need your passport to get on.  To get into a foreign compound or base that you don't live on, you need someone who lives there to leave your name with the guards at the gate.  Or, like at the embassies, if there's a gathering or activity that you've signed up for, your name will be provided to the guards.  You'll need your passport.
Besides interesting markets, like the huge Filipino and Indian market in Riyad's Batha district, there are seemingly endless world-class malls.  Personally, I only went when I absolutely needed something.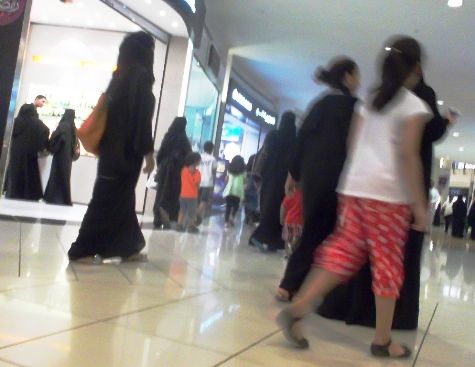 This photo was snapped inconspicuously while waiting for mediocre mall food in Granada Mall's food hall.
Restaurants     
During the first half of my stay, I immensely enjoyed exploring a variety of restaurants and food, until I got Amoebic Dysentery.  The doctor told me that the cheaper the restaurant, the higher the risk.  It was as simple as that.  He also said that this type of dysentery is very common there.  That's when I stopped eating at cheap restaurants where only poor migrant workers from certain nationalities eat.  Their immune systems protect them from certain bacterium that may be found in the food.
There were cheap Bangladeshi and Indian places that Filipinos told me they wouldn't eat at.  I was heartbroken that I had to stop eating authentic food at little hole-in-the walls where I got decent meals for $2 to $3.  Still, I'll never know where I got the horrible bacteria from.  Although it's much more widespread in developing countries, you can get it anywhere.
Fortunately I didn't miss a day of work.  As my classes were in the afternoon, I made many of my doctor's appointments in the morning.  The worst part was the two months (in total) taking antibiotics.  They were required three times a day with food, and there were negative side effects.  I despise antibiotics and won't take them unless they're absolutely necessary, as they were in this case.
Medical Care
I'm used to having my own PCP (Primary Care Physician) at a clinic in the US.  Since I was shitting blood, and felt nauseous or more specifically, light-headed, I went to the clinic near my apartment.  They took my insurance and charged me less than $2 as a co-payment.  The Egyptian doctor had me provide a stool sample.  After getting the results later that evening the doc prescribed amoebicides and Cipro.  He told me that this is very common, and not to worry, that I'll be better very soon.
A week later I went back.  The same doctor was appalled that I wasn't better.  He then prescribed two different sets of antibiotics.
The following day I told a coworker who'd been living in Riyadh for nine years, about my ordeal.   He said that the clinics are often atrocious.  Coming from the US, this was a shock.  But then it all made sense.  At my colleagues suggestion, I went to the Kingdom Hospital and made an appointment to see a gastroenterologist who had good ideas about how to cure me, spoke perfect English, and spent as much time talking as I needed during each of the seven or eight times I'd gone to see him.
His first round of the antibiotic Metronidazole for 10 days, didn't work.  He then put me on a strict regimen of amoebicides for a month.  He was 95% sure that they would be effective, but still had another plan if they weren't.  Deep down I felt that my chances were 50/50.  Thankfully his expertise outweighed my layman intuition.  I will admit.  I was scared. I'm happy the ordeal is over.
 The moral of the story:  If you have a medical issue that's not minor, steer clear of clinics.  Drive to the hospital or suck up the cab fare and request to see a specialist at an institution where you'll get professional care.
Saudis Like Americans
Contrary to what popular society may lead you to believe, Saudis seem to genuinely like Americans.  I never noticed anything of the contrary during my time there. My students had much more interest in the US and my life there than any course material or activity I could muster up.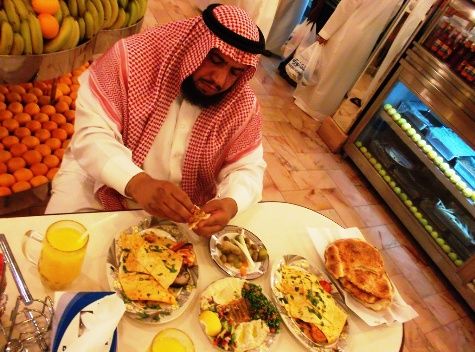 This man sat down as I finished my food.  He offered to share what seemed to be all of his food.  I politely declined as I was stuffed.   Even though we couldn't communicate much, he allowed me to take this photo of him and his spread at Mama Noura, the busiest and most successful Turkish restaurant in Riyadh.
The About photo of me in the top right column of this page was taken at Mama Noura.  As I was taking pictures of my food and the restaurant, a Saudi man stopped and insisted I hand him my camera so that he could get that photo of me.
The US helped Saudi extract oil back in the 1930s.  Many people on the Arabian Peninsula know this.
Although cinemas aren't allowed, people have access to Hollywood and anything they want through the Internet.  Despite many websites being censored, access is easily attained through a cheap or even free VPN. American movies are also shown in coffee shops and on cable television.  Many young Saudis seem to enjoy American TV shows too.  Some of the best adult English speakers were glued to American TV as young as toddler age.
It's safe to say that many Saudis enjoy pop American media culture.
On more than a handful of times during my stay of 10.5 months, a Saudi man randomly stopped and asked if I needed a ride.   Because the land isn't open to traditional tourism, you don't see western tourists, only workers, who I only noticed in malls and during my visits to western embassies and compounds.  I almost never saw European or American ex-pats wandering the streets.
To some we're a novelty.  Perhaps they see us as a way to connect directly with the outside world.  Helping a stranger may make them feel like they're doing a good deed.  One person who I had a conversation with in a store,  insisted on giving me a ride home.  He told me that in his culture it's important to respect teachers.  He was willing to drive me anywhere I wanted to go.
While on one of my few excursions on a privately-owned city bus, a Bedouin driver and I tried to have a conversation while I sat in the front seat of the van/bus hybrid.  While trying to pay the 2 Riyal or $.53 fare as he was dropping me off, he said while gesturing a thumbs up:
 "Mafee feloos.  Amerika kwais."   That means:  No money. America is good."
During the whole time I was there, I only had four local Saudi taxi drivers.  Two of the four refused to charge me  because I am American.
One tough thing for ex-pats to get used to is that all businesses must close for about half an hour during four of the five prayer times.   Fajr, the first prayer is around 4:00 am so you're not effected, except for the fact that the public calling to this prayer may wake you up.
Since eisha, the final prayer, would end anywhere between 7.30 and 9:00 pm, depending on the time of year, that's usually when I did my restaurant searching.   One night at around 10 pm, after eating delicious Chennai food, I noticed two boys in thobes hurrying to leave a store.  They were dashing out solely because of me, the ex-pat walking by.  They yelled:
"Amereeka?"
I said:
"Aiwa" or yeah!
While putting their thumbs in the air they called out in English:
"Very good!"
There could be lots of rationale for Saudis liking Americans and other western ex-pats.  From what I've gathered, the main explanation is that they want to make sure you're having a good experience in their country.
Have you been to Saudi?  Would you like to go?
If you like this and other posts, don't hesitate to like my Facebook  page.