Magical Minca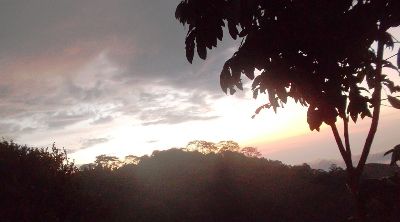 Unaccustomed to the heat in the Caribbean sweat boxes of colonial Cartagena and Santa Marta, I wondered what I was doing down here.  Then I found Minca and realized that I'd discovered vibrations of utopia.
Minca sits at around 700 meters or 2,297 feet above sea level.  There's no air conditioning, nor are there fans.  The days get hot and sticky.  If you hike you'll sweat.  But the nights are perfect for sleeping as the temps are very comfortable, especially compared to sweltering Santa Marta below.
In Minca there are comfortable and affordable hostels.  The population of around 600 people  are polite and friendly, making you feel relaxed in a beautifully tropical and mountainous setting.
After being dropped off in the village center, I climbed staircases with  fairy-tale-like  surroundings and arrived at Casa Loma, a hostel set on a hill that overlooks Santa Marta and the Caribbean or the Atlantic as it's most often referred to here.  They have beds, hammocks, vegetarian (organic, local) food, and a bar with a happy hour.  The place has a very relaxing and friendly demeanor.
From there I was able to explore an eco paradise.
There are coffee plantations that offer tours.  I visited La Victoria and got a 40-minute tour in Spanish.  Since it's low season I was the only one there. I was given a personalized tour upon arrival.  It cost 5000 COP or $2.65.  That included two cups of delicious organic and fresh coffee along with the pleasant and educational tour.  
Because it was Sunday, I shared this pool with a few Colombian tourists. I was told that during the week you'll often have this pool to yourself.
"Porque vienes aqui?"  Why do you come here?
"The natural sounds, smells and sights.  This place is so full of life."
"Si, es una fantasia."
"Exactly. It's like a fantasy.  It makes you realize how fantastic the planet is.  Being here sure beats watching the news and seeing how awful the human experience can be."
They were happy that I'm visiting and enjoying the intoxicating and inviting nature that their country boasts.
While bathing in the ultra-clean and cool natural pool under the hard gushing, massaging Marinka waterfall, I thought:
How much better can it get?  Is there anywhere I'd rather be at this moment?
I trekked uphill, admiring exotic birds, like the ones I used to see in National Geographic, when I couldn't imagine that I'd ever see these flying creatures up close in their natural habitat.
The tropical jungle is lush with flora and copious in fauna.  It's a kaleidoscope for the senses.
Cute little brown squirrels lurk in trees.  You hear birds communicating constantly.  I took in the air and aromatic ambiance.
I saw butterflies that inspired me to stop and pull out my notebook:
You fly in your luminescent violet and yellow, treading through the tropical breeze, cruising inside fragile wings, so delicate and wily, a prize to my eyes.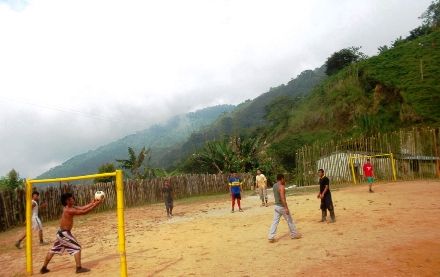 While hiking up to Los Pinos, I came across this pickup football game directly in the path.  These local village people actually stopped their game and politely motioned for me to walk past.  I assured them not to worry, that I'd like to take a photo and just to resume the game.
After the hike from Minca to Los Pinos, I was drenched in sweat and ready to stop hiking. I arrived at the 'Los Elementos' hostel, a house on a coffee plantation. It's run by two Brits who love what they're doing and seem to be genuinely happy if  you love it too.  There are stunning views.  I'd sleep in cool comfort at 1,450 meters or 4,757 feet above sea level. 
In the morning I woke to symphonies of bird sounds.  At that moment I began to appreciate an ornithologist's zeal.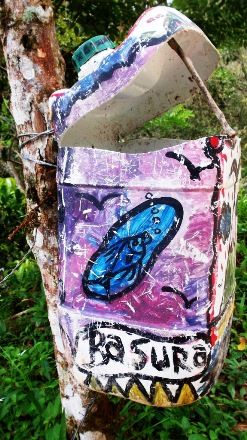 This is the most eco friendly and artistic trash can I've ever seen.  I saw three of them while on the path to the Marinka Waterfall.  I didn't see any trash while hiking in the Sierra Nevada foothills of Minca and some surrounding villages.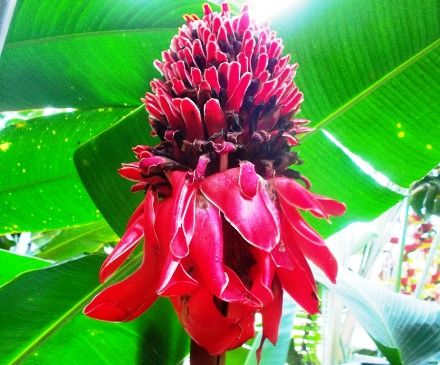 I have no idea what this one is called.  I only know that it's stunning.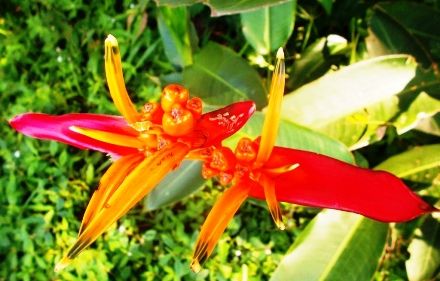 The same goes for this one.
This is by far the coolest hammock I've ever seen of lain in. It provides serious relaxation in the fresh mountain jungle air. You can rent the hammock for the night night in lieu of a bed.  They'll put a couple of mattresses down and give you a stack of blankets.  It's must be quite the experience.   Visit Los Elementos and you can lie in that hammock too.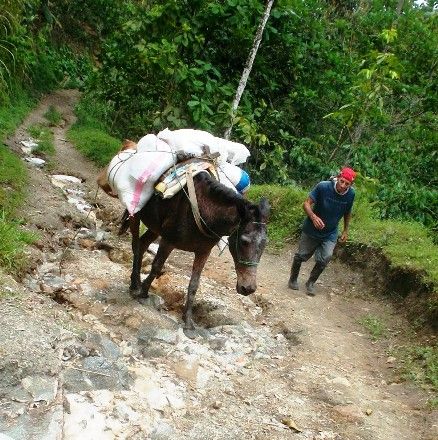 Residents of the mountain villages often use mules to carry supplies for them.
This is typical jungle nourishment.  All the ingredients are fresh and organic, something I place a high value on.  The yellow bread-looking thing that the onions and tomatoes are resting on is called a patacon and referred to as patacones in Colombia. First they mash the plantain then fry it.  It's pure plantain and delicious!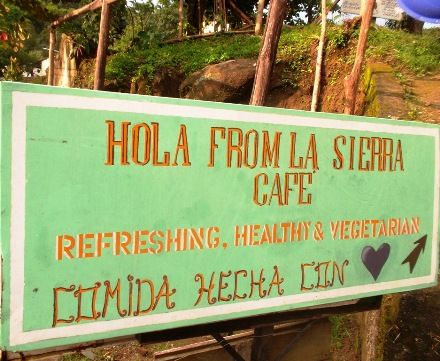 I didn't manage to eat at La Sierra Cafe, but this sign sums up the vibe in Minca, but don't expect many if any of the locals to speak English.
COSTS
Going to Minca and beyond is very affordable.  From Santa Marta I paid 7000 COP or $3.71 in a shared car.  The ride took about 40 minutes from the intersection of Calle 11 and Carerra 12.  They go when they're full (four passenger capacity).   I waited for about 25 minutes. I recommend taking a cab to that intersection from wherever you are in Santa Marta.  Tell the driver: 'Calle 11 y Careera 12' and that you're going to Minca, he'll know exactly where to take you for 5000 Pesos or $2.65.
A bed in a hostel will cost you about 20,000 COP or $10.60.   Organic healthy meals (often vegetarian) cost around 12,000 or just over $6.  The Marinka waterfall costs 3,000 pesos or $1.60.  I thought it was free until a lady standing beside the path on my way out asked me for the money.  There are motorbike taxis (motos) that will take you up or down a rough path for 5 to 10,000 or $3 to $5.  As much as I like to give these locals business, I enjoy and prefer walking.
During three days in the foothills of the Sierra Nevada, I spent an average of $32 per day.  That included three good meals a day, plenty of delicious, organically grown, local coffee and even beer and rum one of the three nights.   I wasn't making an effort to be frugal.
Water is free for residents in parts of Minca and in Los Pinos.  The two places I stayed provided it free for the guests, right from the tap.  Although it's not tap water as the agua comes directly from high up in the mountains. It's as close to perfect as water can be.
I consider Minca a rare find that's still raw and rustic.  Get there before it becomes too touristy.
NOTE: Utopia doesn't really exist.  I've talked to people here who've gotten Dengue fever.  The area is rife with mosquitoes.  I will hope for the best. Knock on wood.
If you like this and other posts, feel free to like my Facebook page.