Trekking in Tayrona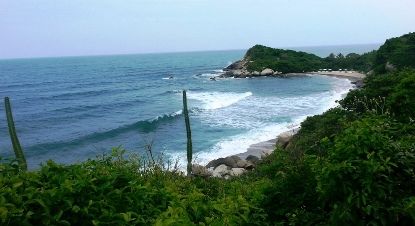 Parque Tayrona is a nature walker's paradise.   It's where the Caribbean meets the Sierra Nevada, the world's highest mountain range that ascends from a sea. This is terrain where Pre-Colombian indigenous Kogis still live in a lush and varied landscape.
All I'd heard from anyone who's been to Tayrona is that it's a must, regardless of where your interests lie.
I entered the park and hopped on a short 2,000 COP (just over a dollar) shuttle.  Then I began my first nature walk and quickly realized that what I'd heard wasn't exaggerated.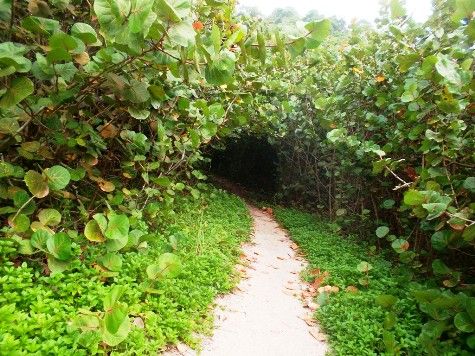 This lush piece of path runs parallel to a beach.
While hiking to my campsite/resort in Arrecifes.  I got off the path slightly and hung out at these ancient rock formations.  It made me feel as if I'd stepped back in time.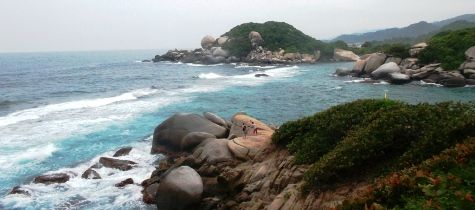 Tayrona is known for extravagant rock formations along its Caribbean coastline.  I imagined that these formations were sculpted by animistic Gods long ago.
Nature has a wonderful way of expressing itself.  Walking in Tayrona helped me understand how natural phenomena influences human art.
This Arrecifes beach scene was a five minute walk from my hammock.  The sea is a serine spot where I managed to practice the ancient art of yoga while breathing in fresh, wet, salty air.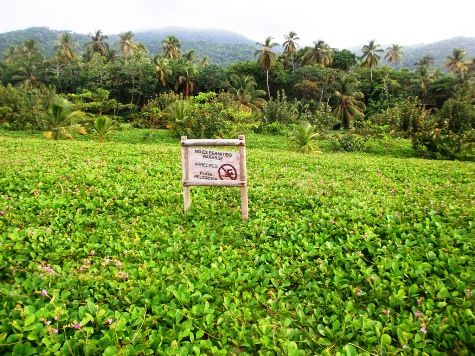 This sign, like the ones in the photo above, clearly states that swimming isn't allowed on the beach of Arrecifes.  The undertows or riptides are too strong. The Caribbean Sea is often referred to as the Atlantic Ocean. It seems to be just as powerful.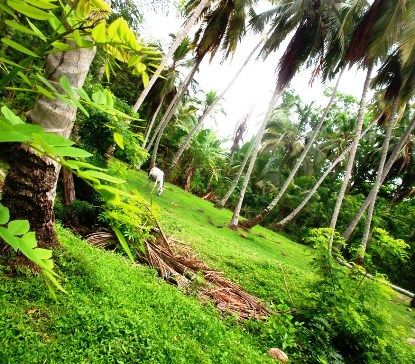 This flat piece of pathway came a few minutes after seting off from the base in Arrecifes, to the beaches of Cabo San Juan. The Tayrona landscape constantly changes in front of you.
Often you're able to choose if you want to walk along the beach or along an interior path.
Boulders and beaches never seem to end at Parque Tayrona.
This stretch of Caribbean coastline is anything but a straight line.
Practically a perfect swimming hole at Cabo San Juan.
I read that these beaches at Cabo San Juan are the most beautiful in the world. They're gorgeous, even surreal.  But there must be thousands if not over a million beaches in the world.  How can one or a few be boasted as the best? Let's just say this piece of earth is exceptional.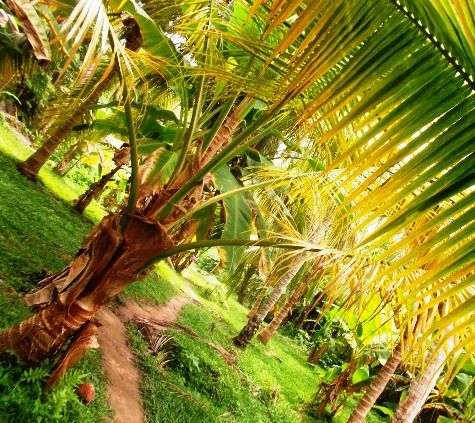 After visiting beaches, swimming, and eating in the area of Cabo San Juan, I was shown the path that leads to the ancient pre Colombian village of Pueblito, which literally means small town.  The beginning of the path was flat and idyllic. I instantly loved the contrast between the palms and lush grass.
The path to Pueblito got steep and rocky.  A stretch of trail was all boulders, ascending.  I was getting an amazing cardio workout until there was a boulder that I couldn't get over.  I couldn't figure out how to hoist myself up.   I took my long, thickr shorts off, which left me with just a bathing suit.  In the shorts were my camera and bulky smart phone.  With just swim trunks I was able to get enough flexibility to throw a leg up without the beyond-knee-length shorts hampering my leverage.
I proceeded to hike in my skimpy swim shorts, although I usually wear long pants when hiking.  While cruising happily up the mountain again there was a slippery rock.  Down I went, with one leg smashing into a boulder.  Instantly I wished I'd put my thicker shorts back on, or even better, had pants on to lessen the wound.
Fortunately, I'd remembered the triple-antibiotic ointment that protected the cut from infection.  Never hike or travel without it.  I took off my sweat-soaked shirt to stop the bleeding.
The tropical jungle is hot and very humid.
At this point I'd just passed a sign that said I was 70% there.  I kept going.  In Pueblito there was a Colombian tourist who'd slipped on what may have been the same rock.  His injury was much worse, he was lying on his back and writhing in pain. He'd landed on his back and claimed to have a real bad bruise.  Fortunately, although he couldn't walk because of the severity of the bruise, he was able to move all his muscles. I shared my ointment with him.
It was where he lay that I met a couple from Bogotá who said they were taking a much easier path down compared to the one we'd both come up.  They suggested that I walk with them.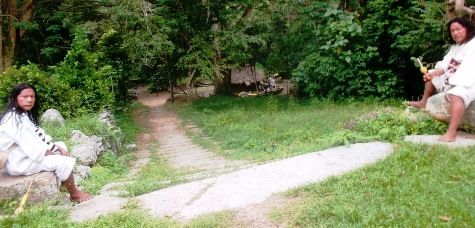 In Pueblito, I came across these indigenous Kogis whose ancestors have been living on this land way before Colombus the conquistadors arrived.  Notice how they still haven't adopted the custom of wearing shoes.  Going in bare feet enables them to be more tuned in to the land they worship.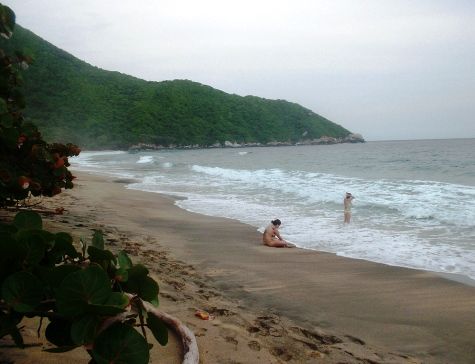 After a much easier hike down, the path brought me to this remote beach.  The couple left and pointed out the trail that would take me to Cabo San Juan. Here I was able to bathe in clean salt water.  This was great for the fresh wound and soothing for the body after a very sweaty hike.
Leaving this beach I didn't want to do the arduous task of getting all the sand off my feet to put my socks and shoes on, so I opted to walk along tropical forest trails barefooted.  It felt fantastic.  I just had to keep an eye down to not step on any of the ubiquitous, big red ants. There are millions of them, maybe even millions of colonies.
It felt so much nicer and more natural than wearing shoes.   Walking barefoot on dirt paths is reflexology treatment.   You feel the earth.  Walking without shoes caused me to understand and appreciate why the Kogis are still shoe-less.
Not having shoes on and walking solo, may be why I got to see howler monkeys.  I first heard a lot of movement in the trees.  Then I got glimpses, until one monkey sat not far above.  The medium-brown, colored furry creature stared into my eyes for a couple of seconds before  scattering up in the trees.  This beautiful site took my mind off the mild injury.
At Cabo San Juan I put my shoes back on.  It was late in the afternoon.
Exhausted, I walked quickly so that I could get to a shower, dinner and the hammock in Arrecifes.
I slept in a hammock for the first time.  It cost 27,800 COP or $14.76 per night for two nights. This miraculously included medical care at no extra charge.  The nurse at the resort cleaned and patched the cut on my leg.
Meals at the resort cost around $7 and up. Water costs about $3 for a 1.5 liter bottle. Entrance to the park is 35,000 COP or $18.42 or just 7,000 or $3.68 if you have a valid student ID.
From Santa Marta you can easily get to Tayrona from the bus station area.  Once close just ask people and in no time you'll be on the 6,000 COP or $3.17 one-hour buseta ride.
The one thing I didn't like is that I was searched twice.  Entering the park, I had to wait for seven French uni students to get searched before the officers got to me.  My small backpack was searched entirely.  My pockets were checked a little bit. While entering the area of Cabo San Juan after the hour walk from Arrecifes, I again had to wait for others to be searched before my pack was checked inside and out.  It was shocking to see a police checkpoint in the middle of the jungle after already being checked thorougly at the entrance.  I thought:
How tacky.  All for nothing.
I felt my time was being wasted.    As I mentioned in my last post, utopia can't quite exist.
AN AUSPICIOUS NOTE: The cops at the entrance and at the checkpoint in Cabo San Juan were pleasant with the tourists while going through their stuff.
I hiked on roughly five trails and swam a handful of times during my two and a half days away from wired civilization.  Immersed in natural splendor, I didn't miss being online.
If you're in northern Colombia, I highly recommend a visit to the UNESCO World Heritage Site of Parque Nacional Natural Tayrona.  If you're not a lover of the outdoors, you will be after you enter this stunning nature reserve.
If you like this and other posts, feel free to like my facebook page.