Snacking on Ants in Santander
Upon arriving in Bucaramanga, Santander's capital city of a million people, I was under the impression that I'd get to try some sort of ant dish delicacy.  I'd read that the state of Santander is known for their unique cultivation of Hormigas Culonas or Big-Ass Ants, for human snacking.
In Bucaramanga, I was told that ants were out of season, that the harvest is in March and April. 
I had almost forgotten about this potential insect sampling opportunity when I arrived in San Gil, a much smaller city also in Colombia's Santander state, just two and a half hours from Bucaramanga and on the road to Bogotá. 
It turns out that San Gil is the center for hormiga or ant cultivation, and that they're available for purchase there year round.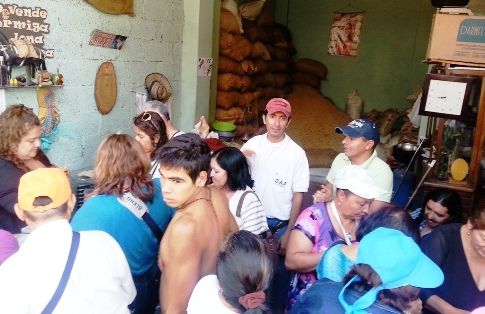 Here you see a small crowd directly across the street from my hotel.  They're all there to purchase one quantity or another of this incredibly edible breed of leafcutter ant.  I was told by the concierge/jack of all hotel trades, lady in my hotel that these people are on a tour of San Gil, getting the opportunity to purchase these famous and sought after ants.
After picking the lady's brain about these ants,  the conversation moved to tour groups as opposed to travelling independently.  I told her that I like to travel solo.  That way I have the liberty to live off of an almost spontaneous itinerary.  After the crowd left, I had the whole little ant store to myself.
The amount of ants you can purchase varies.  The smallest container costs 2,000 Colombian Pesos or $1.06.  This is what I bought on my first of two purchases.  The second was a bigger container for 10,000 COP or $5.32.  I'm currently snacking on that one daily. 
You see here that the antennas are removed.  I couldn't imagine eating this many ants at once as I find the flavor strong.  I was told by a local to eat only a few at a time.  I now eat about five ants, one after the other, once a day.  They make a great beer nut.  The crunchy texture and smoky, earthy flavor, along with a hint of salt and a tiny touch of natural sweetness, makes this new discovery of mine a perfectly healthy snack. The flavor of one ant stays with you for a bit. I plan on bringing some to Bogotá as they're more expensive there.
According to Wikipedia, these roasted ants are exported to Canada, England and Japan.
This billboard can be found in the center of San Gil, near the centro comercial or mall.  It says: We work with Ants for the health of the region.   
Before Columbus, or the original Colombo in Italian, the Indigenous Guane people were roasting and eating these big-bottomed ants.  The Guanes believed that the ants might eat them if they didn't eat the ants first.
Believed Health Benefits of Ant Consumption
● High levels of formic acid triggers an immune system boost
● High in protein
● Cholesterol free
● Boosts energy
● Acting as an aphrodisiac or natural Viagra, this specific breed of ant is often given as a wedding gift.
Ant production for consumption is a way of life for many.  This ant sculpture can be found outside of the Botanical Gardens in San Gil.
I am very happy to have come across this unique snack culture in the Colombian state of Santander and specifically in the city of San Gil.  
Would you try one of these ants if you ran into me and I offered you one?
-   –   –   –   –   –   –   –   –   –   –   –   –   –   –   –   -
If you'd like to be notified of new posts in your Facebook news feed, feel free to like my Facebook page.