Beware on the Streets of Bogotá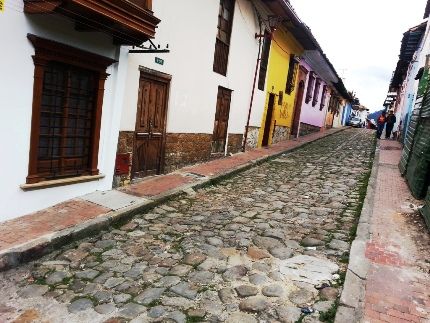 After getting my Yellow Fever vaccination, I ventured out to find a place to scan the certificate to have a backup.  In order to enter the Amazon region, or leave it, one must have a valid yellow fever immunization record.
After easily finding a place that scanned, I thought I'd look for a place that has wifi, with the hopes of eating and drinking coffee with a connection, so  I had my laptop.
Drifting aimlessly, I somehow found myself in the upper part of Bogota's La Candalaria zone.
While walking through these lovely cobblestoned streets, I became mesmerized by their colonial urban beauty.  I was snapping as I felt that these Candalarian streets were gently saying: "Shoot me! Photograph me!"
I also had my passport, as I need to be in the habit of keeping the immunization card in it.  In a front pocket was my wallet, as I'd planned to withdraw money.  I almost never carry any of these valuables around in huge Latin American cities. This typically happens only when I arrive and leave a place.
The nine photos you see in this post were taken with my Android that retails for around $700 in Colombia.  It's something that only the rich and upper middle class have.  A local told me that 70% of the people in Bogotá are poor.  
I had all of my valuables.  It was the middle of the day.   I wasn't yet concerned.
The streets were mostly desolate.   In a city of 9 million people, I found this odd. I thought: This is a stunning section of town.  These photos are taking themselves.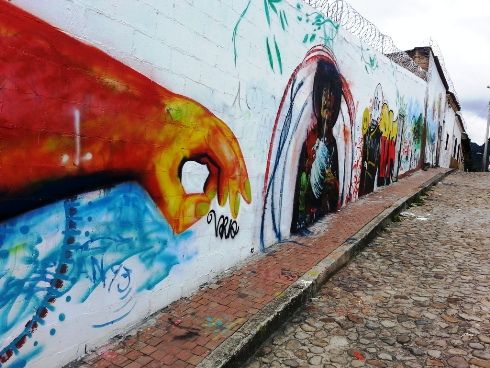 The street art reminded me of Cali and how Colombian and other Latin American cities can have sections that represent a graffiti museum.   
I still couldn't get over how quiet things were for an early Saturday afternoon.  I'd heard music coming from homes but had barely seen anyone up to this point.  Looking at the impoverished neighborhood above the sporting area, I envisioned three or four guys coming up to rob me.  That's when I stopped walking uphill towards the shantytown and started to the left, figuring that I'd walk across a little bit before cutting back down.
I found myself in this wide alleyway.  After snapping this photo, I put the Galaxy in my pocket and started walking in the opposite direction.    A boy who I'd noticed a block or two up the road was walking towards me.  He looked to be around 17 or 18.  I was ready to throw out a cordial Buenas Tardes when my instinct told me not to.
The next thing I knew the kid was coming at me with a tiny knife that I could barely see, maybe it was a switchblade.  I felt Déjà vu from seeing something very similar back when I used to watch movies.  Maybe this is why I instantly knew what was  going on.
Thinking back, I felt that the scene was happening in slow motion.  One second feels like four or five in my memory.
I'm pretty sure that I did two things simultaneously.  In one movement, I did a 180 degree turn while instantly sprinting away.
I heard the lunatic say something in frustration, probably a Colombian slang word I'd never heard.  I can't recall it.
The photo you see is the route I took to elude the sociopath.  When I got to the street I stopped and looked back.  He had vanished.
A little girl was walking along the sidewalk and saw me sprinting out of the alley.  She may have seen a look of horror in my face.  I'll never know.
In shock, I hung an instant left, back down in the direction of the crowds that remind me of New York City.
This is just a couple of blocks down from the alleyway. Traumatized, I was still taking pictures.
I realized that I need to be aware of my surroundings, that I can't underestimate the human race.  I also understood that I was lucky to have dealt with an amateur.  He came at me too soon, giving me the opportunity to avoid him. 
By now I'd gotten much closer to the center of the city and my hotel in lower colonial Candalaria.     I couldn't resist pulling out the phone to capture this vintage looking street scene.  However, by now, still perplexed, I was aware that after I snap a picture, I must put the device away and keep my eyes peeled to all angles.  Had I been more  mindful that he had been walking in an opposite direction minutes before, I could have turned around and gotten away before he'd even come at me.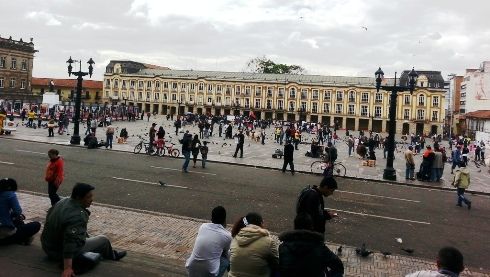 I' made it down to the center and close to my hotel. Here I sat and tried to make more sense of what had happened.    
Since this incident,  I've kept my wanderings to areas where there are people.  I'm much more vigilant of who is around when I'm snapping photos, and even when I'm not. 
I've told around ten locals about it.   None of them were remotely surprised.  The bottom line is, you better be real careful when walking around with any kind of digital equipment, especially near shantytowns and in desolate areas.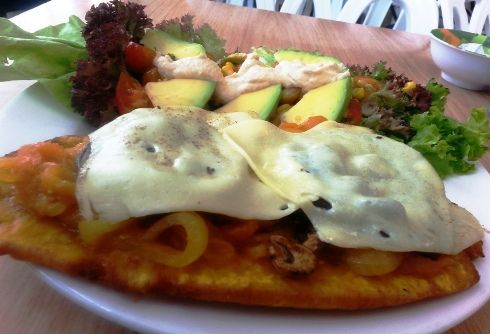 Almost back at my hotel, I stopped at the Vegetarian restaurant a block away.  Here I had this delicious patacon or flattened plantain, topped with mushrooms, onions, tomatoes and cheese.  The meal also included another salad (on top of the one you see), a soup and a jugo natural de maracuya or passion fruit juice.  The set meal cost 8,500 Pesos or $4.51.
After a nice meal, still mesmerized, dumbfounded and shocked, as I'd feel until the next day, I went back to my hotel and collapsed into a long nap.
-   –   –   –   –   –   –   –   –   –   –   –   –   –   –   –   -
Have you ever been mugged, almost mugged or attacked while wandering in a big city? Will you be more vigilant after reading this article?
-   –   –   –   –   –   –   –   –   –   –   –   –   –   –   –   -
If you like this and other posts, feel free to like my Facebook page.