An Amazon Riverboat Cruise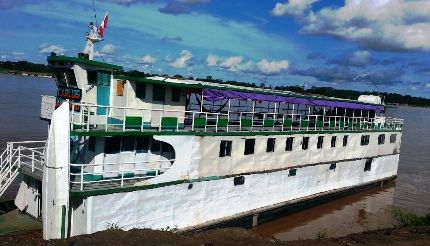 I recently had my first cow and pig boat ride.
57 hours after departing the Amazon River island of Santa Rosa, Perú,  I arrived in the Amazon port city of Iquitos Perú.
The boat you see took me slowly along the exotic Peruvian Amazon.
It gave me the opportunity to relax and watch Amazon villages pass by.
Sometimes we stopped to drop off and pick up passengers, unwilling cows, pigs, quinoa, water, soda, and other items for sale or trade.
I quickly realized that this was not a tourist boat. It was filled with locals who didn't find the place exotic.  Almost none of them had ever left the Amazon region because the only option out is by plane or several days of river travel. 
The only other outsiders were a couple from London and a traveling artist from Bogotá.
Across the river you see the Amazon island of Santa Rosa, Perú.  That's where the tiny Customs office where you get your Perú entry stamp is.  It's also where you embark for Iquitos. This five-minute boat ride from Leticia, Colombia cost 3,000 Colombian Pesos or $1.55.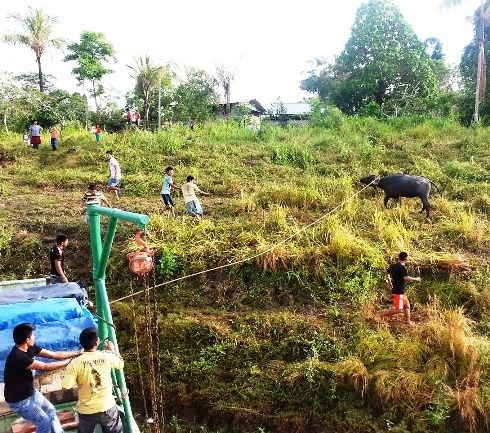 At animal pick up stops,  I felt bad for both the animals and the workers who had to inflict pain to get them to grudgingly comply.  They were leaving their perfect natural environment to be sold for human consumption.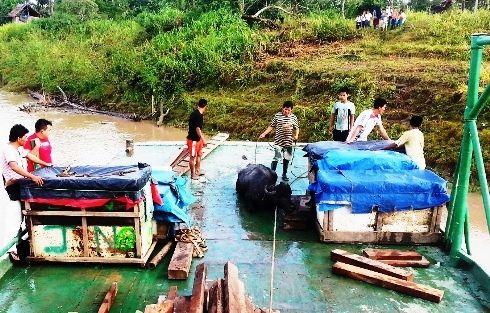 It took a long time for the workers to get this strong-willed cow onto the boat and into the storage area. From what I could see, the first, or bottom floor was a horrid place.  I wasn't allowed in.  The passengers are required to remain on the second and third floors, or at the bottom  front (in the photo).  The grunt workers are only allowed at the bottom.
This was another of several stops along makeshift village ports .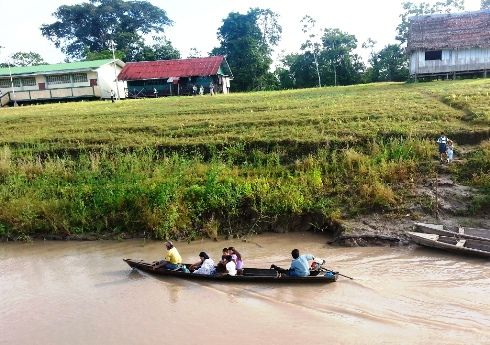 Sometimes I'd glance out and see families in boats.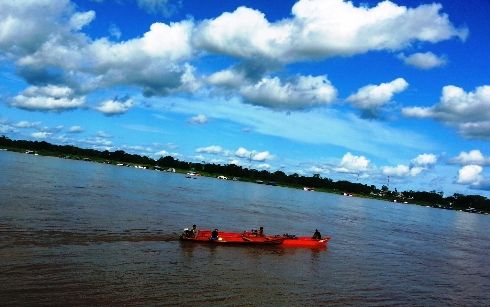 Huge bunches of clouds often block the sun's extreme heat.  
This is an illustration of how wide the river can be in parts.  I was told that in Brazil there are areas where you can't see land across.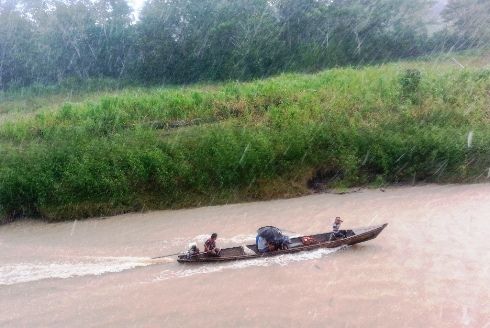 As the Amazon is purely tropical, hard afternoon rain is common.  It cools things off wonderfully.  I thought:  Although they must be used to it, it's still got to be brutal to deal with this strong, cool rain.
Some stretches are more scenic than others.  
The Amazon is typically calm.
Getting around by boat is the primary means of transportation for many.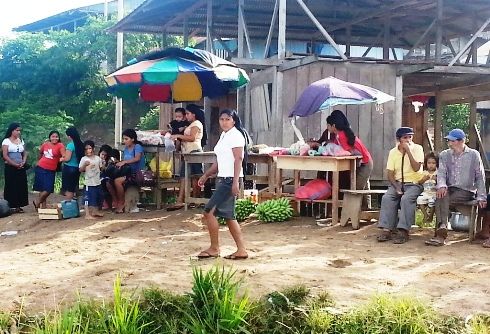 Once in a while I'd get close up glimpses of people.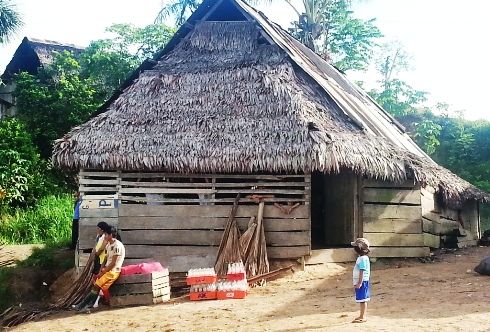 The dwellers of this small home live right on the river.
This sunset photo was taken after 22 hours on the boat, from the second floor.  We'd set off the night before at 8 pm, about two hours after sunset.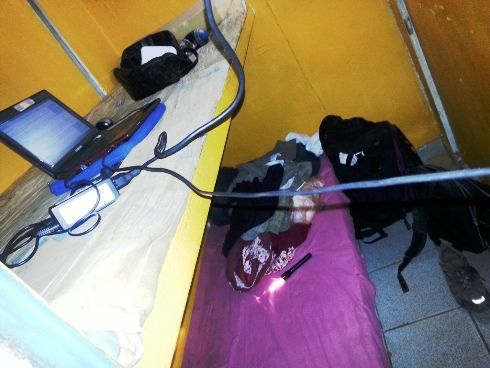 This was my modest room for three nights.  During the day it was too hot. The evening breeze kept it cool enough at night, except when we stopped at a port, when the breeze stopped and I found myself drenched in sweat. 
The 57-hour jungle trip cost 100 Peruvian Soles or $35.71.  This  included the bed, an electrical outlet and about six meals that were very possibly cooked with river water.  There was the option of paying six soles or $2.14 for meals that were slightly better than the food that was included in the ticket price.  Fortunately I had the cabin to myself.
TIP: If you take an Amazon region boat ride, try to pay the owner or head person of the boat. I arrived six hours before departure. The assistant showed me to my cabin. I paid him. He tried to charge me again half an hour later.  I explained that we need to talk to someone about this.  He said to relax and forget about it.  The next day he tried to get 100 soles from me again.  I told him that I'd already paid and watched him hand 100 Lucas, slang for Soles, to the owner.  He dismissed the issue again and wrote out a ticket.   He, along with four others, had been drinking beer for hours before I'd arrived.   The owner told me the next day that they always drink beer during the day before setting off in the evening.  This doesn't include the driver of the boat.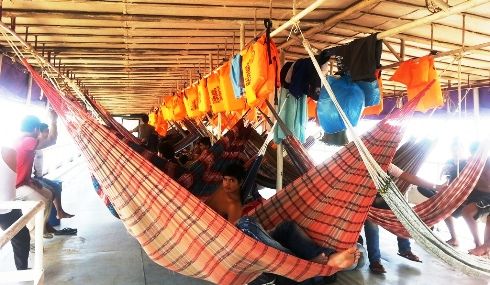 Almost all the passengers brought hammocks and hung them on either the second or third floor.   The journey, including meals if you hang your own hammock, is 80 soles or $28.57. The difference between a cabin and hanging your hammock is 20 soles or $7.14.  This is a significant amount for almost all the passengers that typically take this boat.
There's a nonstop tourist fast boat that takes 10 hours and departs at 3 am.  It costs almost triple that of the very slow lancha. I hear it's too loud for conversation and too fast for taking photos or walking.
Spending almost 60 hours on a slow boat was a long time to endure.  There are many routes along the Amazon but they take what seems like forever for the distances involved.  For now, I'm all set with long, slow river boat rides; however, I wouldn't trade the experience.
-   –   –   –   –   –   –   –   –   –   –   –   –   –   –   –   -
Would you spend over 50 hours on a slow, bare bones and shabby riverboat?
-   –   –   –   –   –   –   –   –   –   –   –   –   –   –   –   -
If you'd like notifications of new posts, don't hesitate to like my Facebook fan page.