Breakfast at San Camilo
If there's one thing I love about traveling, it's the ethnic food I find.
I get excited by new, interesting cuisine. 
If I'm in a place that's known for a specialized dish, I feel joyous when coming across it. 
Seeing, smelling and tasting the food makes me feel good to be alive.
I typically want to try a little bit of everything.  This is hard as the portions where I am aren't small. 
I find myself in southern Perú, in the city of Arequipa, living just blocks away from the Mercado San Camilo.   I've been indulging in local specialties at this marvelous market for the past few mornings.
I'd love to share some of the delightful food I enjoyed there:
Rocoto Relleno is known throughout Perú as a gastronomical wonder that hails from Arequipa.    It's one of the most renowned Peruvian dishes, and rightly so. It tastes as good as it looks.
After swallowing the first bite I said: "WOW" and rubbed my forehead.  The vendor and woman beside me laughed.  I just needed to adapt to the spice.  The first bite was a a shock. By the next forkful  I was used to it and enjoying the combination of the spicy red pepper, cheese, meat and random veggies.  I noticed olives, onions and mushrooms. Apparently these ingredients depend on the mood of the cook and / or what's on hand.
Take the top cheese off and you see a fully stuffed pepper.
I typically seek out vegetarian fare, but  I eat meat if it's part of an ethnic specialty.  This meat deliciously dissolved in my mouth.
Through the passing of generations, the Arequipeños have perfected the baking method.
The above Rocoto Rellono by itself cost 4 Soles or $1.45.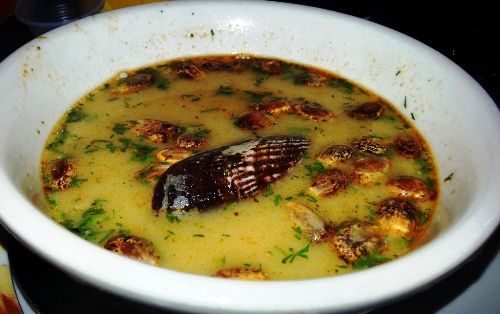 I didn't know that I'd ordered this Sopa de Mariscos or Seafood Soup as it came wth my ceviche at one stand.  After one spoonful I was pleasantly surprised, and it got better with every slurp down.  I didn't eat the steamed clam in the middle because it wasn't fully opened. I believe that it added great flavor to the cilantro and fresh and tender pieces of seafood.   Added to the cornucopia of flavors are canchas or toasted chulpe corn, native to Perú.
This is one of the best seafood soups I've ever had.  It had to be because of the unique combination of flavors combined with the super freshness of the seafood.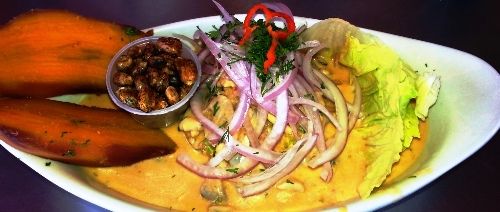 Sitting three hours from the Pacific coast,  Arequipa may not be known for its ceviche, but I thought it was close to perfect.  I didn't taste one tough or chewy piece of fish or seafood. It was fresh and broke down easily while chewing softly.   On the left you see camote or Peruvian sweet potato.  It's the tastiest variety of sweet potato I've tried anywhere.  In the little plastic container are the canchas or toasted corn.  They're taste worthy and addictive.  The ceviche or raw seafood and fish marinated in lime juice is topped with raw onions, seaweed and aji, Perú'sversion of the red hot chili pepper.  Complimenting its heat, it has a wonderful flavor.
This small plate of ceviche cost only 5 Soles or $1.81
This week I've learned that there's nothing like having ceviche for breakfast.  I've felt great the last three days after eating this almost raw marine fare.  
This heap of seafood features a lot of skin on the  flesh and was equally as tasty as the one above.
This delightful dish with the above Seafood Soup cost 10 Soles or $3.62.
NOTE: Ceviche in Perú is eaten early in the day as the freshness evaporates with the hours.
On the left you see Ceviche and on the right Escabeche de Pollo or Chicken with Vegetables. The vendor gave me the option to try this combo plate of land and sea for 10 Soles or $3.62. How could I resist?
If given a choice I prefer chicken way over meat. Although I eat predominantly veggies now, I ate chicken my whole life growing up.  This cold chicken was cooked to absolute perfection and the veggies were very good, especially considering they were cold.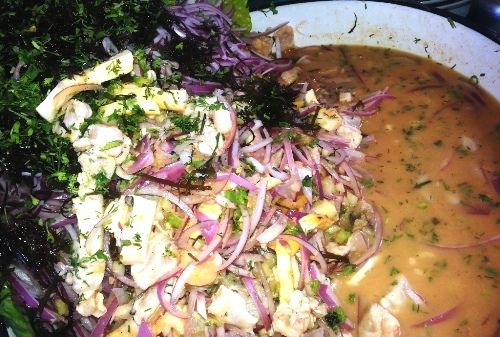 I've seen a lot of ceviche but never  topped with seaweed.  Being a huge fan of algae consumption, I was really impressed.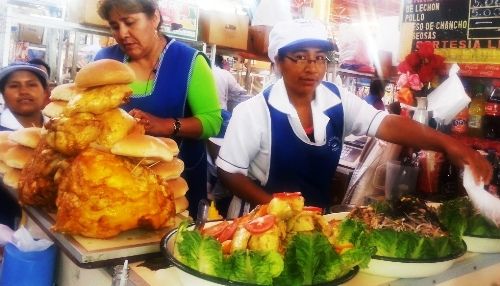 Here are three of the many vendors in the food section of the market.   The woman in the middle is standing behind a huge mound of chancho, pork used for sandwiches.  This snack or meal is popular all over Perú.
While traveling or when at home, we often find the best food for the best prices in the local market.
-   –   –   –   –   –   –   –   –   –   –   –   –   –   –   –   -
Have you found amazing food that you've stumbled upon in a local market?
 -   –   –   –   –   –   –   –   –   –   –   –   –   –   –   –   -
If you like this and other posts, feel free to like my Facebook page.