Rambling into the Colca Canyon
The descent into the canyon started around midday.
The excitement of the new natural surroundings, combined with a bright sun, wilted my fatigue and altitude induced nausea.
I'd slept at 3,635 meters or 9,843 feet above sea level in Chivay the night before.  There I'd woken up dizzy, cold and nauseated. 
But all that was gone.  I was where I enjoyed being, walking in nature.  I made sure to do extra yoga sessions in the days prior as I knew that my legs would be in for a heavy-duty workout.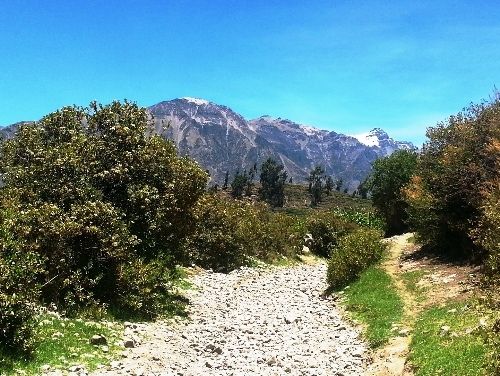 This flat part of the path wouldn't last for more than a half an hour.  Even though there's no ascending or descending here, you have to be  careful about not twisting an ankle. I didn't see it happen, but I didn't see many people either.  
On the three hour walk down, I ran into one person, an older French gentleman who was heading up in the opposite direction.  He had an altitude gauge on his watch and told me that I was one-tenth of the way down.  it was tough to measure the distance to Sangalle with my eyes.  I was impressed by the man's fitness and hiking ability as he must have been in his early 60s.   
We had a conversation for maybe 10 minutes, when I had to bid him adieu.  I couldn't make enough sense of what he was saying through the thick French that was embedded in his Spanish.
Here you can see how dry this part of the canyon appears.  Apparently rainy season should have started this month, but it hasn't yet.  This was lucky for me as I didn't have to worry about slipping and falling like at slippery Tayrona.
I walked and walked, stopping to admire the views, drink water, and ponder on the natural beauty, and the nature vibes I felt, while slowly stepping down into the unknown.
I'd often stop and turn my android back on to take a few shots, before turning it off to save the battery.  There was  no electricity where I was going.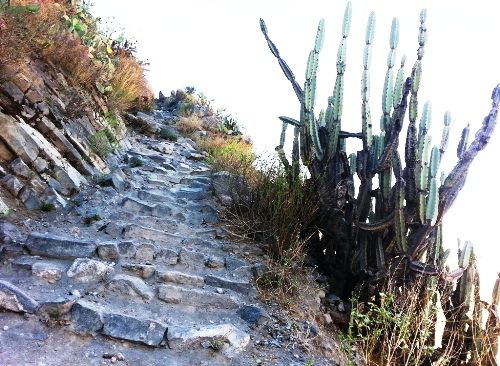 It's a straightforward path.  It's just important to watch where you're walking.  I was glad to be hiking solo. It gave me the freedom to stop and take in the scenery as I felt fit.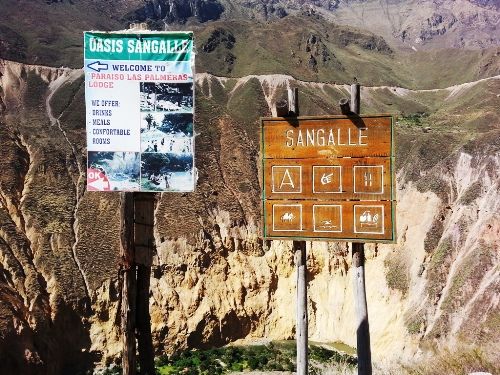 Here the oasis looks closer than it really is.  I took a guess and went right here.  I think I ended up at the cheaper accommodation.  I was told there are five hotels/resorts/posadas. Call them what you will.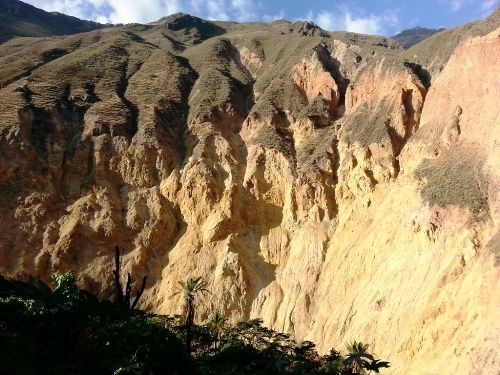 I could feel the oasis getting much closer now.  The calf muscles that had never descended almost 1,200 meters or 3,936 feet in a few hours were aware that this was a first.
I gazed at this canyon wall and found the infinite shapes enticing.  Then I just wanted to get down and complete my hike and enjoy a few hours in the oasis, before darkness set its claustrophobic cover.
Here I was very close to the canyon oasis of Sangalle, where I'd relax and eat before trying to rest the weariness that would regain its momentum.
As I walked along the fringes of the oasis, a man approached ensuring that he had a bed.  I took it.   Dinner would be ready at 7 pm.  
I had the yard to myself while looking up at walls in each direction.  Civilization was four hours straight up, but not until the next day.  Until then I was in a giant chasm, to feel trapped, or completely at ease, whichever scenario I chose.
The earth's natural art was beautiful.  Water flowed constantly, almost masking the sometimes whizzing wind.  I watched the strong breeze blow the fruitful nature of the small valley floor.
I took it all in while lying in the fresh, dark, green grass.
Set down and away from the dry, brown, cactus riddled mountains,  the oasis is perfectly fertile.  The greenery boasts other budding colors.  There are fruit trees and herb plants.  Most if not all of the food served at the resorts is organic and from the oasis.
I was reminded of a late spring day, except, I was at the bottom of a huge canyon.  
My legs began to stiffen from the walk down.  The altitude adjustment started to consume my fatigued head again.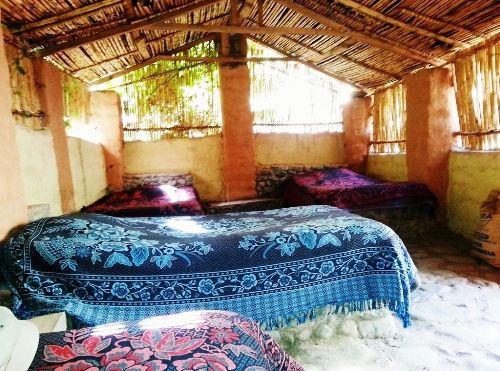 Usually I enjoy having a hostel room to myself.  During the day it was fine to be the only one in the resort.  I talked to the co owner while eating the Spaghetti, soup and tea that she'd prepared.  Then I retired to my dark room.  The bottom of the canyon felt spooky.
As mentioned, there was no electricity.  As I lay in bed listening to the wind and water and other sounds of the oasis, a small part of my ayahasca experience returned.  I was reminded of being in the shaman's home, and the sounds of spirits.  
My fatigue felt heavy.  I felt claustrophobic.  I got up with my flashlight and went to the bathroom, like I did at the medicine woman's house in the jungle.
I wandered in the yard and up to the pool area as a partial moon lit up a bit of the valley.
I was in an enclosed area. I felt nauseated, held down, trapped, exhausted.    I wanted to take my flashlight and hike up to the town of Cabanaconde.  I knew that was irrational and almost impossible. I had to stay till sunrise.
I returned to my bed and was very fortunately asleep within a minute, not to wake up until a bit after sunrise. I'd gotten a deep night's sleep.
The tentative plan was to hike from Sangalle to Yawar, another oasis deep down within the canyon.  That'd be about 7 hours of ascending and descending over and over.  Instead I opted to walk back up to Cabanaconde, the same way I came down.  At this point I felt fine being in at the bottom of the canyon, but I wasn't ready to entertain the idea of another night on a small valley floor.
Just after starting the ascent at around 6.30 am, I was offered a mule.  The man explained that with a mule it would take two hours, and walking would be four.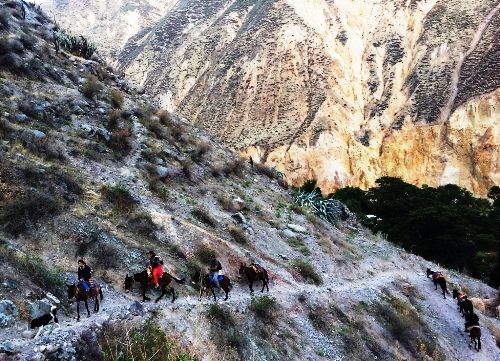 I've always felt fit enough to tackle any trek, so I opted to walk.  Riding a mule felt like cheating.
As the altitude got higher, the soroche or altitude sickness came back, and got worse as I went up.  You're supposed to take time in a place to acclimate.  I should have spent two days in Cabanaconde to acclimate before exerting myself.  
Hiking straight up a canyon requires exertion and adrenalin, something you're not supposed to do until you're used to the altitude.
By the time I made it to the top all I wanted to do was take my nausea to bed.  But I made it in time to get the five hour bus ride back to Arequipa which is at a comfy, non nauseating altitude.
This is one corner of the small plaza in Cabanaconde.  To the right you see a little hostel.  To the left is a small store where you can leave your bag for a couple of soles.  You see the light blue chair; go in there and the lady will be more than happy to hang on to your bag if you ask her.  If you use this option I suggest you buy water for the trek from her and not someone else.  The opposite side of the plaza, diagonally, is where the trek to Sangalle starts.
COSTS
My bed cost 12 Soles or $4.32.  The shower was a one-minute walk away and the water was very hot.  I paid 2 Soles or $.72 to rent a towel. The spaghetti with soup and tea cost 10 Soles or $3.60.  The local bus ride from Arequipa to Cabanaconde cost about 17 Soles or  $6.13. The only thing that's a little bit expensive is the recently added charge to enter the canyon from Cabanaconde.    About 15 minutes into the walk, before the descent, a man approached  and charged me 70 Soles or $25.23 which is shockingly high for rural Perú, but that's life.