In the Heart of the Atacama
Until I'd bought my bus ticket to San Pedro de Atacama, I'd never heard of the oasis town where people live exclusively off of tourism.
I'd never been to a place where tourists appear to outnumber locals.
Opportunities to visit unique natural splendor abound. 
Brazilians, Brits and Germans make up just a piece of the tourist puzzle. Add Chileans, Argentinians, Australians and other nationalities, and you have a tourist mecca.
Due to high demand and being in Chile, San Pedro isn't cheap.   The best I could do was 10,000 Chilean Pesos or $18.50 for a dorm bed.  Meal prices in restaurants reminded me of the US or Europe. Compared to neighboring Perú, Bolivia and Argentina, Chile is not a bargain traveler's destination.  
I'd never been to a place where 90 percent of the people I see on the streets are foreigners. The town appears to consist only of places of accommodation, restaurants and tour shops.
I love nature, but I'm not a fan of a town that reminds me of a desert themed cruise ship where nothing is included. I was torn.
Many tours start at 4 pm.  The only other option is to rent a bicycle or a car, and venture out into the unknown, where the dry heat is extremely hot.
I'd read that if independent bikers are stuck because of heat exhaustion or a broken down bicycle, a tour van that goes by may help.  I was tired just from walking around in the town's daytime heat so I opted against this idea.
I'm too frugal to rent a car or 4 X 4.  I feel that I see so much by default that I don't need to see things that require a ton of dough.
On my second day I decided I'd join a tour, something I almost never do.  I couldn't go to San Pedro and not see some of the most picturesque scenery on the planet.
I tried to join the tour that two of my hostel roommates were on, to bathe in a lake that's as salty as the Great Salt Lake, but it was full.  I walked around and checked with five or six offices for anything that was offered.
It seemed that all 4 pm tours were full. Then right at 4:00 I managed to join one that was going to the Valle de la Luna and Valle de la Muerte.  I was happy that there'd be no altitude climbing as the valleys sit around 2,400 meters or 7,900 feet, the same as the town.  Many of the excursions offered required ascents much higher, to where altitude nausea might set in.
Feel free to click on the photo(s) for a larger view and an optional manual slide show:
This was the first stop, in El Valle de la Luna.
I managed to get in front of everyone to get this unobstructed view of these natural sculptures.  The white is salt.  It was explained that around 20 million years ago this area was part of the ocean, and the salt is left over.  NOTE:  San Pedro de Atacama is very close to the Bolivian border and the famous salt flat of Uyuni.
We got back in the van.  The next stop would be for caving.
Here is the stagnant line before getting into the actual caves.   It didn't help that we clashed with at least two other tour groups there.   After getting into the cave and being stuck in this line, often not moving, I got claustrophobic and opted to turn back.   
It worked out well as I managed to squeeze in a little bit of hiking on my own.
After returning to the bus we drove for a short way before being dropped off for casual walking.
I really wanted to hike up onto this gorgeous dune, but it wasn't part of the organized tour.
We got to walk for a couple of kilometers before the bus came.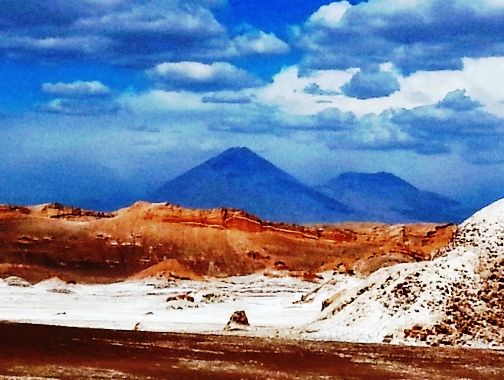 I found the contrast between salt, sand, volcano and clouds to be a unique sight.
The bus then took us to the final stop of the day: Valle de la Muerte
This group of Brazilian tourists happily took in this view until sunset, when all the tour buses headed back to the town.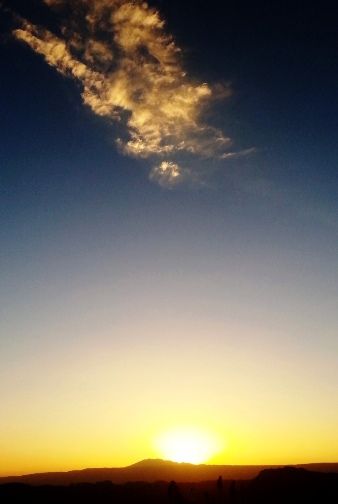 The sun set at 8.15 pm.  The tour was complete.
- – - – - – - – - – - – - – - – -
The Atacama desert is the driest place in the world.  Nights are pleasantly cool.
- – - – - – - – - – - – - – - – -
My tour cost only 8,000 Pesos or $14.80.  It was very affordable because there were around 25 people.  Many of the tours that cost two to three times as much had a maximum of only 10 people. There are endless tour package nature options in San Pedro de Atacama.  It's much better if you plan ahead, unlike what I did.
- – - – - – - – - – - – - – - – -
The town of San Pedro has mini markets that sell food.  Most hostels in Chile have a kitchen for guests so it's possible to eat on the cheap.
- – - – - – - – - – - – - – - – -
If you like this and other posts, feel free to like my Facebook page or connect with me on Google+.