The Visual Paradise of Valparaiso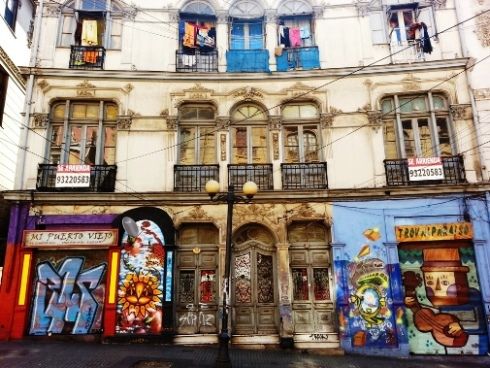 Valparaiso, colloquially known as Valpo, is one of the most visually interesting cities I've strolled around in.
The coastal hills, architecture and especially the endless graffiti, is a central Chilean spot that makes you feel like you've stepped into another dimension.
There are cities around the world that frown upon street art, but not Valpo. It strives to let people's creative juices flow.
I think graffiti is nothing but aesthetic.  It allows people to express themselves through free thinking.  Freedom of expression helps humanity and society thrive.
When I write something and share it, it feels good.  I assume it's the same for someone who's able to convey thought on a wall.  The heartfelt potential is endless.
To me, some street art is wondrous.  Valpo gives us the chance to absorb the wonder.  The uniqueness of this city makes it a destination like no other.
There are many colorful staircases.  Vintage trams roll down some roads. Houses appear stacked on one another.  But I didn't see cars hanging from clothes pins.   An artist's imagination is endless.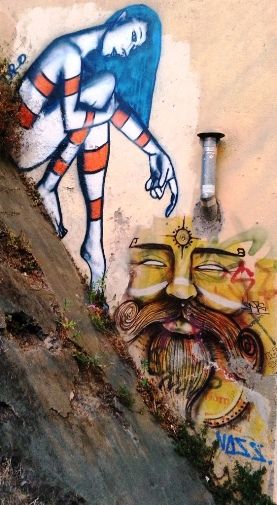 This piece of art sits on a side wall next to a concrete precipice.  An attractive young woman with a long index finger is picking a wizard's or wise man's brain, literally. I love it.
This piece of work is painted right outside of someone's window.   Perhaps the artist  drew a picture of him/herself with the paintbrush in hand, over a depiction of the city's homes.  This one is open to never-ending analysis.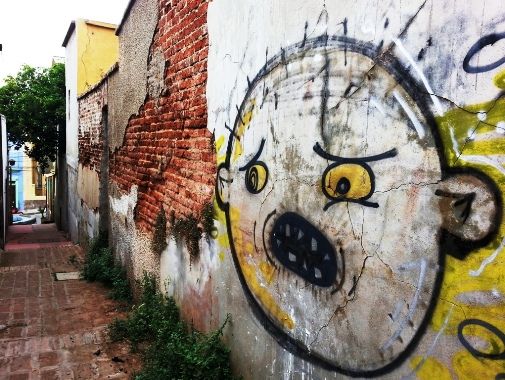 Was this artist influenced by Munch's "The Scream"?  Was the creator terrified of something?  I like how the graffiti contrasts with the bare bricks beside it.
It takes a little while to notice that there's also a torso and head to go along with the huge pairs of legs and feet.
The girls look like twins, or sisters at least.  Maybe we see pain, love and evil.  This one is wide open to interpretation.
This piece illustrates the architectural beauty of Valparaiso.
Pulso Taller means 'pulse workshop'. Your guess is as good as mine.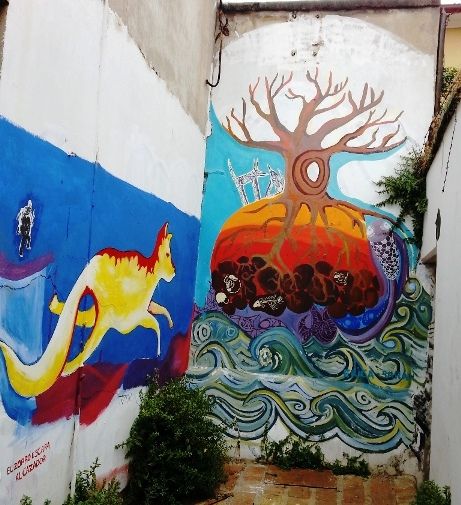 I see a think tree. This was  snapped at the end of an alley.  After wandering into this desolate zone, I remembered what happened in Bogotá and scampered out as soon as the photo was shot.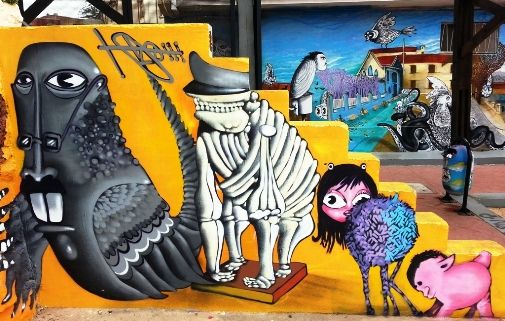 L to R: a sea land creature, a dog skeleton, a girl-martian hybrid and a pink piglet.  More graffiti in the background shows the prevalence of wall art in Valpo.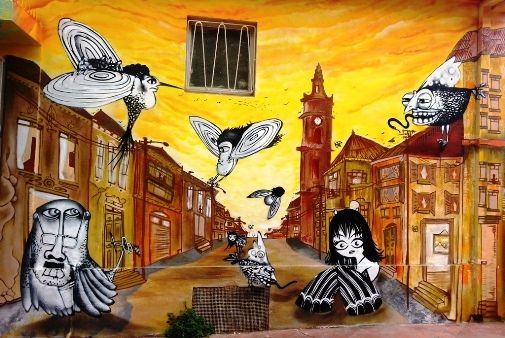 Perhaps the artist is imagining having the ability to fly.  I find this one to be surreal.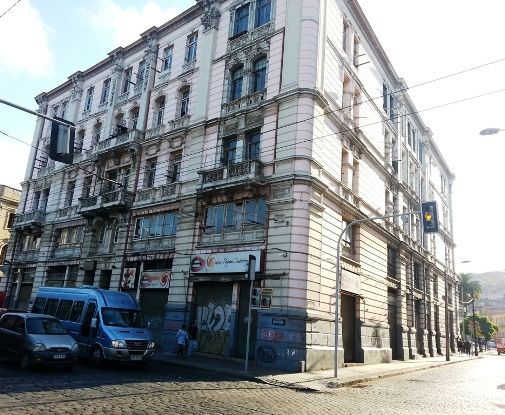 There's no graffiti on this building (only on a shop door), as it's being preserved for its vintage value.
The blue house on the corner is where I stayed in Valparaiso.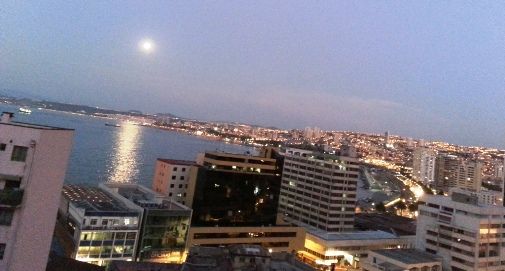 Thanks to Valparaiso being on the Pacific Ocean, the summer temperatures are perfect.  At least this was the case during my three days in this Chilean gem city.
Valpo has the nicest street art of any city I've visited.
What's the nicest graffiti city you've been to?
-   –   –   –   –   –   –   –   –   –   –   –   –   –   –   –   -
If you like this and other posts, feel free to like my Facebook page.