The Calming Waters of Cacheuta
Whenever I'm near therapeutic waters, I make it a point to visit them. The Cacheuta natural hot springs/water park in Mendoza was no exception.
Because many Brazilians, Chileans and Argentinians are on summer vacation, you'll find many of the pools mobbed now, especially with Argentinians who love to relax and enjoy the therapeutic opportunities that their land offers.
The big pool above has moderate temperatures that you get used to after about five seconds, but remains cool enough and refreshing during the entire experience.
This elongated pool goes around the big one in the top photo.  The water is the same temperature, about perfect.
Here  you see the same long pool as in the photo above, a couple of smaller pools and some general sun bathing spots.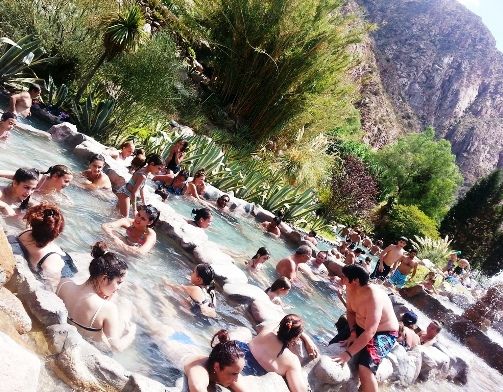 I didn't try to get into either of these two pools.
There were times when I wondered why I was there as it was too crowded.   But that's just the way it is as I happened to hit the south of South America during the summer.  That's when most people are able to take their vacations.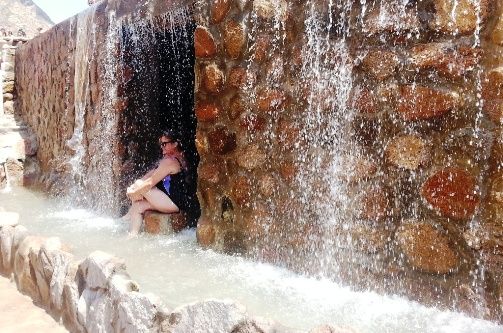 As in the center of the big pool in the top photo, this spot offers body massage opportunities.
This area was also just a bit too crowded.  I can't help but think that I'd like to get back to Cacheuta during low season.  Still, people here didn't seem to mind the intimacy.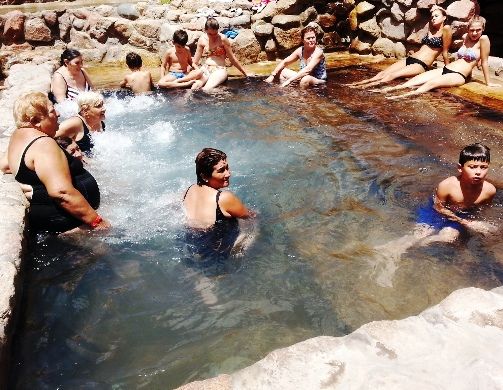 This one had a little bit more space but not enough to make me want to jump in.
The amount of pools seemed endless.  I didn't count them.  I'm estimating that there must have been around 15 pools.
This is the first pool you come across when entering the hot springs area.
I managed to sample a few of the pools including the big one in the top photo and the long one.
The pools varied in temperature.  I fully immersed myself under the hottest pool there which was usually empty because of the scorching summer temperature.  Still, the extreme hot water soothed all my muscles.
 -   –   –   –   –   –   –   –   –   –   –   –   –   –   –   –   -
There are no photos of me in the water as I decided to leave my android in a locker while swimming and lounging in various pools.   It seemed like the easiest solution.
-   –   –   –   –   –   –   –   –   –   –   –   –   –   –   –   -
Have you been to any therapeutic hot springs lately?
-   –   –   –   –   –   –   –   –   –   –   –   –   –   –   –   -
If you like this and other posts, feel free to like my facebook page.