I awoke around 4:15 a.m.
I don't want to deal with electronics at that hour. It's a deal I've made with myself. Although the habitual thought loomed, I observed it, and let it slip away. Psychological win!
Mostly, the only thing mindful was transplanting my house, my body, my being to the cushy thick sands. After a glass of water and a quick, all-plant protein bowel release, I was in swim shorts, a white T-shirt and the second pair of expensive designer sandals I've owned.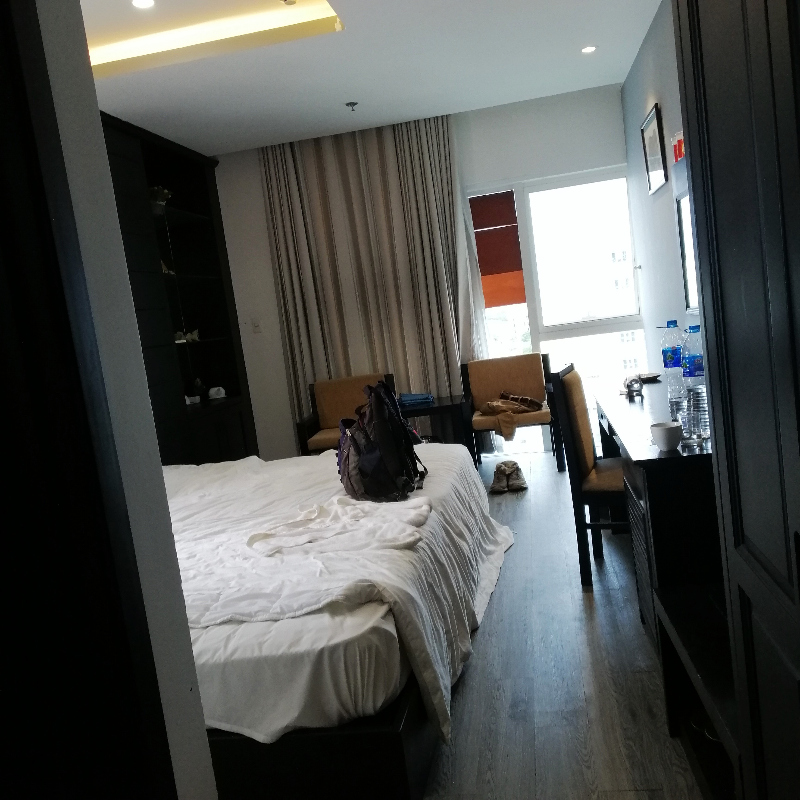 I had the hotel-room key card and a small bottle of complimentary daily water in hand. The two water bottles per day were perfect for the two beachside excursions. These small containers were left with the daily cleaning at the plushly and superfluously furnished, $13 room. There were urban views from this 9th floor room in a hotel that's a block behind the main drag that runs along the beach.
I thought:
Luxury travel can be overrated. But I would have enjoyed first class on the 17-hour, long-haul from JFK to HK, on the way to BKK.
I closed the door and pulled to make sure it was locked, and made the eight steps to the elevator and pressed the down button in-sync with the eighth stride. The door's digital display showed the closest of two carriages on the 4th floor. Several seconds later it opened on the 9th level.
The short wait for the elevator car allowed for a brief lower calf stretch with a self reminder to focus on nasal breathing.
More seconds passed and I departed the elevator on the ground floor. The night concierge was asleep on a luxurious sofa.
I thought:
Luxurious sofa sleeping beats a chair, a cot or a floor. Better to be the night person at a luxurious hotel, compared to a lesser-starred establishment.
I stashed the key card behind a small box on the receptionist's desk. There are so many card-key stash spots inside the copiously furnished lobby area.
After a short walk, I was on the milky-white sands. Parts of the beach were artificially lit up. I casually walked to a darker area and stretched. I couldn't believe how many people were on the beach walking, meditating, and doing yoga, before daylight.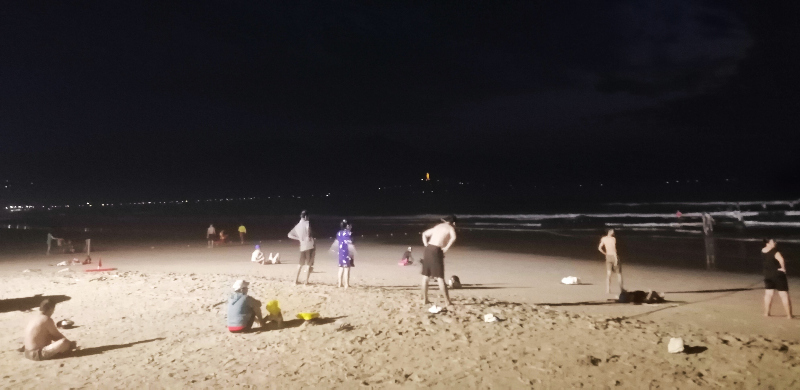 The sands were cool and dry. I was far enough from where the tide wouldn't come up and dampen the soft multitude of grains. These cool sands felt fantastic to the feet and body.
I thought:
Earthing on the beach makes everyone feel great to be alive.
I also thought of dogs and how they instinctively roll in nature, becoming one with it.
I tried to focus on the sounds of the crashing low waves and the ocean breeze, while stretching and trying to find equilibrium on uneven grains.
I'm not sure how long I stretched in the dark while people power-walked past.
I found a spot for my sandals, shirt and water bottle, next to a lifeguard's red plastic chair.

The water felt fantastic. The temperature was perfect, neither hot nor cold.
Perception of hot and cold depends on where a human grows up. If a person from an Indonesian island went swimming in Finland, they would feel shocked and maybe traumatized. At the same time, what seems like normal water temperature for an Indonesian, might feel like bath water to a Finn.
The only caveat was the $60 sandals sitting on the beach. I felt the need to turn and look while swimming. This was the first time I'd swum in darkness, so I wasn't able to get a great look.
Remembering this sign may have caused more mindfullness.
At times, I was able to drop the sandal paranoia as the dark-ocean immersion felt like a pleasant parallel dimension.
Body flow in ocean water is a wondrous way to feel nature.
But the caveat still returned.
I don't want to lose the darn sandals!
In January of 2020, I had the great fortune of visiting tropical Unawatuna, Sri Lanka. While coming out of the water on the sparsely populated beach, I walked up to my small backpack and thin beach blanket to notice that my eminently-engineered sandals would never be seen again.
Still, Unawatuna is a tropical beach haven where the great vast majority of people don't engage in theivery. As a whole, Sri Lanka is a desirable drifting destination filled with endless magical potential. The sandals could have been taken by anyone, on any beach on earth.
I have no option but to chock it up as my mistake.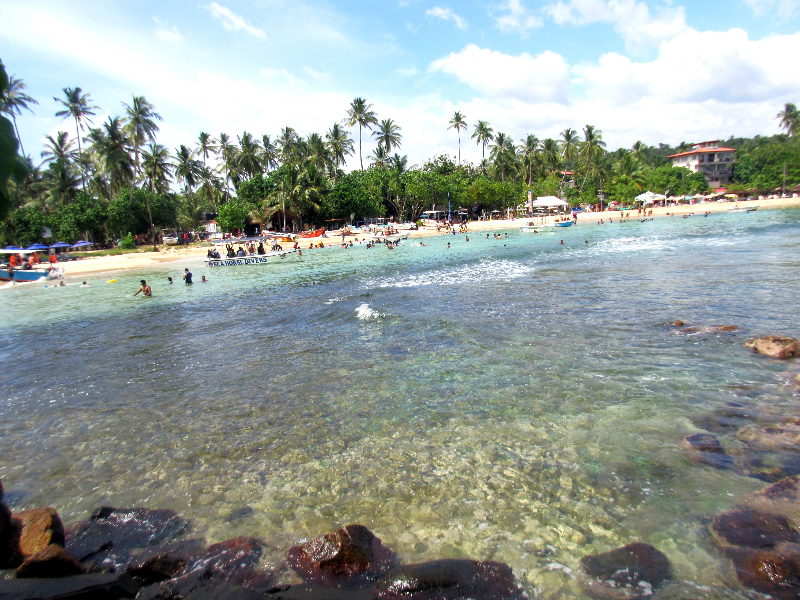 Unawatuna Beach, Sri Lanka.
That was the first expensive pair of sandals I'd ever bought, or seen. I thought I had been keeping an effective eye out from the water.
Now the second pair comes in handy for the short urban walk to the beach, or if I feel the need to go out in a downpour. These ergonomic wonders are irreplaceable.
Up till now, I've swum on Mye Khe beach at least 30 times. So far, so good.
Unawatuna in Sri Lanka is set up for tourists; some who flaunt their disparate monetary options, knowingly or unknowingly, more often, the latter.
Mye Khe, Da Nang, is transient too; but where I swim seems to be all locals attempting to take care of their health in the natural environment they were dealt by birth, along their big, thriving and rapidly growing, urban space.
A thief would surely hang out 2 km up beach, which tends to be a bigger foreigner area. Are their thieves? I only notice people absorbing the beach and ocean vibes.
There is the sign, but this doesn't seem like a culture where thievery is prevalent.
It was still dark. My sandals, white T-shirt and small, plastic water bottle were barely visible. A little dot of white on black. Black meant the sandals were there.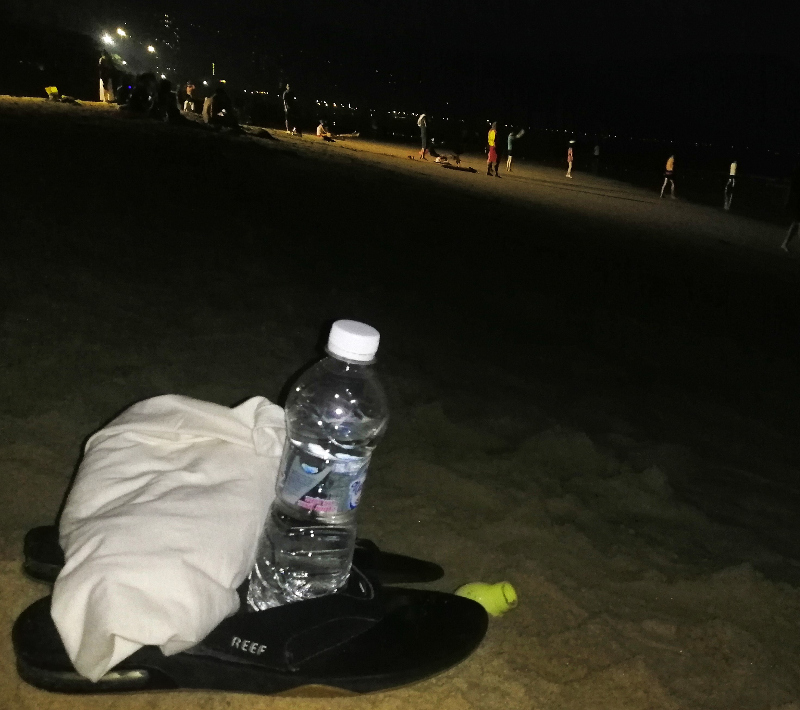 There was no sign of the sun coming up across the Pacific horizon to the east. It started raining.
Swimming in salty, wavy-rough water, treading through a natural whirlpool of sizable, crashing waves and feeling the cool, early-morning rain pounding down, was an absolute immersion with the earth and its delightful elements.
Dim light from a sunless dawn appeared while I was walking out of the water. Absorbed in cool, beach rain pelting down, I had an epiphany:
Contrary to what I might sometimes let myself feel and think, life is a miracle.
I had a revelation in the rain. It was a miraculous morning.
Have you ever had a revelation in the rain? Leave a comment below or continue the conversation on Facebook or Twitter.
See the complete collection of photos from Da Nang.