The wide sidewalks, yet long blocks make Danang a pleasant alternative to Hanoi's cluttered streets and practically endless buzzing traffic.
Hanoi's Old Quarter thrives in organized chaos while Danang seems to prosper without this potentially-perceived pandemonium.
Danang has a wide, luxuriously-long, soft-sandy beach.
It didn't help rolling an ankle stepping off a curb near the lake the first morning in Hanoi. This momentary lack of focus transpired during what might have been a precursor for long-walking excursions through fascinatingly new mega-urban space.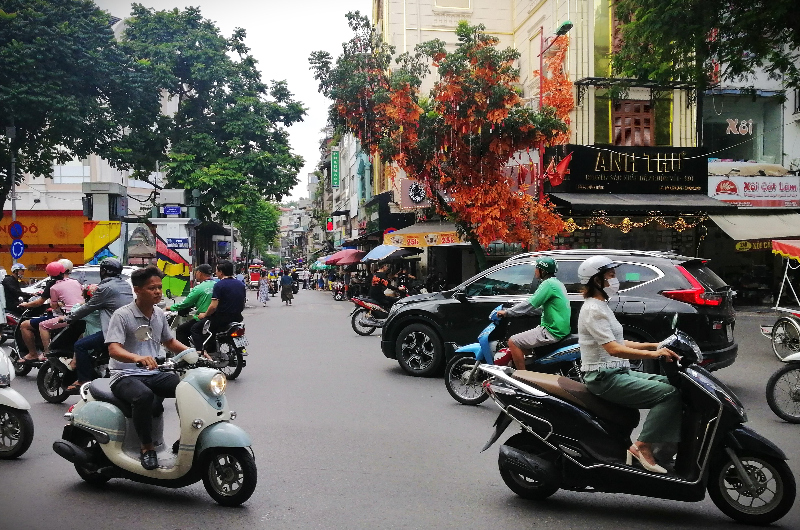 With a compromised ankle not well-fit for the Old Quarter's obstacles, I booked a $43 flight to Danang on Vietnam's central coast. With a slight walking ailment, the easy geographical hop was a great alternative to a stagnating bus or train ride that could have caused too much blood to circulate down.
At the airport I paid $11 for my check-in bag. That's $54 in total for a one-hour and 20 minute, one-way flight on Vietnam Airlines.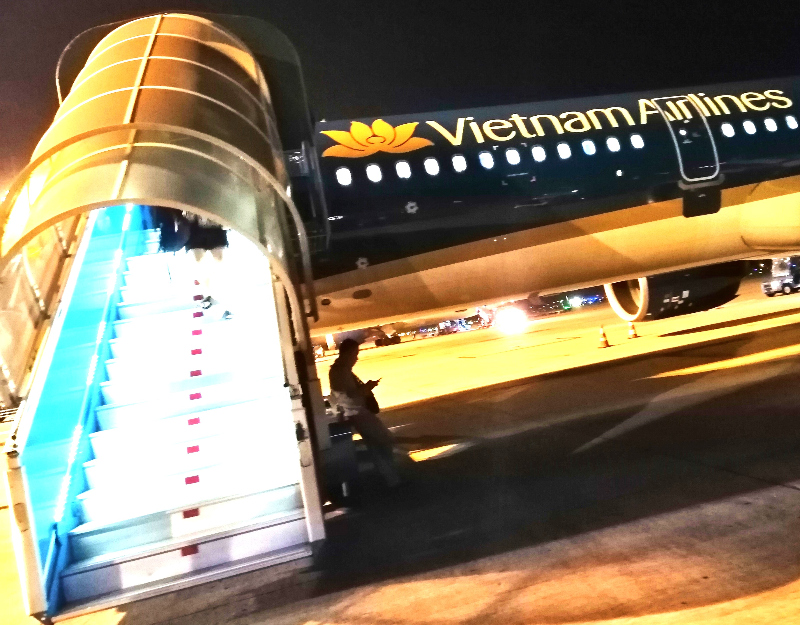 Within four days I had two smooth experiences with the national carrier. The staff are extra-polite and ready to accommodate.
I'm Inside 'Rüya Coffee Never Stop Dreaming', at the time of writing. Another cyborg on a laptop two-and-a-half tables away has sneezed very loudly at least 10 times. I wish he would leave. But he is not going to. I might have to as these consistently startling micro episodes have thrown off any flow I might have been able to muster up.

He got on his phone. The sneezing miraculously stopped after he'd bolted out at least 10 of the loudest sneezes I've ever heard.
EMPATHY CHECK: In Danang cafés and restaurants, omnipresent fans can blow and oscillate in every direction. At times I sit down and feel the fabricated breeze attacking me from multiple angles. And sometimes there's cool A/C ventilating, too. To call Danang hot and humid in mid September could be an understatement.
Unlike when arriving in Bangkok many months ago, my body is physiologically adept to handle the balmy heat and heightened humidity.
Although that doesn't mean a siesta isn't easy after strolling in sauna-like air.
The fans and sometimes A/C blowing air is far from ideal. It makes me long for natural wind. Thankfully, the beautiful beach is never far away in tropical, shore-lined Danang.
This coastal city with a metro population of 1.2 million sits at 16° north of the equator. Danang lies conveniently on the South China Sea: the body of water nestled between Vietnam, southeastern China, the Philippines, and the prodigious Pacific.
Danang is at a tropical latitude just below that of Hawaii, and equal to southern Mexico. It sits at the same coordinate as Yemen and central Mali.
Danang is the fourth biggest city in Vietnam and still too big for my tastes; nevertheless, the long stretch of serenely-sanded beach makes up for any urban inconveniences.
While the beach is juxtaposed by pretty palm trees, there are tall buildings that cater to mass tourism. They protrude into the sky, blocking views of the universe and compromising avian and ground habitat.
That said, a metro space with such surreal sands is incredibly livable. Danang has two distinct worlds just a stone's throw from one another.
A local person told me that 60% of Danang's economy relies on tourism. I don't know how accurate that is, but judging by the hotels, massage parlors, restaurants, bars and cafés in the area, it could be true.
The man also mentioned that even when the land was closed to outsiders two years ago, Vietnamese tourists from north and south were pouring in. I thought:
In the summers of 2020 and 2021, many of the world's borders were closed. Domestic tourism was taking off all over the planet.
Judging from the passengers on the flight from Hanoi, and many of the guests in the hotel, domestic tourism is still thriving in Danang.
Beach Side
I got in the water for the seventh time this morning. I've been going in twice a day.
It was raining when I awoke around 6 a.m. I took the elevator to the 12th floor and a set of stairs to the rooftop pool to get a glimpse of the South China Sea. There were people swimming.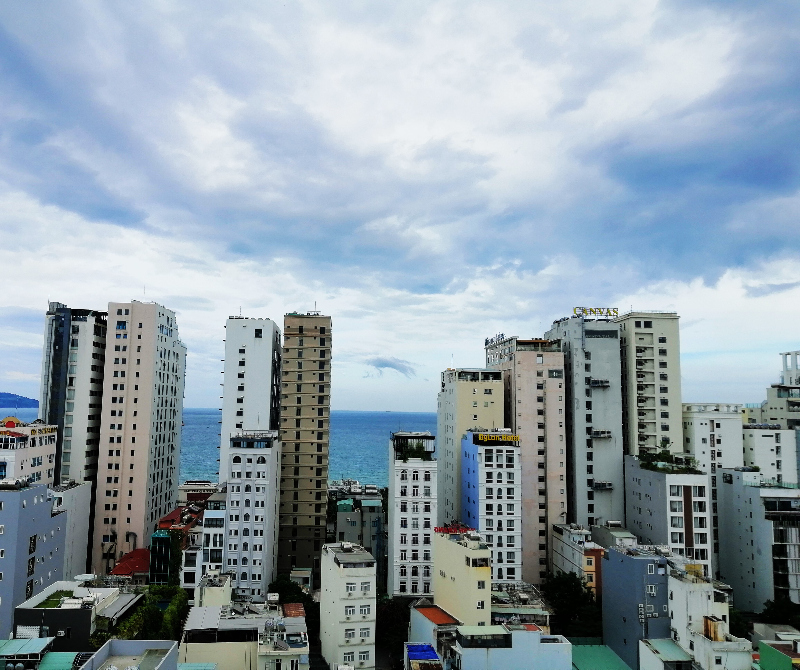 I quickly learned that rain sans thunder and lightning isn't going to stop urban dwellers from enjoying their sandy-salty, liquid gem. So I took the elevator back down to the 7th floor and my room, and got ready for the slow 10-minute walk, two-long-urban blocks, to the cushy, tranquil sands of My Khe Beach.
Urban high rises are not necessarily aesthetic, on the other hand, I can barely recall the last time I've had beach access like this. What an instant escape from urban life to nature. I am stoically thrilled.
There are always lifeguards on duty when the beach is open. The person sitting in the red chair in a yellow shirt with a red stripe and red shorts, is the lifeguard for this vicinity.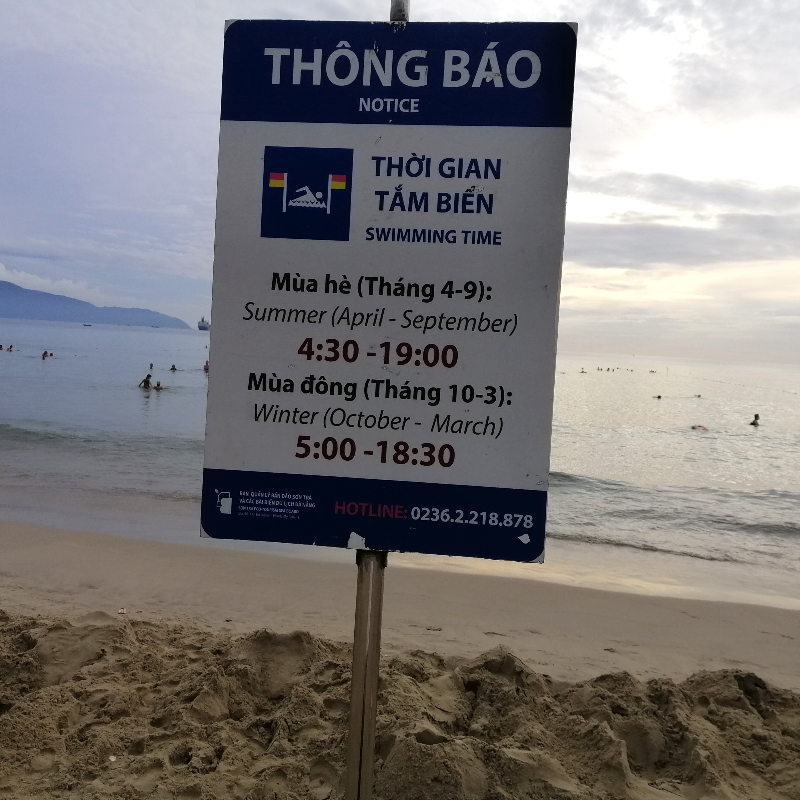 Imagine living in a bustling city that has an inviting urban beach where it's possible to swim 365 days a year.
There always seems to be designated areas closed because of rip tide activity. I've never seen a beach so organized.
The sands are mostly immaculate, but I'm skeptical. When the sun is out after sun up or before sun down, the beach is crowded. Yet, the sands seems clean. I find that incredible.
Add to that: Economically, Vietnam is one of the fastest growing or most emerging countries on earth. Some say it's the new China.
How is there not visible waste in the water?
There are plenty of hotels across the wide boulevard behind the beach and in narrow alleys between the long-wide blocks. I'm settling with a $13.20 per night standard hotel room. I'm not sure a better value can be found, unless I were to procure a monthly rental.
The bed is perfect. The room is soundproofed. There's a big window with a grand view opposite beach side. There's a refrigerator and mostly OK Wi-Fi with long desk space and a decent chair. There's also a big wardrobe for storage.
The shower space is cramped, but along with the sink water, the shower provides heat and great pressure. In the shower there's a small window above. It stays open. While showering I saw birds on ledges tilting their heads up, opening their beaks and drinking falling rainwater. That was a first.
I think little lizards make their way in through that window, too. One ran away from me and got under the door, into the hallway. I only wanted to help it get to safety, but how could it have known. Their instinct is to be uber-afraid of a human giant.
Two bottles of water are included with daily cleaning and there's free water for fill up in the reception area. I like places of accomodation that are aware of the water necessity and make it so you don't have to buy bottled water.
The hotel has a pool and even some dumbbells and a couple of exercise machines on the roof. They offer in-room Vietnamese massage service, but it's about two or three times more expensive than what I was paying in Laos. Still, an $18 massage in the hotel room is a sensational value.
There are massage parlors everywhere I walk and some show prices that are half of what the hotel charges. I've never seen so many spas and massage shops in one area.
There is an optional buffet breakfast on the second floor. It's obviously a proper hotel with a full-on business model.
I gave them my laundry after I arrived. I would come to realize that it cost double per kilo compared to at a service place a few buildings down. The hotel charges double the going rate. Still, it was a solid value; finished in five hours and perfectly folded.
There is a fridge with a stocked mini bar. This is not something I'm fond of as it takes up space.
Staying in an urban cookie-cutter hotel is a culture shock, as I'm used to living in guesthouses that don't feel corporate. That said, the staff are friendly and polite. I enjoy the location, and its proximity to the beach.
For the moment, the pros outweight the cons. And what else ought we focus on but but the optimistic side?
Vietnam is a Culinary Paradise
My intuition tells me that the Vietnamese have been food, tea and coffee connoisseurs for a long time.
I have come to learn that Vietnam is the second leading coffee exporter after Brazil, and for good reason.
Vietnamese coffee can be phenomenally smooth.
A cup of room-temperature or slightly iced tea is usually served with whatever you order, even a cup of coffee.
CULTURE TIP

: In Danang, when you order an Americano, it comes iced by default, so don't forget to say: 'hot' if you don't want it iced. Sometimes they will ask but often they don't. Twice I've made the mistake of saying:  'Americano' and getting an iced-coffee. Both times they kindly replaced it with a hot one at no charge even though it was my mistake.
Unsurprisingly, Pho options are everywhere.
Vegan options for Pho (Vietnam's legendary flat rice noodle soup) exist in vegan restaurants. Before realizing that, I tried beef, chicken and fish noodle soup. My thought was:
I'm in Vietnam. I must eat Pho.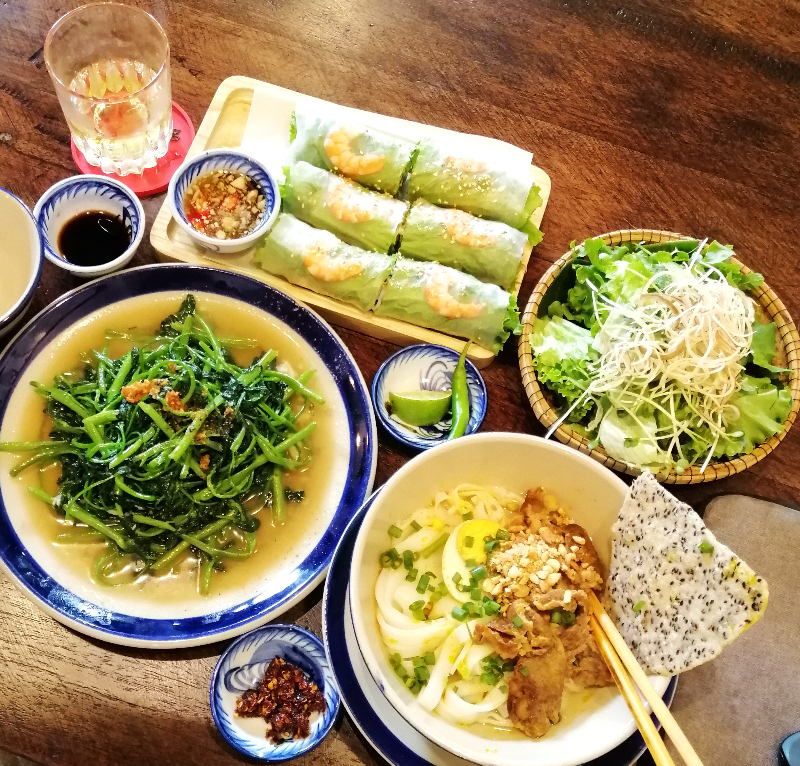 The green dish on the left is morning glory or water spinach with garlic. I especially love it for its greenness. Behind the greens with garlic pieces are fresh springrolls with noodles, lettuce, coriander, green onions and a piece of shrimp.
The fish noodle dish has a poppy seed rice cake sticking up out of the bowl while sort of hugging the chopsticks. There's a boiled egg, silkly-smooth noodles, and chives all contributing to a phenomenal broth.
You know you're in far-east Asia when every dish has it's own side sauce. The fish noodle soup not only includes a small side dish of sweet chili to the left of it. It also comes with thebasket of lettuce, shredded bean sprouts and copious fresh mint.
The Vietnamese seem to consume a lot of fresh mint.
Personally it would be criminal to not try the real Pho in its birthplace. What the Pho! At the same time I am not fond of eating animals. Oh the catch 22s that we come across in this life.
As the days pass, I discover more meatless food options.
There is a God of gastronomy and this deity resides in Vietnam.

Moi
Credit cards are accepted in sit-down establishments at no extra charge so you get the absolute best and official exchange rate, or very close. Points don't hurt either. The transaction tends to work faster than using cash. It's not always easy to find an ATM.
Tipping doesn't seem to be a thing in Vietnam. Leaving a small percentage on the table will probably cause contentment for the server.
NOTE: Outside of the US, it seems that tips are not added to credit card payments. This is definitely the case in SE Asia. 
The Vietnamese Language
The language is in another linguistic dimension.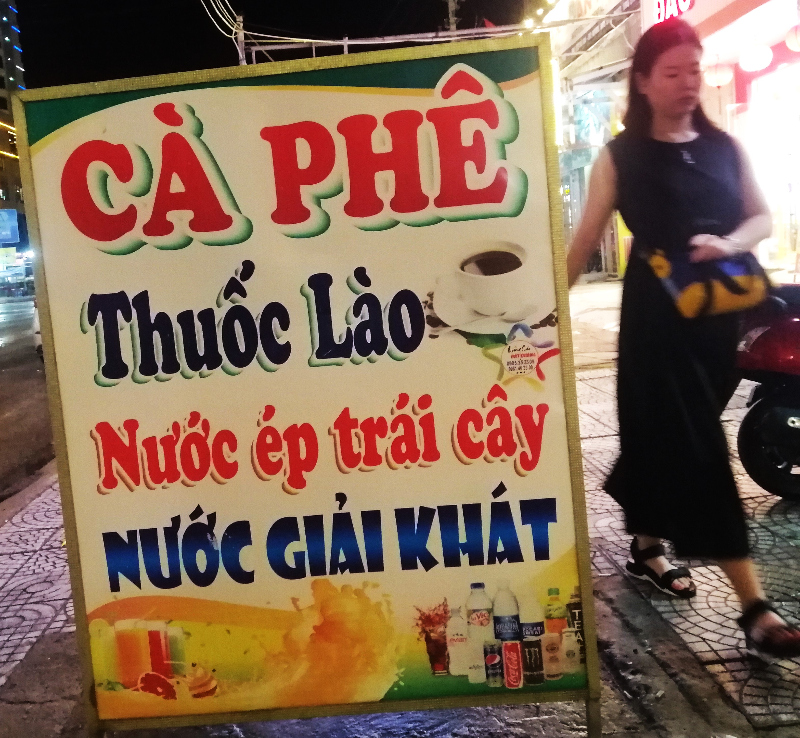 Unlike Lao and Thai, Vietnamese uses Roman letters. While English speakers need pronunciation training along with great patience, the consonants are fast and easy to learn.
At the moment, Vietnamese is the most foreign tongue I've ever heard. When I eavesdrop on conversations, bewilderment sets in.
Fortunately, English seems to be widely spoken to an extent in Vietnamese cities, and when it's not, translations can be conducted on a phone.
All in all, it's nice to be beach side with a uniquely new urban area to explore. There's fantastic food, and so many cafés to choose from.
The beach side area of the city is walkable and there are inexpensive grab motos and metered taxis often available within seconds.
If a person needs a city, yet craves a tropical beach, Danang Beach Side is a desirable place to be.
Have you been to Da Nang or considered visiting? Feel free to leave a comment below. Also feel free to connect on Facebook or Twitter.
Here is the whole Danang photo collection.