When the wellness word optimism comes up in an English class, I like to make time to teach it. It's a positively potent piece of vocabulary for a person's arsenal. It can generate solid discussion and aid in promoting well being, while helping clear mental toxicity. The word carries strength.
Whether on the road, living somewhere temporarily, or at home, consistent optimism can help soothe the soul and make room for exponential growth.
Optimism is a strategy for making a better future. Because unless you believe that the future can be better, you are unlikely to step up and take responsibility for making it so.

Noam Chomsky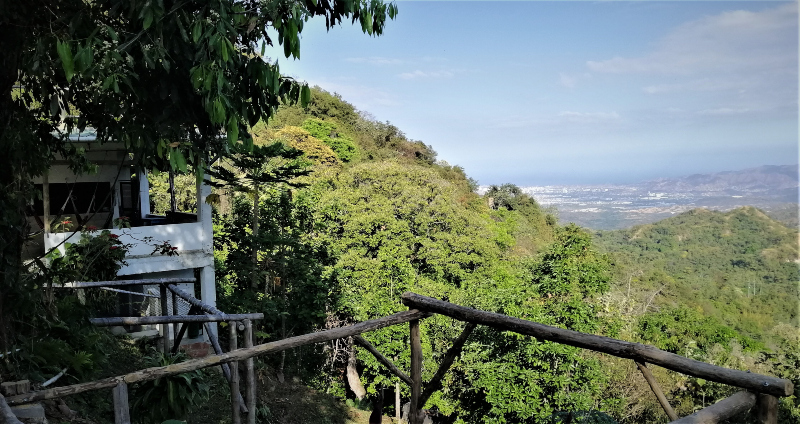 There was no Internet at the quaint, and somewhat shabby jungle hostel in the cool, exotic, bird-strewn foothills that overlook the Sierra Nevada mountains, the small city of Santa Marta, and the Caribbean Sea. This would mark the third straight day without wifi. Before that it was working better than ever for many days.
I had been at this accommodation for a month and a half. The Wi-Fi connection functioned more often than not. But it was far from perfect in the tropical mountains in and around magical Minca, where Internet goes down. This does not affect the average Mincan, who tends to be in tune with nature, as opposed to technology and information.
A man was complaining to me about this lack of wifi. He had a point as virtually everyone is deeply dependent on an Internet connection. It must be a habit as prevalent as a carbohydrate, cheese, sugar or cigarette addiction. A French couple moved on due to this faulty connection. They sported many devices and were doing something with one or another, most of the time. Like so many people these days, they were working digitally, from anywhere on earth.
This Internet connection needs to be restored. We're payin' money for this!

A guesthouse patron
I've been in this land for many months. Eventually, I bought a phone and SIM Card. Since then, when wifi's been compromised, I easily connect the hotspot. That was a revelation . . . It's an unfortunate, extra expense, but it's not that pricey, and can be super cheap when used as a backup when wifi has a hiccup. But you usually need to speak Spanish or get a translator, or use your phone or other device for translation. And remain patient. The plans they offer can be confusing, because there are many choices and you need to process the clerk's Spanish unless the options can be shown on paper. Nevertheless, using data for a hotspot'll keep ya connected most 'a the time. And in your travels, you won't be dependent on your accommodation to provide perfect wifi all the time. In Minca, they can't. I stayed in a place here recently. They told me they had wifi when they hadn't had Internet installed quite yet. It didn't hamper my emotions as the hotspot worked fine. But, yeah. I admit, it was lame of the guy to lie, but I don't have time for negative thinking or grudges as they can't benefit me.

MOI
Focus on Optimism
I went on to focus on the positive, which I was doing for my own reminder. I know this pays huge dividends for my existence, and those around me. As I satisfy my mental wellness, I am happy to shed these positive vibrations on to those who are open to them.
The hostel provides free, filtered drinking water as long as the power isn't out. Varied quantities of rain and wind and ordinary maintenance cause power outages. I typically fill a few glass bottles of water, which I keep as a backup for when the power goes out.
The jungle house is great. For about $12 a night (discount for paying for a 10-day or more chunk up front), I sleep in a comfy bed, in a private room. Other than an occasional cat movement, I hear the natural orchestra of a Caribbean breeze: an earth fan blowing wind up into the majestic mountains.
Contained in this wide breeze are birds and other bio-diverse, tropical flora and fauna. It puts me in a calmer state when closing my eyes. It allows the ability to sleep to the divinity of perfect nature.
Thank goodness for the house cat, who loves to sleep on the corner of the bed, deterring tropical insects from the space. Win win. And I'm grateful to pick avocados and mangoes from the trees of the hostel grounds. There's fresh rosemary, oregano, peppermint and culantro (not cilantro) from the vines outside, near the big, shared kitchen.
Here I can happily brew coffee purchased from a small finca or farm. Consequently, I'm brewing and drinking the cleanest, smoothest coffee on the planet, at the source. ¡Que sabroso! It's so delicious. How fortunate am I?
Other than nature and the universe, nothing is perfect. However, life's benefits must outweigh its drawbacks, as long as we generously open our minds to these positive perceptions.
There's no Internet. What a great time to read that book or manual with fewer interruptions. If you're feeling negative and not reading anything, pick up a book on favorable thinking. It might help to purge those negative toxins and provide a path towards psychological freedom.
Whether at home or somewhere else, do you feel you should enhance your level of optimism? Leave a message in the comments' below.
Here are 360 photos from Minca: A Greenscape Above the Caribbean.