I don't have a weight problem; however, my organs don't respond well to compromised food; that which is processed, overcooked, burnt, or synthetic. I wish to keep the carbohydrate intake low and the raw, plant-oriented fruit and vegetable absorption super high.
This looks easy on paper; but to constantly execute this lifestyle endeavor takes discipline and prioritization. When eating or overeating the wrong foods, it can affect mood, sleep and well-being. And worse, eating poorly can drop the immune system and make me more vulnerable to who knows what.
When at home with a kitchen of your own, it is possible to create rules for what you can and can't buy at the supermarket. I like to head right for the section where the food isn't labeled; the produce area or greengrocers. I try to stay away from most boxed and processed items, including sweet desserts that are often tainted with high-fructose corn syrup and things of that anti-nature. Although I crave and love something sweet after a meal.
If one wants to avoid putting nasty grub into the body, namely in the form of artificially processed white sugar, mindfulness is key. Sugar in its natural whole fruit form is super healthy because it is consumed and processed with the fiber and other elements that make up the live, nourishing, divine fruit. Mother nature, God, or the divine rain and sun made it that way.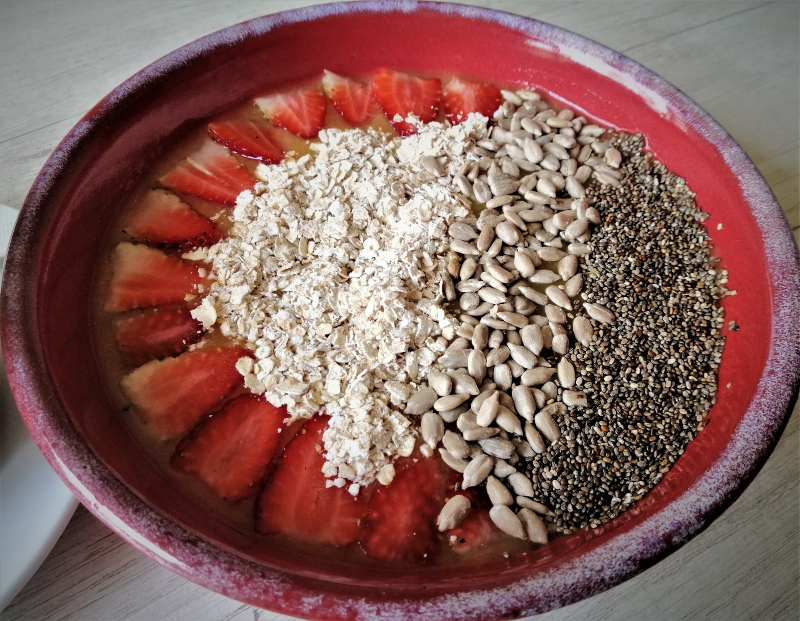 The easiest way to stick to eating healthily is to restrict what is bought at the store. Purchasing things like soda or fizzy drinks, and processed boxed cakes can set a person or family up for gastronomic disaster; thus, set a rule:
No junk-food items are allowed in the cart.
Follow that rule in the store and food-intake integrity ought to be greatly enhanced.
If you're on the road or living in a new place, eating well is typically more challenging.
No matter where I roam on this vast earth, horrible food is in my perimeter. When living in new places, setting rules and following them are more challenging. Just as I finished eating before 4 pm today, I made a pact with myself: No food, only water, until 10 am tomorrow.
That will be an easy fast. I would have set the eating time till noon tomorrow but I have a yoga class from 6 until 7.30 am. The second half of that event can be intense, and will trigger hunger. The key will be to drink a good amount of water while realizing that an 18-hour fast is easy. Ask anyone who's done it and they'll probably agree.
I should be doing intermittent fasting on most days. I just need to set the intention then the rule, while leaving space for imperfection.
My fascination with street food, especially when I'm new in a place, hasn't helped eating optimization. Although with México's eminent cuisine culture, it was possible to find vegan, taco-like concoctions wrapped in fresh, pure-bean tortillas.
Phenomenal eating opportunities line many of Mexico City's food-strewn streets, yet it still has its share of unhealthy eating matter in the form of carbs and cheese. And this super-mega city in the mountains is not immune to the the world's ubiquitous sugar dilemma.
The word for diabetes in Arabic is sukary which means: the sugar disease.
Generally speaking, Colombian street food is not healthy. Instead, I make it a point to go inside a restaurant and order a set vegano meal. Most places will do vegan or vegetarian with eggs, especially in a tourist area. A set lunch will typically come with a hearty soup, plantains, beans, salad and a form of flesh which you can easily say no to and replace with eggs, huevos or maybe more salad in lieu of the meat. Sometimes the charge will be a little bit less. Just say:
Soy vegano/vegetariano.
The establishment will usually oblige because they want your business. And in areas frequented by Europeans and North Americans, they are completely used to this and probably offer it on the menu.
FOOD FACT: Excellent soup can be found all over Colombia.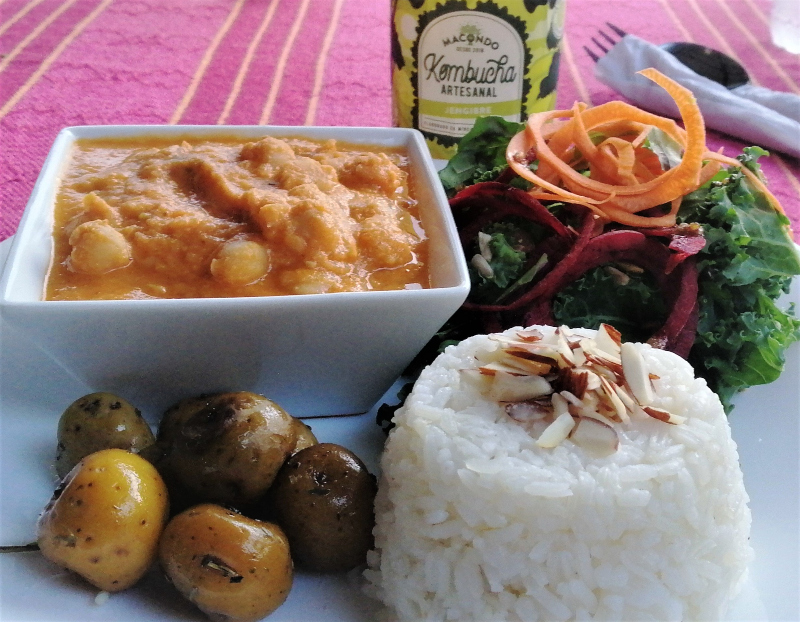 A menu or set meal in Colombia is usually wholesome and complete. I try to tell them to hold the white rice:
Sin arroz porfa.
If a person thinks not having rice is odd, they may look funnily because of the request. If the rice comes, I try to avoid eating most of it; because it's a completely useless starch food that my body will not thank me for eating.
Gastro awe-and-wonder often takes hold in a new place. I want to try everything. So I tend to sample food that is not serving my existence positively. It's easy to overeat with new and exotic foodstuff around.
I ended up sick with a stomach ache in the middle of the night after my first and only day in Colombo, Sri Lanka. The sub-par Sri Lankan bryani loaded with rice didn't help. And the sweet cakes caused my digestive track to curse. In some areas of Colombo, like in Mt Lavinia, there is attractive looking food everywhere. Overeating caused me to feel sick for most of my second day in Sri Lanka.
When I first arrived in Santa Marta last October, their street food was new, so I ate from a few hawkers, including an arepa con queso or purely grotesque empty carbs and useless cheese, and a cookie that might have consisted of 80% sugar. My feeling of wellness was not optimal that night.
The ultimate goal is to feed the body with pure, colorful nourishment, and not too much of it. So I am now setting new, more stringent rules.
Only healthy food is allowed.
Most street food isn't permitted any more. This means remembering restaurant and café mantras like:
Sin azucar. Sin queso. & En agua, no en leche.
I am preaching to myself, reinforcing rules that promote a lifestyle of optimum eating. 'No more flesh food or dairy will go into my body'. I will find a way to eat cheese-less pizza. And I tried pure cashew yogurt recently.
There must be a God(s). The sun and rain produce this kernel in perfect sync. The Mayans were on to something.
---
This body is a virtually infinite universe of sacred cells.  I am beyond blessed to be a walking piece of mixed particles that demand self-respect.
---
The wrong carbs can be an enemy. These days I eat freshly baked brown bread with seeds and no preservatives. It's is an available trend in the town where I have been residing. And it enables the daily opportunity to taste a piece of northern Europe above the tropical Caribbean. This better bread is not necessarily bad food, but it is still not ideal. For what it's worth: this Mincan bread is 'out-of-the-oven-pure-bliss'. Any northern European reading this understands.
I will always envision being on the way to eating enlightenment. Ohala. In'sha'Allah. I am getting closer, shooting for optimal intake.
Food psychology could be one of the most underrated topics in society. We hardly hear people talking about it. Yet it has such a predominant affect on our well-being. Most of us know what is healthy and what is not. We are absolutely what we eat. Still, it is too challenging for the majority of us to eat for maximum health.
For now, there are still an overabundance of food options. We are influenced by super-strategic marketing and advertising campaigns. Moreover, most of us have the tendency to live in a similar way as those around us. Most people eat how they have been taught. Three meals a day. I did too.
Now my body is telling me that two is enough? And OMAD, One Meal a Day, is more ideal. NOTE: This does not apply to children who ought to be getting copious and consistent nourishment.
To keep striving for the most ideal diet, routine is crucial, and daily, baby steps towards the goal is usually the most effective solution. Whether you are at home or away somewhere, pursuing ultimate health poses a significant challenge for most of us, one which can only be worthwhile.
Are you eating close to what is a perfect diet? What kind of improvements can you make to your eating habits? Feel free to leave a comment.
Here are 191 food photos from Hafr al-Batin, Saudi Arabia.