I had made it all the way from Antioquia, to Putumayo; which led me to the Fin-del-Mundo or End-of-the-World waterfall in Mocoa. Near there, smack, dab in the jungle, I was able to stay at the Posada Fin del Mundo, where I felt like the last foreign vagabond.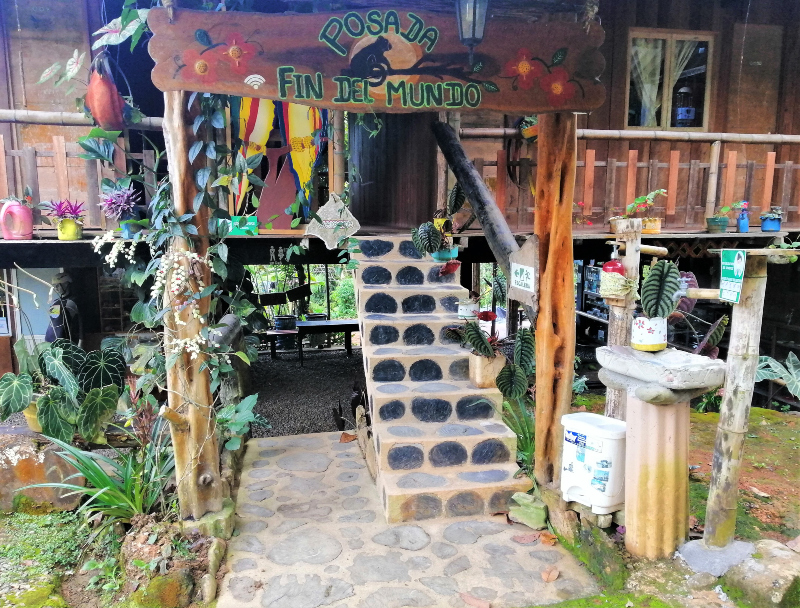 The Wi-Fi was very good. The room cost 35 COP or $8.15 a night, plus all meals; pay at the end. Two days, all-inclusive, came to around $55. This included seven bottles of water, a load of laundry, mandatory guide to the waterfall, plus voluntary 20 COP tip to the guide, and five meals, including the freshest, juiciest papaya of my life.
This is fresh river fish from the vibrant Mocoa river, which provides a constant, white-noise coming from a two-minute hike below.
All the food was whole and fresh from the source; the tropical jungle, where the Andes meet the Amazon. The eggs were from 100% free-range, on-site chickens.
It was easy to spot chickens and hens running around, up and down inclines and in trees. This rugged, non-flat topography made it possible to see how naturally astute these domesticated, egg-creating creatures are.
Cute little monkeys come for feeding every afternoon. Guests are called and given the opportunity to take part in feeding them fresh bananas. Fat jungle rabbits pop into the property to hang out and forage. Like most hostel owners in Colombia, they have cats and dogs on the premises.
I was constantly learning things from different members of the extended family. Everyone had their duties around the finca, maintaining and improving, mostly eco-sustainable endeavors. Their collective work also included taking care of the tourists, which was only moi for those two late September days in 2021; when I couldn't help but ask myself: Was I the last foreign vagabond?
Thankfully, world tourism has opened up considerably since last September.
Have you been to the city of Mocoa or elsewhere in the departmento of Putumayo? Fell free to leave a comment below.
Here is the entire set of 67 photos from in and around Mocoa in Putumayo.