I am a huge fan of travel hacking. If efficiency can be increased, then more momentary happiness is created. One solid travel hack is cutting drifting distance. Covering less earth typically saves time and dinero. And it's more eco-friendly.
When pricing tickets to CDMX from Tampa, I noticed a layover in Cancún. I tried that alone and got an $88 Tampa to Cancún direct. The flight time is under two hours.
My immediate instinct was to start investigating the Yucatán Peninsula.
I recall hearing great things about this half-island land mass, which for some reason, I have never considered visiting up until now.
From Florida's west coast, across the Gulf of México and onto the Yucatán Peninsula, is almost a stone's throw, so to speak.
The Yucatán Peninsula and state of the same name share the Gulf of Mexico with Cuba, Florida, Alabama, Mississippi, Louisiana, Texas and the Mexican states of Quintana Roo, Campeche, Tabasco, Veracruz, and Tamaulipas. There are 32 states in México; a big country with a population of around 132 million people.
México has to be one of the huge cultural players of this earth
From what I recall while on a three-week Mexican (mostly Oaxacan) stint a few months back, street and market food is relatively inexpensive and easily accessible. Eating in food stall/restaurants or inside markets with random locals can be a quaint, authentic experience.
It is a help if you know survival Spanish. This includes numbers so you can ask the price and not get taken advantage of. If a place is frequented by many gringos, there's a chance they will try to charge you something closer to what is thought of as an estadounidense price that can turn out to be relatively expensive. Be on the ball just in case. This is from pure first-hand experience in one of those really cool Oaxacan markets.
The food can be outstanding in Mexico and it is no surprise. You may get that gastronomical urge to try something potentially incredible in a restaurant. It may not be cheap but the qualitative value can be superb.
México is home to culinary wizardry
As I was subconsciously stretching my drifting dollar, I typically stuck to street food and markets. However, one exotic-restaurant splurge per day could be necessary in such an intriguing gastronomical climate.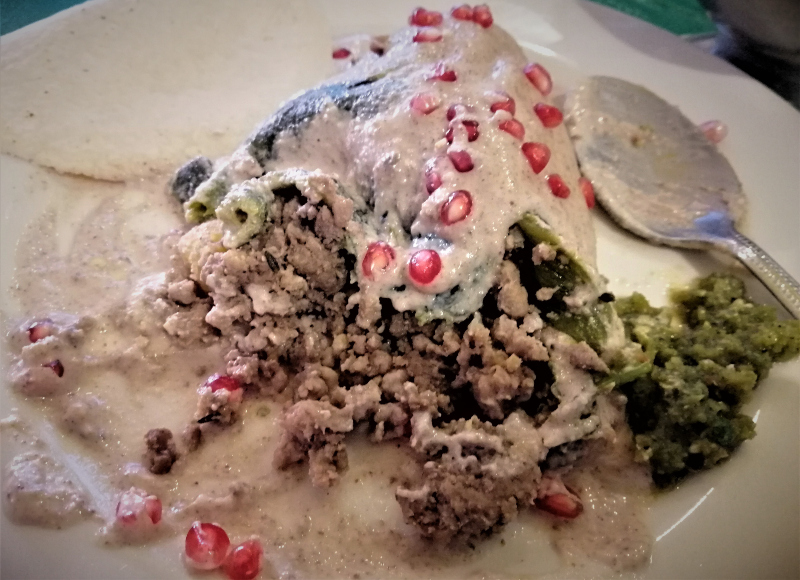 The Yucatán is loaded with archaeological ruins, some of which are renowned, wonders of the world. This allows the possibility of time travel to an ancient Mayan empire.
There is gorgeous tropical nature including swimmable cenotes (fresh water caves and sinkholes) all over.
Away from touristy areas there are many modern-day Mayans on the Yucatán. There is so much that can be learned from indigenous peoples; their millennia-old know-how could be critical to the survival of humankind.
Along with these wonders that make the Yucatán a spectacular place to visit, the best reason to go to this fat neck of land is that I've never been.
Have you been to México's Yucatán Peninsula? Feel free to leave a comment below.
Here is the complete set of 111 photos from Oaxaca.