It was day 30 of 30 of my Lao stamp validity. The wonderful woman at the In Touch Guesthouse in Vientiane had said that she could get me a door-to-door drop off from the guesthouse all the way to the customs office in Nong Khai, Isan, Thailand. I would pay her 120,000 Lao Kip or not much more than seven dollars. It sounded great but I decided to travel independently. Here is how I traveled from Laos to Thailand for under three dollars.
I researched alternative ways to reach the border. This led me on a 20-minute stroll to locate the central bus station of Vientiane. The woman there spoke enough English to inform me that there was a bus at 10 am every day and I would need to purchase the ticket the same morning.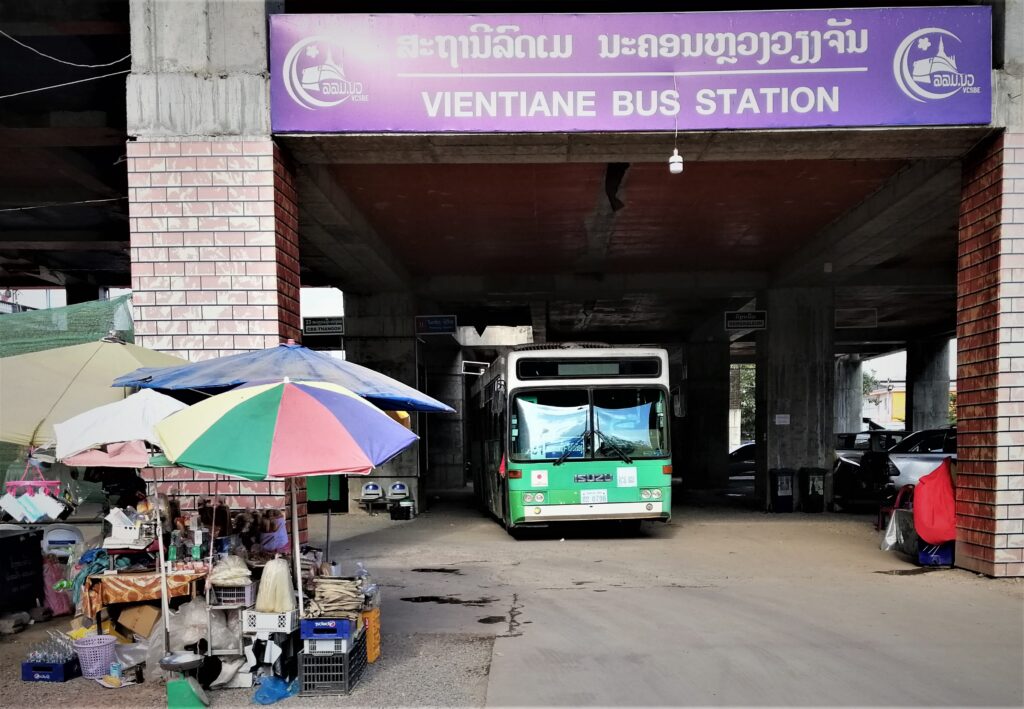 I was running very low on Lao Kip and was trying to conserve them till the ATM in Nong Khai, where I would need to acquire Thai Baht. This way I could avoid another ATM withdrawal in Laos and being stuck with excess Kip. Apparently Lao Kip are not recognized outside of Laos. I only had about 80 k Kip left.
Because I was traveling on a Saturday, a weekend day, the price of the ticket to Thailand cost 33 k Kip or $2. Had I traveled on a weekday, the price would have been 27 k Kip, about $.33 cheaper.
At 9:06 a.m. I handed the guesthouse key over and was out-the-door power walking to the station. I needed the dry run the day before not only to find out when the buses go and the cost, but so that I knew exactly where I would be swiftly moving my legs and feet along urban sidewalks to reach this convenient transportation situation.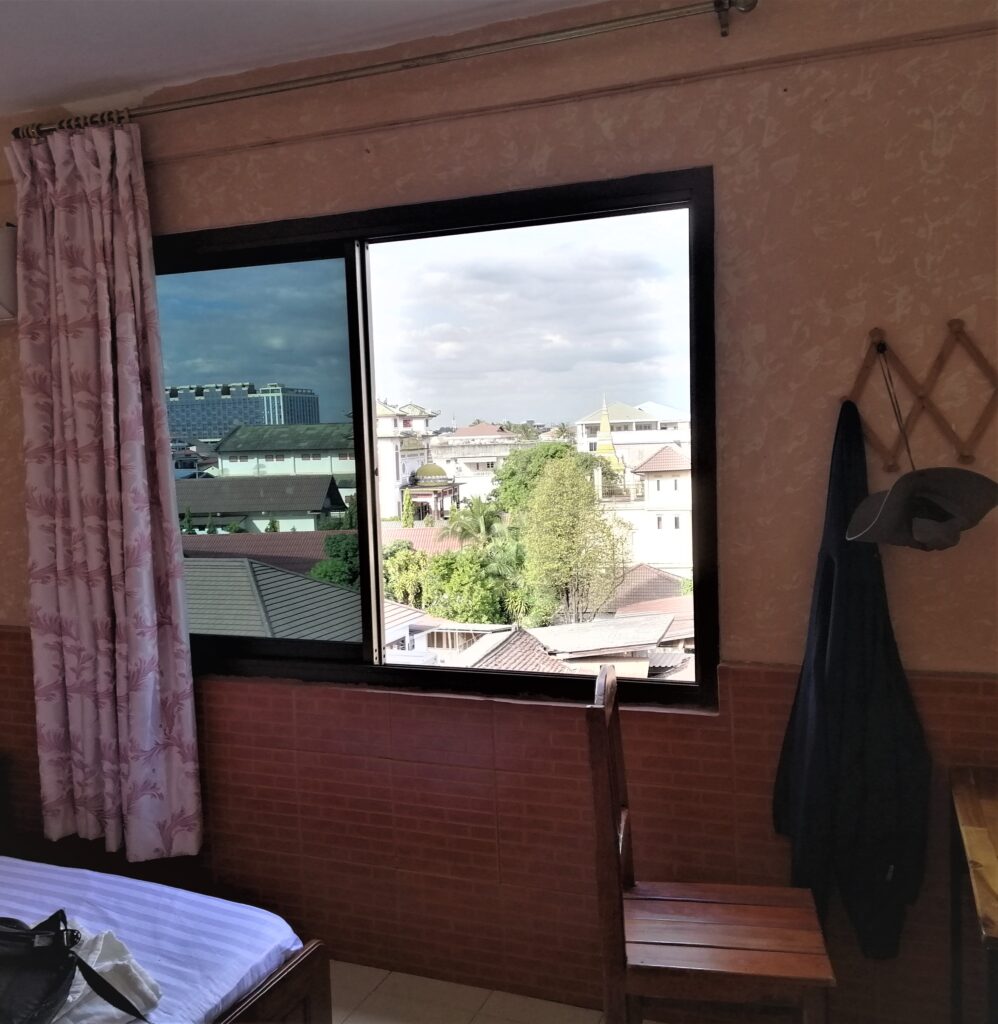 With the amount of Lao Kip I had in my pocket, a taxi or tuk tuk was not an option. Regardless, since the station was not far, I would have walked anyway.
I arrived at 9:27 a.m. and waited one minute to buy the ticket. Shortly thereafter I boarded the bus with both of my bags since it was only half full and we would need to take any luggage off, at both sides of the border where the bags had to go through a scanner. Since the situation seemed so laid-back, my assumption is that bag scanning was mostly to show evidence that we were at border control.
The bus departed Vientiane's central bus station at 10:06 a.m. and arrived at the Lao departure office before 11 a.m., about 20 km from the station in Vientiane's center.
In Thai, then in sign language, we were instructed to get off the bus with all of our stuff. The whole ordeal took around 40 minutes. After waiting in lines to meet with customs officials through their windows, we were off again. This was after everyone was back on the bus with their stamps or whatever they needed to cross into Thailand.
The out-stamping process was fast and simple as I made sure the departure card I received when entering Laos 30 days prior, was filled out properly. Did it matter? Maybe. Maybe not. Either way it's a good habit to try to do things properly in the hope of achieving increased efficiency, especially when dealing with border bureaucracy.
One Caveat
Lao immigration asked for a 10 K Kip weekend fee or tip. In essence this is under the table money they request. If it is not a weekend, they well give another reason. The same processing fee was asked for when I crossed into Laos, on top of $40 in cash for the 30-day, virtually instant, visa-on-arrival.
10 K Kip is about $.65. Therefore, my recommendation is to make life easy and hand over the small sum. I have a feeling that they would not be able to do anything if a person were to say no. But I can't be sure, so it's easier to fork over the 10 k Kip bill, and be glad these guys are not trying to bribe larger quantities. In my opinion they are going about it the right way by only taking a little bit. I don't know how many people cross the border daily but it helps the workers. 10 k Kip per person adds up.
Next we crossed the majestic Mekong over the Friendship Bridge and arrived in Nong Khai. After a short drive we were at the big Thai customs area. I waited in line for about 30 minutes, before quickly receiving a 45-day tourist stamp for Thailand. The Brazilian on the bus got 90 days.
In line I was handed an arrival card to fill out. I was sure to have it as clearly and fully filled out as possible. I also had the address of a guesthouse in Udon Thani, which I wrote down. By getting everything filled out and accurate, one stands a better chance of moving through more swiftly.
After everyone had completed their passport-entry actions, the bus took us even further, to the station in the Nong Khai city center. From there I was able to walk around and easily find an affordable hotel room.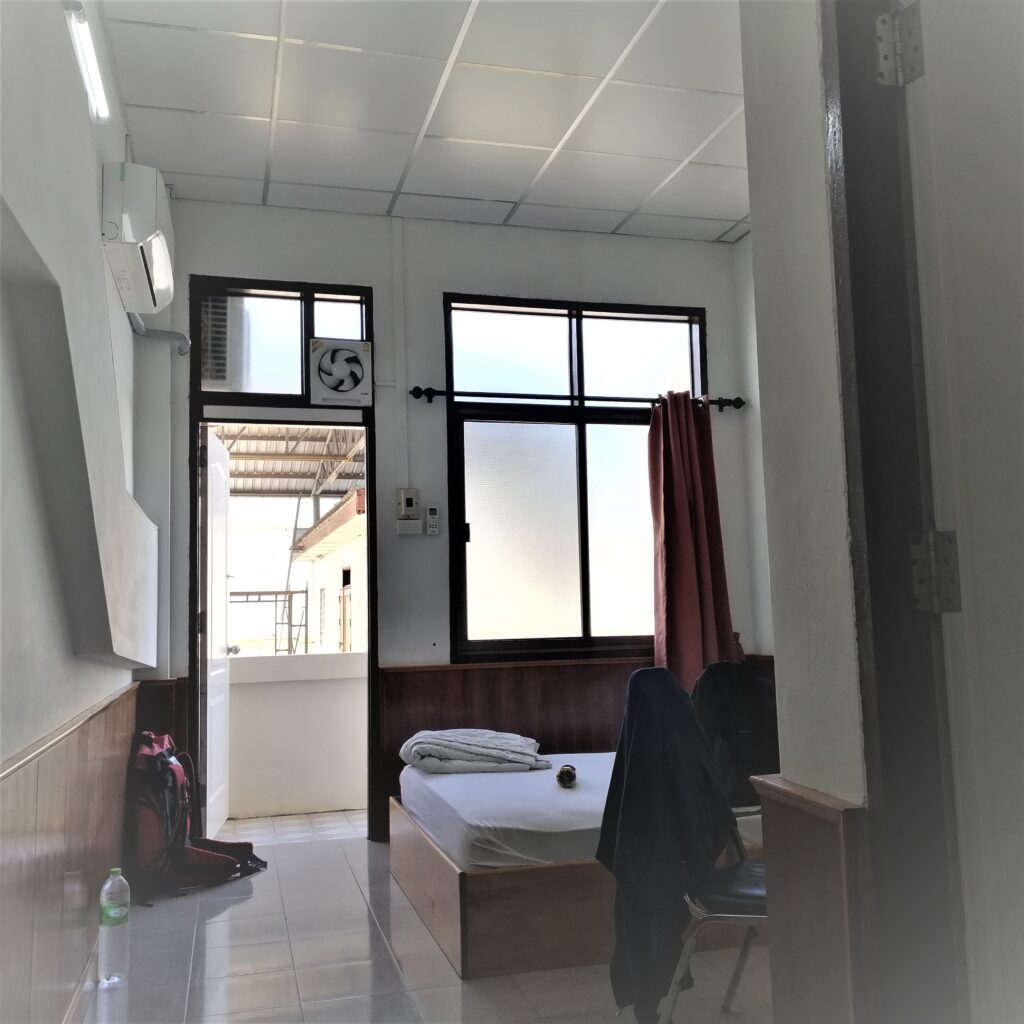 There was another foreigner on the bus, a Brazilian. After getting seated on the bus in Vientiane, I confirmed with him that this bus would take us through two customs points while waiting for us before taking us into the city. He was under the same impression.
I thought:
This has got to be the most efficient land-border crossing experience I've ever taken part in. WOW!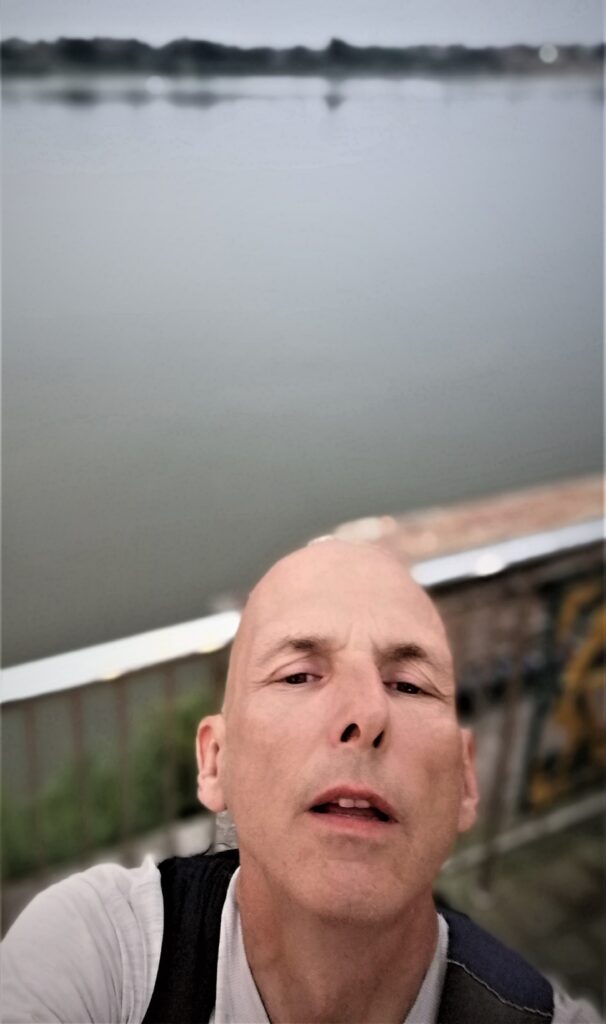 Upon arriving in Nong Khai around two hours after leaving the station in Vientiane, my initial thought was confirmed:
The border had been crossed both efficiently and inexpensively. Other than $.65 for the Lao customs guys, there were no additional costs for taxi, tuk tuk, bus or mini-van transfers. It was the smoothest and cheapest land border crossing I have ever experienced.
Have you ever crossed a border so easily? Feel free to leave a comment below.
Here is the whole set of 47 photos from Vientiane.
Here is the whole set of 38 photos from Nong Khai.