As the subcontinental railway is the pulse of colorful India, the refurbished former US school buses are the man-made vibration of greenery-laden Guatemala.
Shortly after arriving at the Guatemala City airport, I was on a 45-minute shuttle bus bound for Antigua, Guatemala. Upon arriving in the land, it seemed like the right thing to do. For what it is worth, that was the first, last and only tourist shuttle bus I would ride in Guatemala during 1.5 months traveling in its magical altiplano or southwestern highlands.
After a week in Antigua , I caught local transport to Panajachel on Lake Atitlán .
After a few days in Pana, I took a lancha or the Lago Atitlán passenger boat from Panajachel to San Pedro La Laguna. After over a week there, I took a direct vintage school bus which climbed from San Pedro at 1,610 m (5,282′) to Quetzaltenango (Xelá) at 2,330 m (7,644′). That is a three-quarter of a kilometer or almost half-mile power roll up, into and through the Sierra Madre mountains. The passage took about three hours.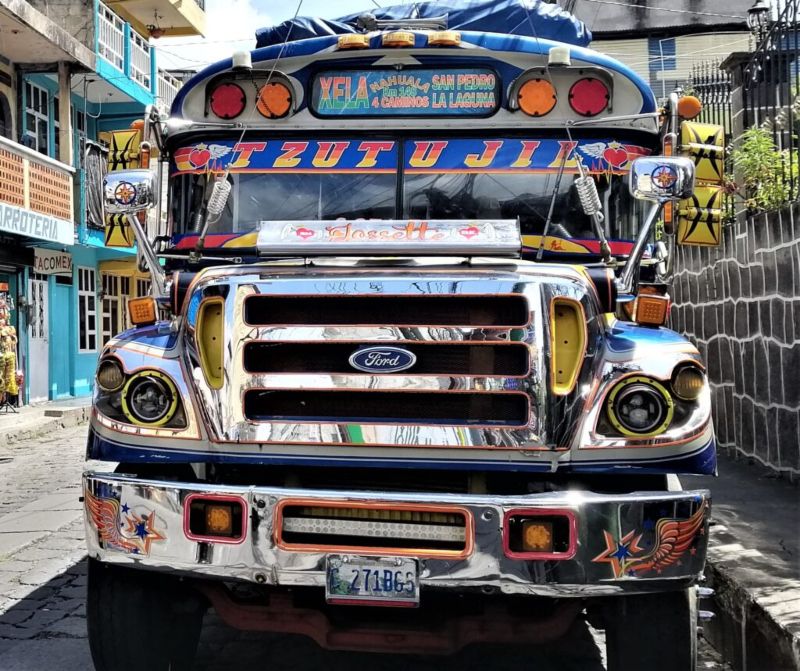 A week later, from highland Quetzaltenango, I took another local colectivo to Huehuetenango in three hours. After a few days in indigenous Huehue where the humble locals speak Mam as their first tongue, I bused it directly back to Xelá in the same three hours.
After a couple of more days in Guatemala's second biggest city of Quetzaltenango and managing to visit Fuentes Georgina, I tried to go back to San Pedro la Laguna on a direct bus, but there was nothing available until the afternoon, which was six or seven hours later. That said, I prefer land travel to happen in the am after I wake up.
This is where flexibility and the ability to utilize connecting buses can work so well in much of the altiplano.
To get to the interesting Minerva Terminal, it is mandatory to walk through the colorful Minerva market where you can stop for inexpensive and healthy snacks.
I easily found a bus that would connect me to a public Atitlán shuttle route.
As soon as I made it through the market, a man on the street told me which bus to get on. A passenger advised me I would need to get off and change buses at KM ciento cuarenta y ocho or 148. Both the passenger and conductor remembered to tell me where I needed to get off that bus which was headed for Guatemala City, la capital.
After getting off at what is called km 148, I was able to pay 2 Quetzales without paper or 3 Q with paper for bathroom usage. The former is all you want.
TIP: It is best to have relieved oneself before setting out in the am.  Do not rely on having to go number two mid morning while making public transport connections. The restrooms I saw and used were typically grotesque.
Chances are that if you eat healthily, you wake up in the morning and go. And if that is not the case, sip down water, ideally warm, when you wake up and chances are you will be successful in emptying your bowels before a morning or day of travel. This way you won't need to deal with extreme discomfort while changing buses in a place like Los Encuentros. Que pesadilla seria. What a nightmare that would be.
Five minutes later I was on a shuttle going to super-chill Santa Clara La Laguna above Atitlán. After a 15-minute wait there, another public shuttle came by and took me on a super-scenic highland route above the majestic lake. With spectacular views by our side to our right and in front, we drove down to San Pablo La Laguna and San Marcos La Laguna, before making our way to San Juan La Lagnua, and our final destination, San Pedro La Laguna. That is a handful of lagoons on Lake Atitlán. Phew.
I requested to sit up front since I was the only passenger. Thence, I got to appreciate the grand vistas of the mountains and volcanoes jutting up beside parts of the large lake. That ride took 45 minutes.
One of my favorite elements of travel is when a spontaneously unexpected thing of extraordinary proportions such as that takes place. After departing Santa Clara, I felt as if the views were imagined and manifested by Mayan Gods of another civilization. During this part of the journey, I did not have my camera handy. It was in my bag. I was trying to relax in the moment and enjoy the time of the ride. Also, it is hard to get good photos from a moving vehicle. In hindsight, I could have been more mindful. As a consolation, here are a couple of Atitlán shots: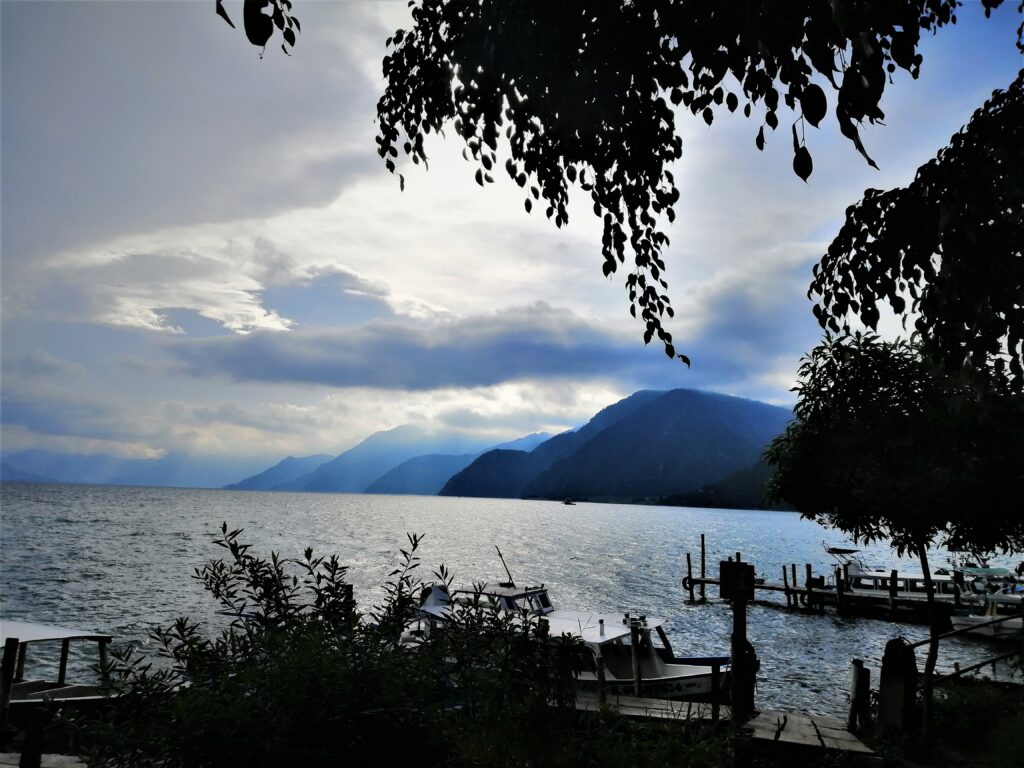 After a couple of days in San Pedro it would be another lancha ride back to Panajachel, where I would stay for two nights before leaving early for the final bus journey of the awesome Guatemala trip. It was during this final morning travel experience that I realized how much I love public transportation in Guatemala as long as I am not traveling for more than half a day. By that point the comprised comfort could get unbearable.
What I love is the spontaneity it allows. There is no buying tickets or reserving ahead of time. You just show up and go. Connections in hubs are easy. The system is efficient. Just be sure to have cash. I like to have small bills but the conductor usually has a wad of cash and provides change if needed.
People get on the bus and sell inexpensive fruits, nuts, other food items and drinks including water.
Chicken buses are by far the least expensive option other than hitching, which I know is doable in Guatemala, but I have not tried it or heard much about it.
Anyone who grew up in the US and rode these buses as a kid can understand that as an adult, you might not have enough leg room. This is one reason I like a connection or two or three to achieve movement, and/or use a potentially repulsive bathroom and perhaps have a snack like fresh fruit, nuts, or a choco banano.

After stepping outside of the Hotel Nimbo in Panajachel, a school bus bound for Sololá was there, ready to go. It was 7 am. The journey's first leg took 10 minutes.
I strongly encourage starting these journeys as early as possible. The morning is the absolute safest time of day. The villages, towns, cities, the entire land is waking up and starting their vibrant, pulsating and productive existence. The streets are alive. The temperature is cool. It typically rains in the afternoon and or evening. It is best to arrive at a destination during daylight, if possible.
Super relaxed and in no hurry, I hung out in Sololá's Parque Central for a little while. There I enjoyed fresh air and the cool early-morning vibe. Most people were partially rushing to get somewhere; to their jobs, or to where their hawking potential might be more optimal.
The bus pulled out a minute after I finally got on. It took a half-hour to Los Encuentros, or The Meeting Points; a huge highland transport hub and household name in Guatemala. It sits high up at 2,580 m or 8,465′ above seal level where the ambience is typically cool and gray.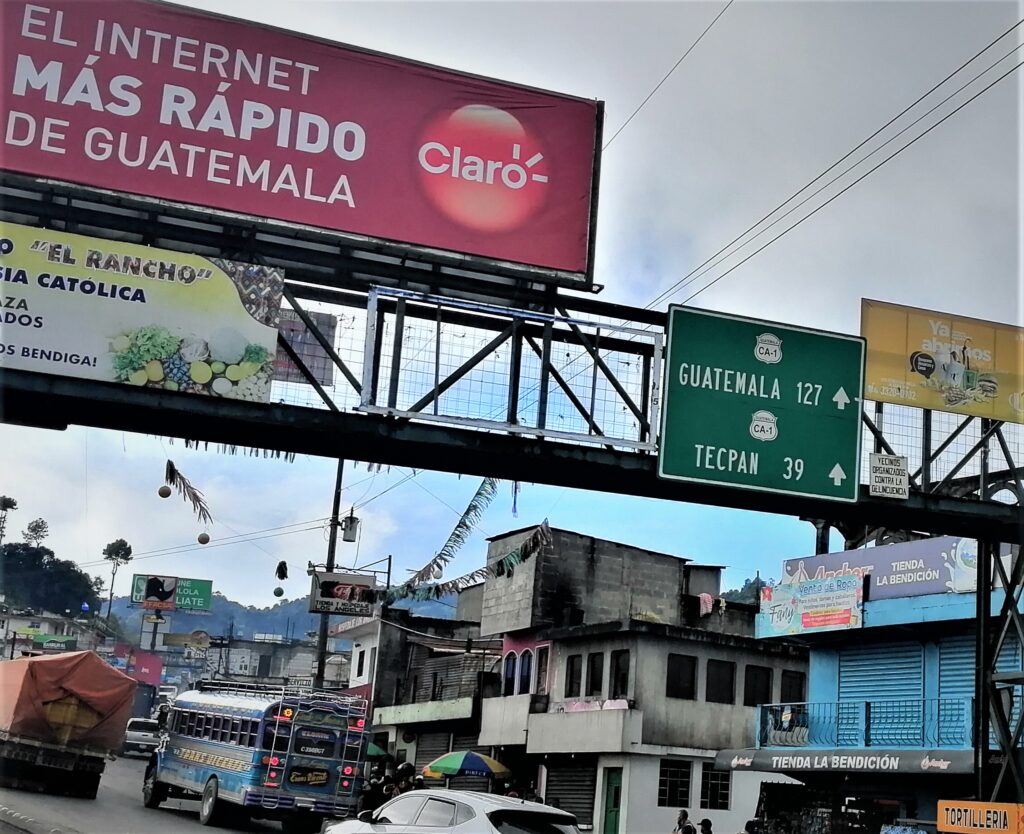 From Los Encuentros I was instantly offered a ride to my destination, Guatemala City. I opted for a bathroom break and the attempt of capturing a few photos of this dynamic mountain crossroads. My idea was to hang out there for a little while. After I crossed the street another bus came up to me:
¡Guate!
This colloquially means Guatemala City. I refused and paid 2 Q (no paper) to use a nasty bathroom, which still did the job to ensure that I would not need to go on my way to the capital, which was maybe a two and a half hour ride, as considerable traffic was extended where road work was being done.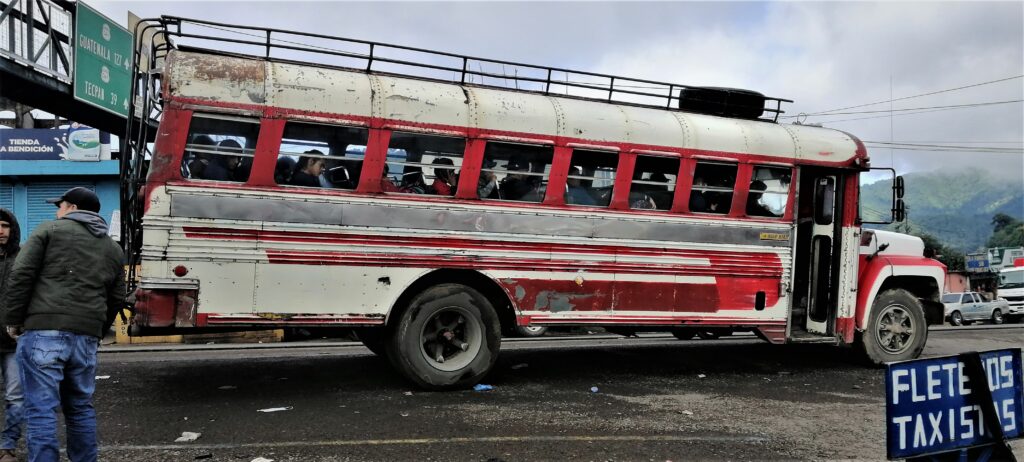 After I got out of the bathroom another bus for Guate pulled up. I got on. We pretty much flew up and around, but mostly down. We descended over a kilometer or 1,000 meters. Holding on, I was five seats back so I was able to bend down a bit into the aisle and see signage out the front window. At one point I noticed a sign that pointed to Antigua one way and Guatemala City the other. This was in Chimaltenango, another hub. Chima would mark the final stretch of the journey into Guatemala's other world, its major municipality.
Soon after the start of the last leg is when I started to see a different side to Guatemala, a road loaded with cars, buses, motorbikes, shuttles and trucks; police pulling over vehicles to check their papeles; mega traffic headed in and out of the capital of over four million, the biggest and most heavily populated city in Central America.
The conductor told me where to get off, which was the closest they could get me to Zona 4, where the hospedaje I had booked was located. From the designated stop there was an extended taxi stand where a car would take me to my temporary quaint neighborhood.
A few days later, there would be a short Uber ride to the airport, from outside my place of accommodation in Zona 4.
Like every city I have visited in Latin America, in Guatemala City the taxi and Uber drivers have been genuinely talkative, hospitable and honest.
Tips For Using Colectivos, Chicken Buses or Vintage US School Buses in Guatemala
Whatever the conductor tells you to pay, do not question it. Never argue with these guys or girls. The price is fixed and it is at their discretion for the most part. Some may overcharge gringos a little bit, but the majority will not, especially if you know some Spanish, but even if you don't, you probably won't get taken advantage of as bus personnel tend to be good people attempting to make an honest living. Even if it seems you have been overcharged a little bit, it will still be inexpensive, convenient, efficient and worthwhile.
As long as you have researched your route and studied the map a bit, you should be able to manage the journey without knowing much or any Spanish. But if you are traveling this way, you probably know the numbers and very possibly have studied the language to an extent.
Other than telling them the name of your destination to make sure you are on the right bus, know your connections, especially if you do not know Spanish. If you can speak their language, someone will surely explain it to you. There could even be someone who speaks English and will happily help, but that is random and far from guaranteed. So, do your research. You often have to connect at hubs. There are typically buses going your way constantly and the connections can be instantaneous, especially on main routes, like through the bustling Los Encuentros.
Too much luggage will make your journey more challenging, although the conductors will help. Without Spanish, and having too much baggage and too many connections, it may not be worth the money you save over the tourist shuttle. I easily got by with one semi-big backpack I could put above me, and my small day pack that has the most valuable items like my passport, I always keep with me; on the seat beside me, on the floor in front of me or on my lap.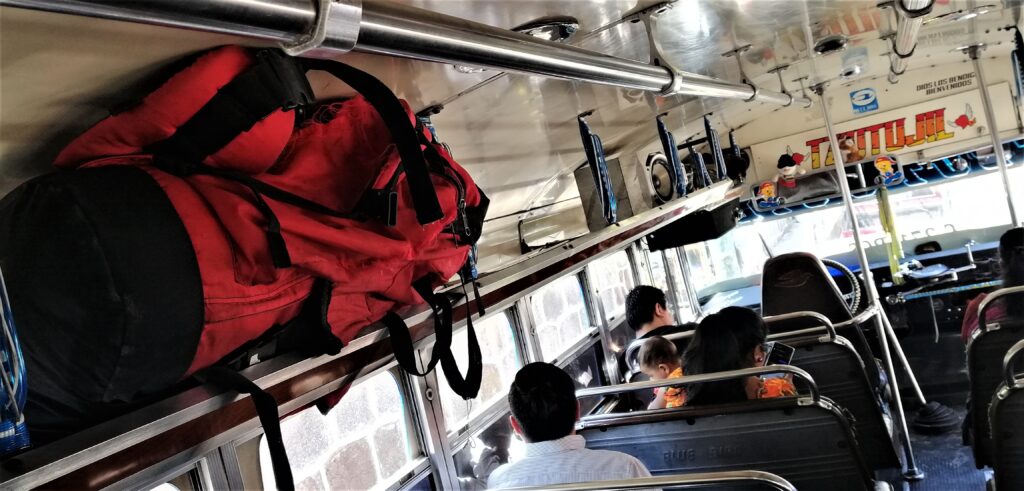 There may be a time when you have to have the conductor put your big pack on the roof, like on the shuttle I took from km 148 to Santa Clara la Laguna. Be sure to remind them to get it off the roof when you debark. At minimum, point above and say:
¡Mi mochila!" or 'My backpack!
Personally, I do not recommend this style of travel if you have more than two pieces of gear. For light travelers, as long as you are not prone to motion sickness, this type of transport is a breeze.
This form of mobility is genuine. See it as an adventure. Travel like a local in an exotic locale while not denting your travel budget. You will meet provincial people who are not used to foreign travelers and may find you interesting and be thrilled to chew the fat. On the other hand, some will be silently shy, too.
The price was right and I was traveling alongside mostly descendants of the ancient Mayan empire. I did not see a foreign tourist on any of my internal journeys, except on the shuttle from the airport, to Antigua, Guatemala. This shuttle contained only foreigners.
There are no colectivos or vintage school buses servicing the airport, only personal rides, taxis and shuttles. You can also order an Uber.
While there are plenty of foreigners who use public school bus or colectivo transport to experience authenticity and save money, the vast majority seem to opt for the more user-friendly tourist shuttle buses which takes them from doorstep to doorstep.
However, to get off the beaten path even a little bit, vintage school buses may be the only option other than renting a car, hiring a private taxi, or acquiring a motorbike.
If you are traveling relatively light, know a little Spanish and are not prone to mountain-motion nausea, this mode of transportation is probably for you. That said, whatever your situation, if you would like your Guatemalan transportation experience to be authentically unforgettable and you want to get out of your comfort zone and experience the pulse of Guatemala, then the colectivo or US refurbished bus system will leave you sans regrets.
Costs
The cost of these journeys are generally inexpensive. The least I paid for a passage was 3.50 Q or $.44 for the half-hour ride from Sololá to Los Encuentros. The most I paid was 50 Q or $6.32 for the three-hour climb on a Sunday from San Pedro La Laguna to Quetzaltenango. On all the refurbished bus journeys combined, including the shuttles from km 148 and Santa Clara La Laguna, and the RT school bus from Xela to Zunil, I spent 282.50 Quetzales or $35.71.
NOTE: I took one tourist shuttle bus from the airport in Guatemala City to Antigua, Guatemala upon arrival. The 45-minute ride cost and additional 100 Q or $13.00. I was conveniently dropped off at La Casita de Angie, where I was staying.
Have you traveled in Central America? How was your ground transportation experience? Feel free to leave a comment below.
Here is a set of 71 photos from Guatemala's second biggest city of Quezaltenango.