To call Luang Namtha a ghost town would be an exaggeration. However, in a country of under eight million people, the town has fewer than 40,000 inhabitants, and zero crowds. The small size, quiet streets and personal space is what I liked about this town that sits up near the Chinese border at Yunnan Province.
The motorbike, car and truck traffic is light. Although there is intermittent vehicle movement, you can sometimes find the main road empty.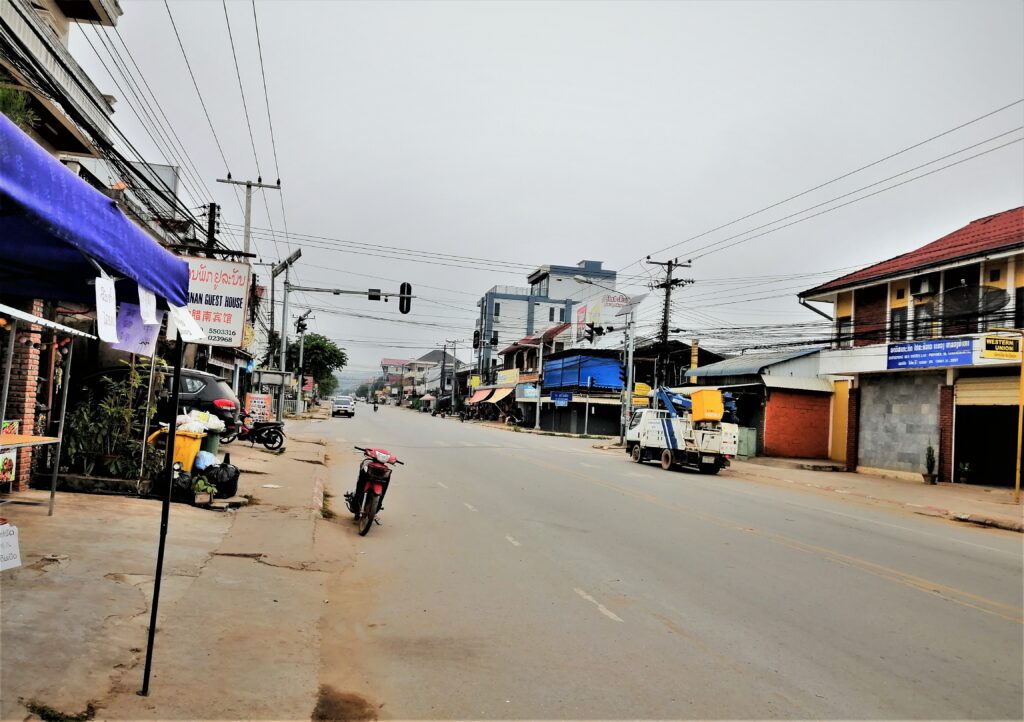 I was told by a few people that tourism is nowhere near the levels it was before the invisible virus became an overreacted global debacle in 2020.
With the Chinese border to Yunnan Province just 60 km away, this town or city used to see many Chinese tourists. I get the impression that there were huge amounts of Chinese travelers in bordering Laos in 2019.
In Luang Namtha now, you see a handful of western tourists, mainly Europeans. This includes Brits. Despite Brexit, I will forever consider them Europeans. And there was one Chinese person staying at the Zuela Guesthouse.
There is plenty of accommodation right around the center of town. You will pay more if you book online beforehand, as much as double. If you arrive at the bus station, there will be a shared tuk tuk or three wheeler waiting for anyone who wants to hop in and take the 9 km journey to the town's center. 50K Kip per person. It will drop you in the center where most of the guesthouses are.
There are a couple of tour operators that offer nature excursions as the surrounding countryside is stunningly green, and mountainous, with ethnic villages scattered around.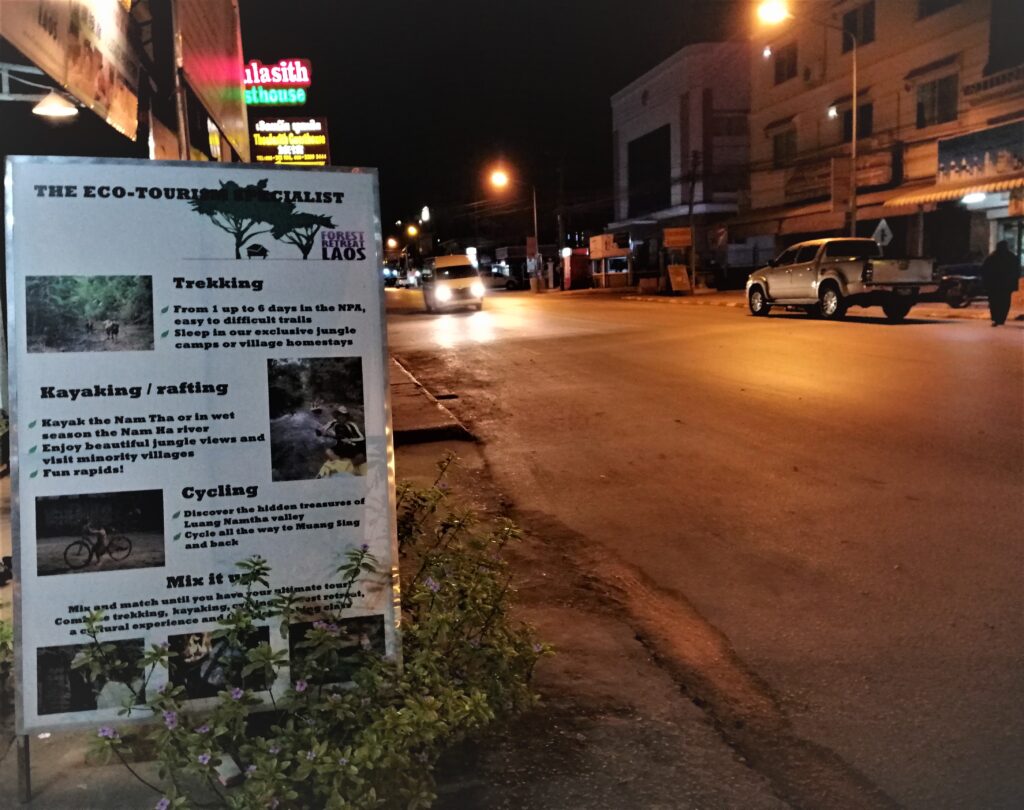 A popular activity is to rent a bicycle, scooter or motorcycle and explore the surrounding natural beauty, where It is possible to stop and visit traditional villages.
There is a smallish but interesting night bazaar with some good eats. It is never crowded, like Thai night markets can be. There is also a day market that is well worth a visit. However, in these markets there is a clear language barrier. Along with that, the idea of avoiding flesh food does not exist. I found it easier to get veg options at the night market in the center of town.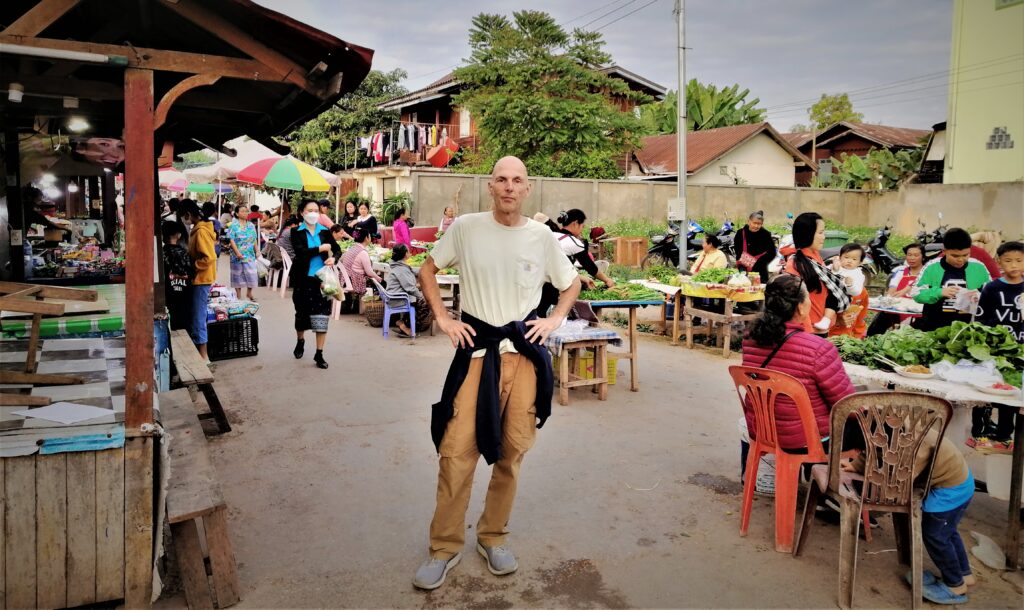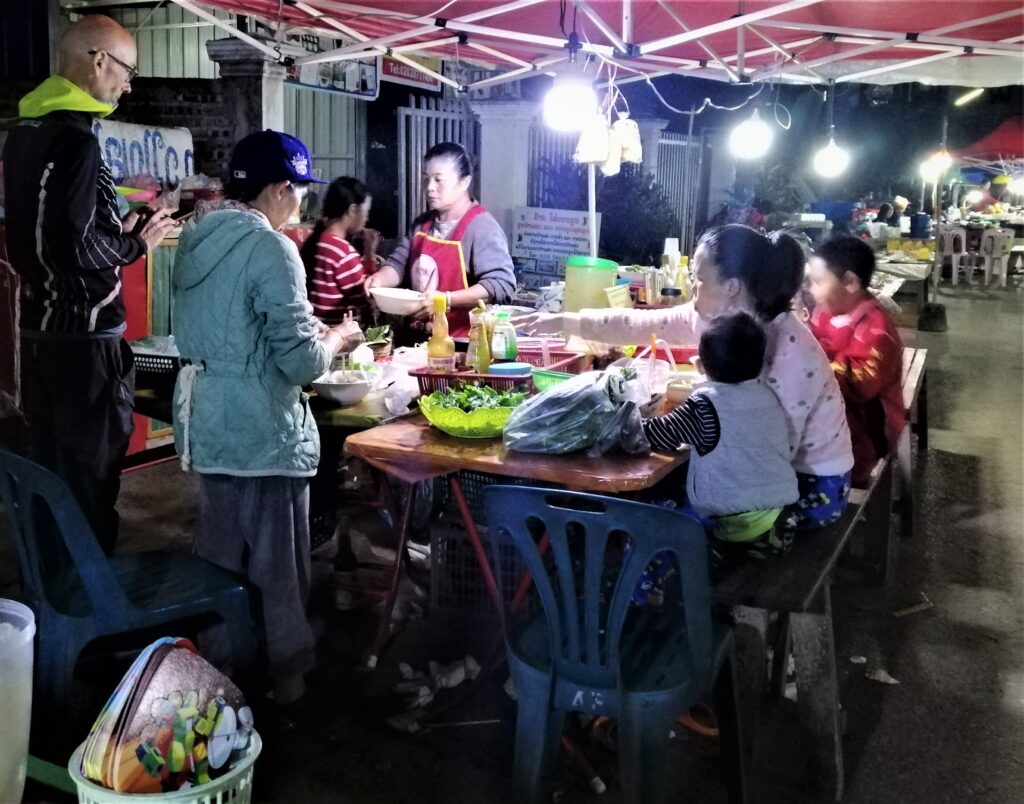 There are a couple of decent cafés in town. Like its neighbor Thailand, Laos' fertile grounds yield excellent coffee. A good Americano in a café costs around a dollar.
There is a nice temple that is well worth a visit.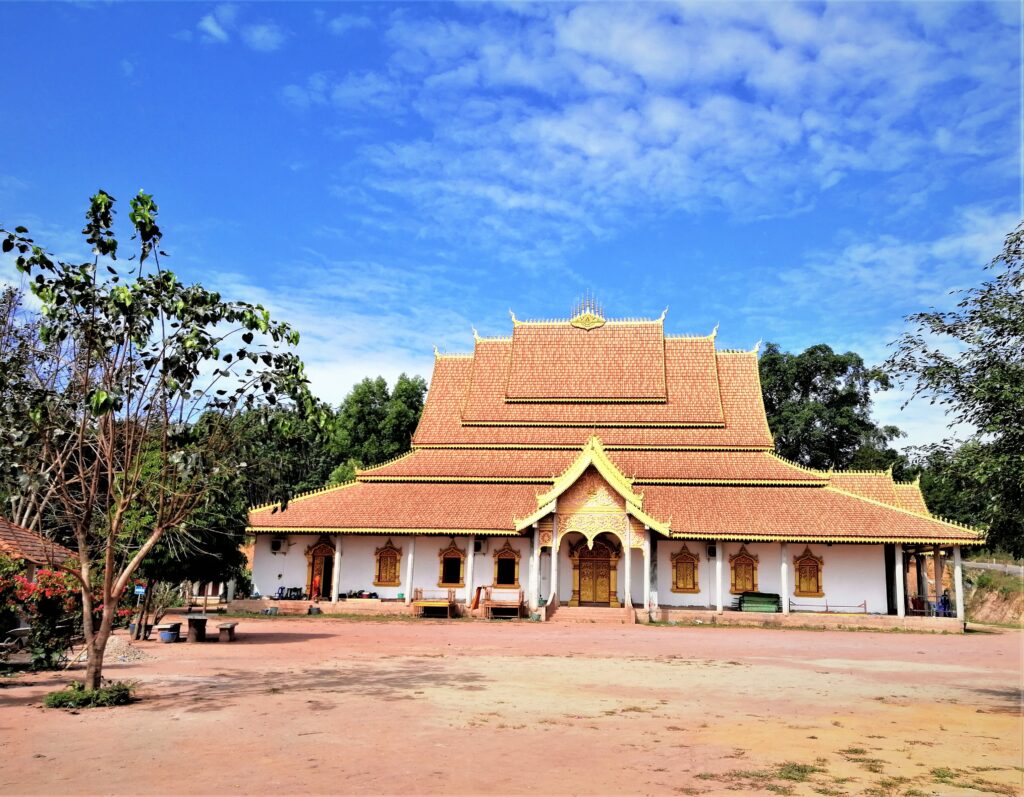 Before the world shut down, there were a few traditional Lao saunas, now they are down to one. I utilized it in the evenings when it was open, typically after dark. It costs 50,000 Kip – $3.00. That is expensive for Laos. The Red Cross Sauna that I used in the border town of Huay Xai cost half that.
I have been told that many costs have doubled to tripled in post-pandemic Laos.
The cost of sweating in a rustic Lao sauna generously includes a towel to wrap around you, a locker with a key and all the warm tea you want to drink.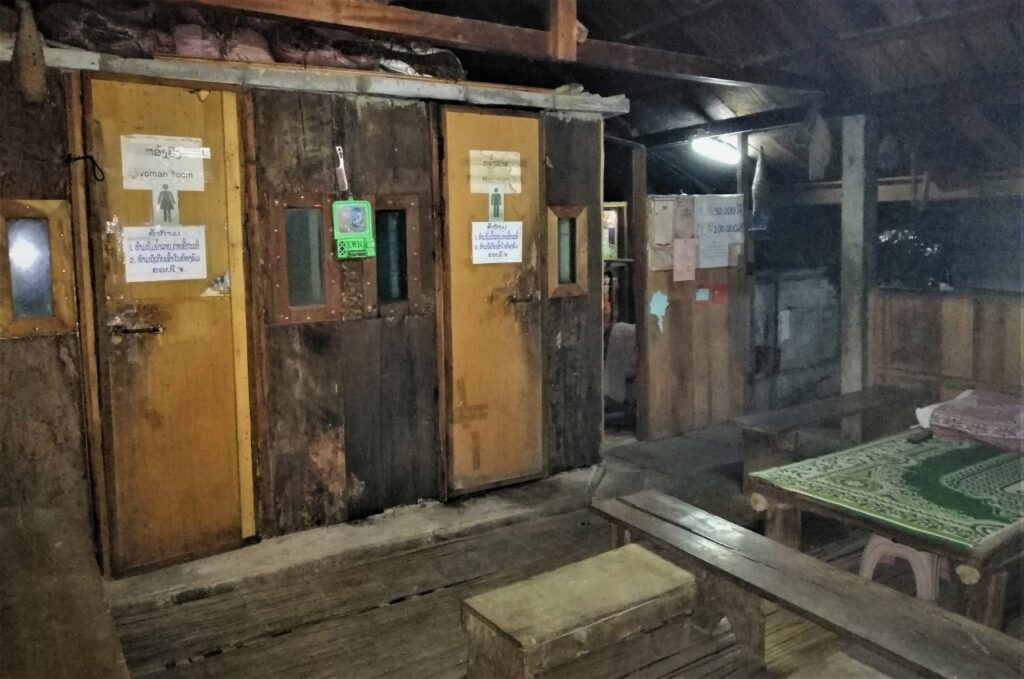 The above photo shows the two small sauna entrances, female on the left, male on the right. In this particular sauna they let couples go in to one or the other together. When motioning to take a photo I received a look of bewilderment from the otherwise very chilled-out man who runs the sauna. I managed to take this picture when he stepped out to fire up the sauna. Sometimes I would arrive and no one would be there, so he needed to step out and get the sauna working again. I would get the small sauna to myself. This was a good value for me, although for most Lao people 50 k Kip is too much for a sauna.
Like in Finland, Saunas are a staple of Lao culture. Most cities and towns have them in a rustic form. The rooms tend to be small and dark, but I think I have gotten used to this. They do not tend to lack in sweat-inducing heat. For me, utilizing this therapeutic tourism option is a positive perk to being in Laos.
There is a small but impressive archeological museum in the center of town. It is open from 8 to 11:30 a.m. and 1:30 p.m. to 4 p.m. Admission is 10,000 Kip or about $.65. This is a great value as you can learn fascinating info about the 50 or so different ethnic communities in Luang Namtha Province.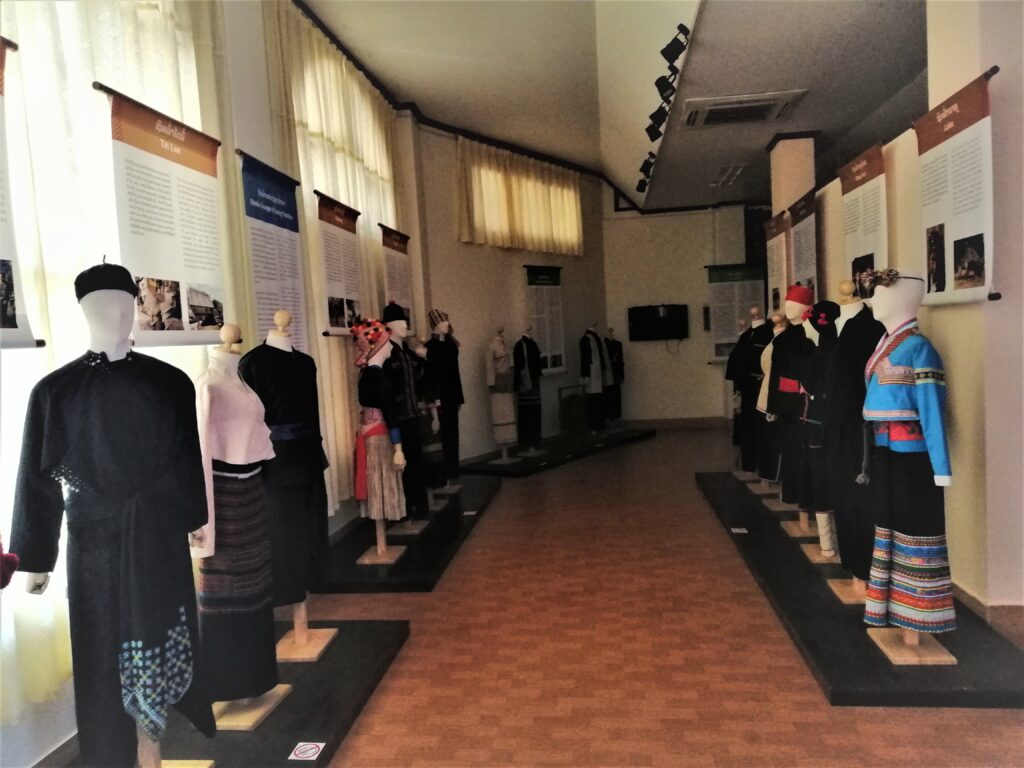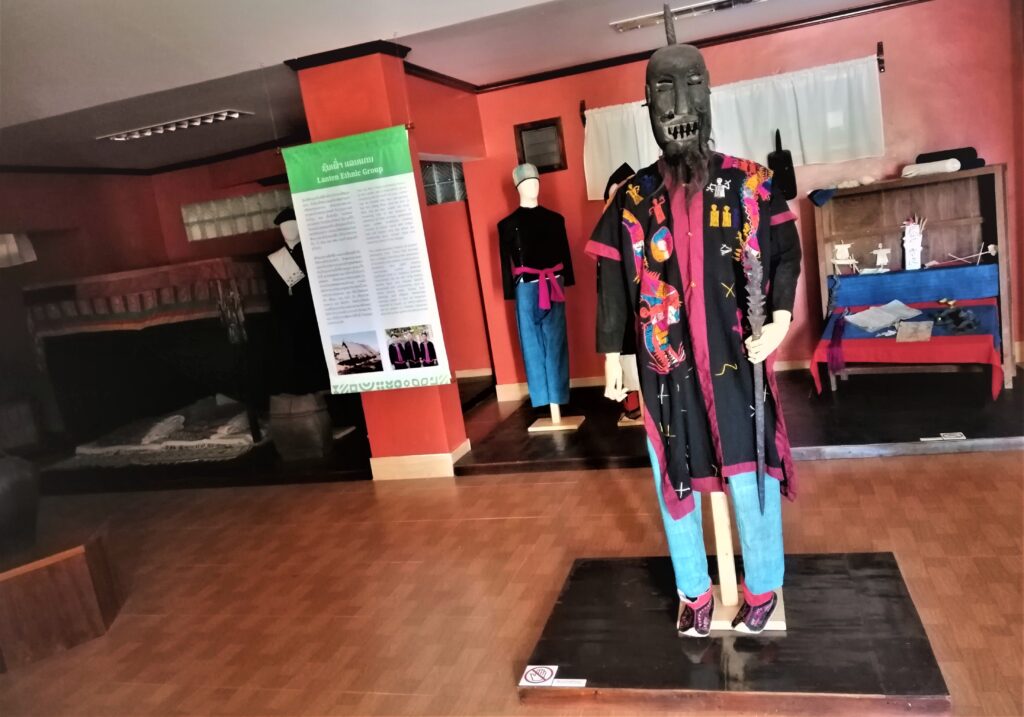 The museum is small. I spent about 45 enthralling minutes reading about traditional attire, baskets, drums, and some of the vast history tied into China, 60 km to the north, and Myanmar, 80 km to the west.
The displays may not look that impressive. However, what I enjoyed was reading the detailed descriptions seen above. Learning about the diverse ethnicity of the area reminded me of the ethnic variance of southern Mexico and Guatemala's altiplano.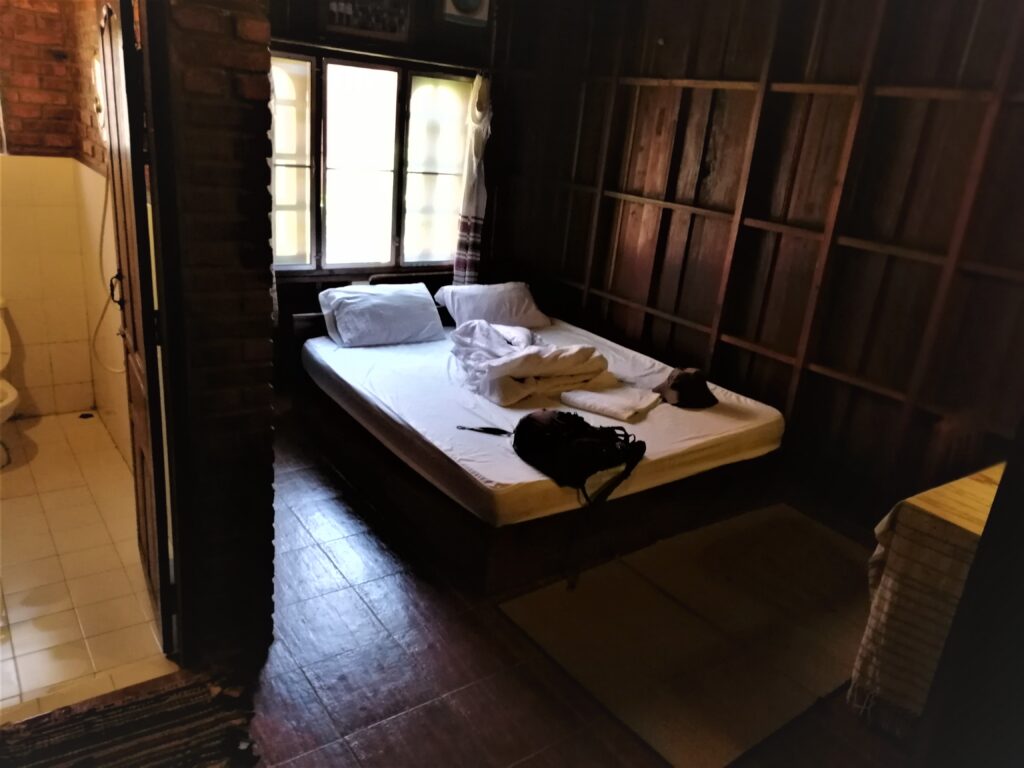 I paid 130 K Kip or about $8.00 per night for a proper room with Wi-Fi, table and chair, and a private bath with a hot water shower and a wardrobe, which was left out of the photo. They clean and change the bed sheets daily. Drinking water is included. There is a very good restaurant. It is run by a local family. The woman is an excellent cook and one of the few people in town who can converse in English.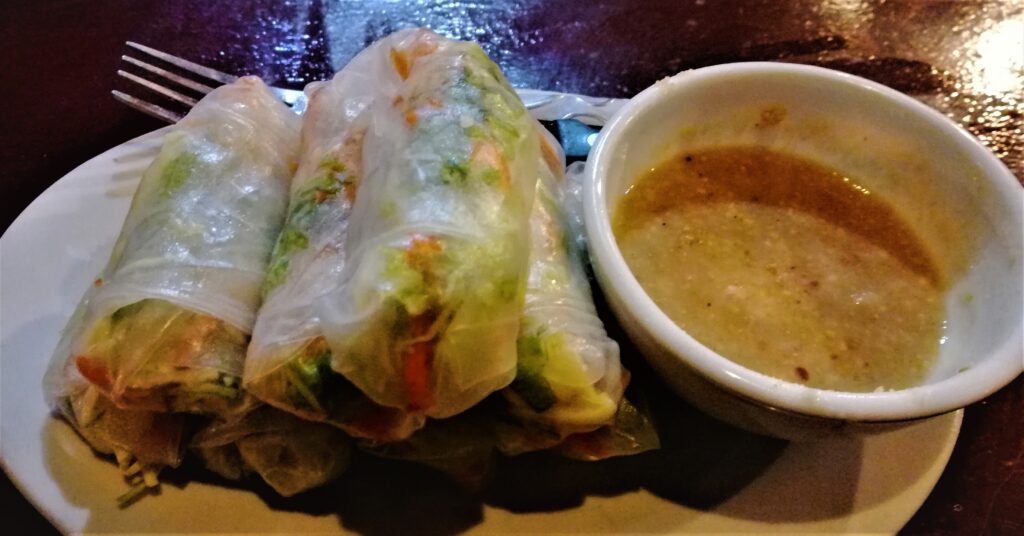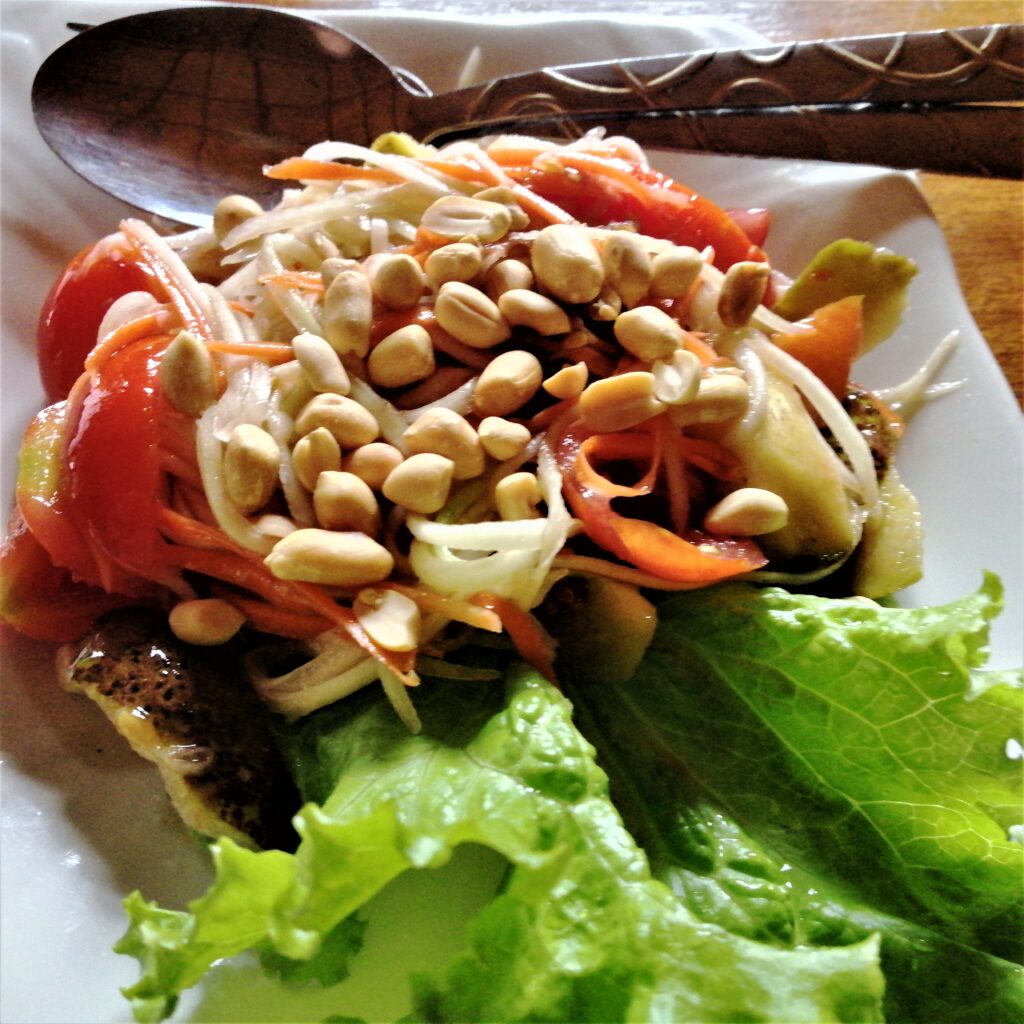 There is good Wi-Fi and a shared balcony by the room. I usually have it to myself when I want it. This is great for mediation and yoga in the morning. Although I attempted meditation in my room one morning after the temperatures had dropped. A mild winter is experienced in Luang Namtha.
You can feel the rawness of the cool temps, especially early in the morning. Luang Namtha sits at 21° north of the equator, at an altitude of 550 meters. That is 1,805 feet above sea level. People wear winter clothes. There is no heating. I am told that the summers are excruciatingly hot. However, at this altitude, I imagine that it cools down just enough at night.
There are no supermarkets in Luang Namtha. The only option is to buy fresh food at one of the local markets. So the food tends to be fantastically fresh.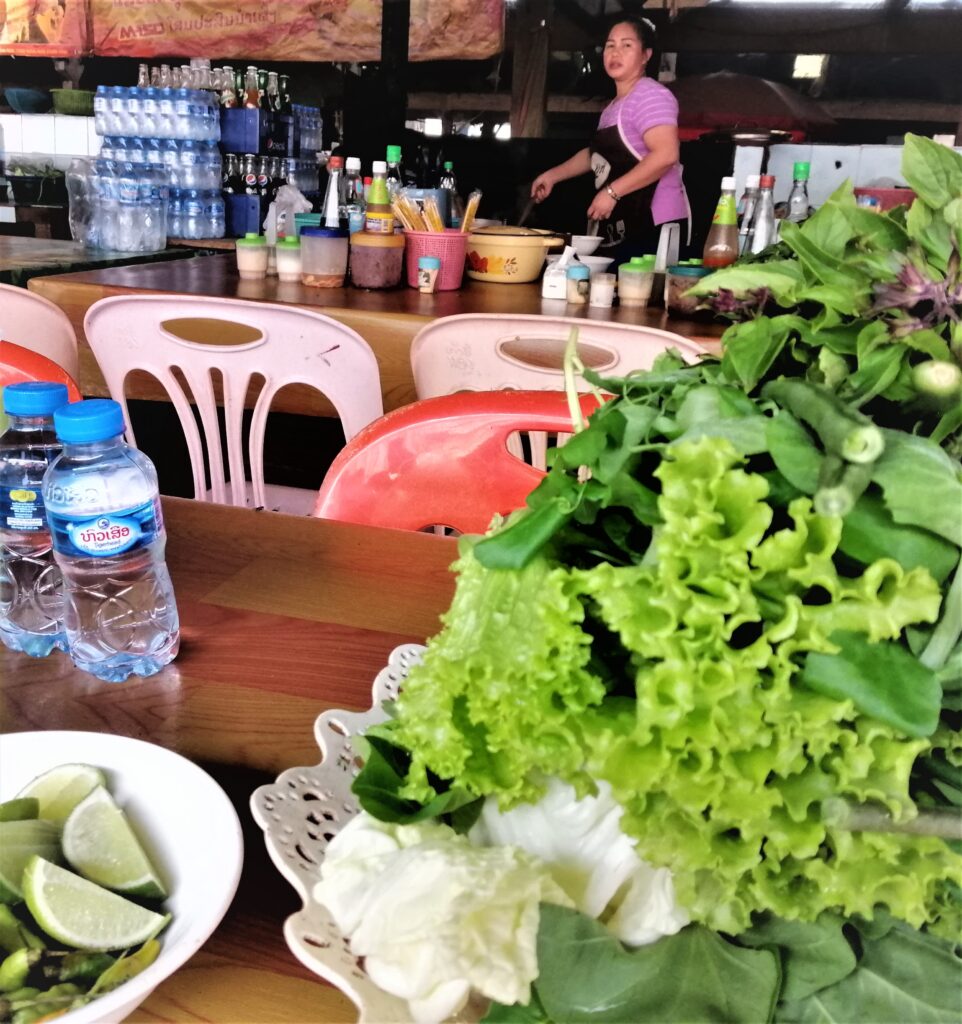 The brand new Chinese-built, high-speed train has a station 30 km from here. If I manage to utilize that, it will get me to the next destination about seven times faster than a bus or human sardine-cramped mini van can.
If you walk out of the center of town, people say: "Hello and wave". Looking different, you are a novelty. These gestures tend to be more frequent among younger people on scooters.
What I like about this town is that there are few tourists and everything is easily walkable. It is quiet. There are no crowds. Everything is close by. Necessary amenities are there. And this has been one of the most affordable places I have ever been.
Spending a week in a very relaxed Luang Namtha was a positively unique and worthy drifting experience.
Have you ever spent time in a virtual ghost town? Leave a comment below.
Here is the complete set of 82 photos from Luang Namtha, Laos.