The smallish city of Chiang Rai, not to be confused with its bigger cousin of Chiang Mai, (187 km south), is a good city for temple drifting and coffee sipping. During a week or so in this laid-back town, I was able to walk to many places of interest. Keep in mind that walking is not for everyone. There are tuk tuks, taxis and Grab, the equivalent of Uber. Although I partly got used to it, sidewalks in Chiang Rai were not necessarily designed with ergonomic consideration.
While much is walkable in Chiang Rai, there are a couple of worthy sites that still require a short bus or taxi ride.
If you are walking around looking for a coffee shop, one will eventually appear. The same holds true for temples adorned with statues and intricate far-eastern architecture. Like churches and mosques across the earth, these architectural works of wonder provide a pleasing respite from sitting on a laptop in a cooled, modern coffee shop.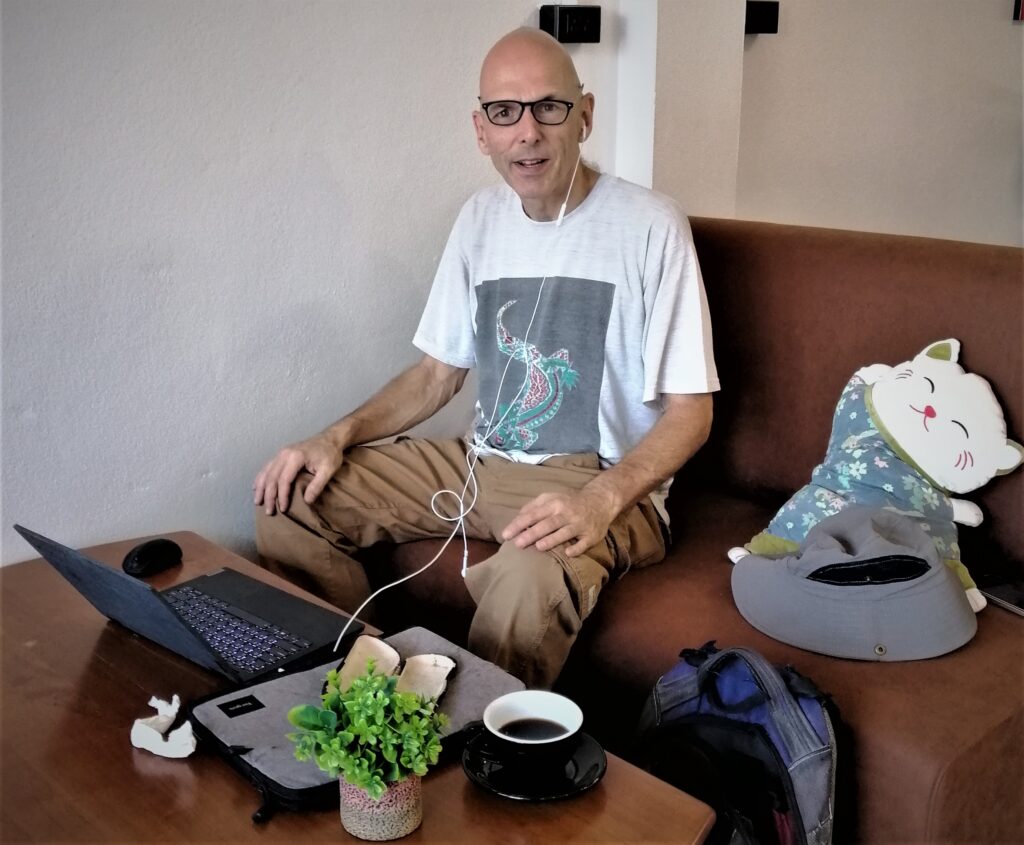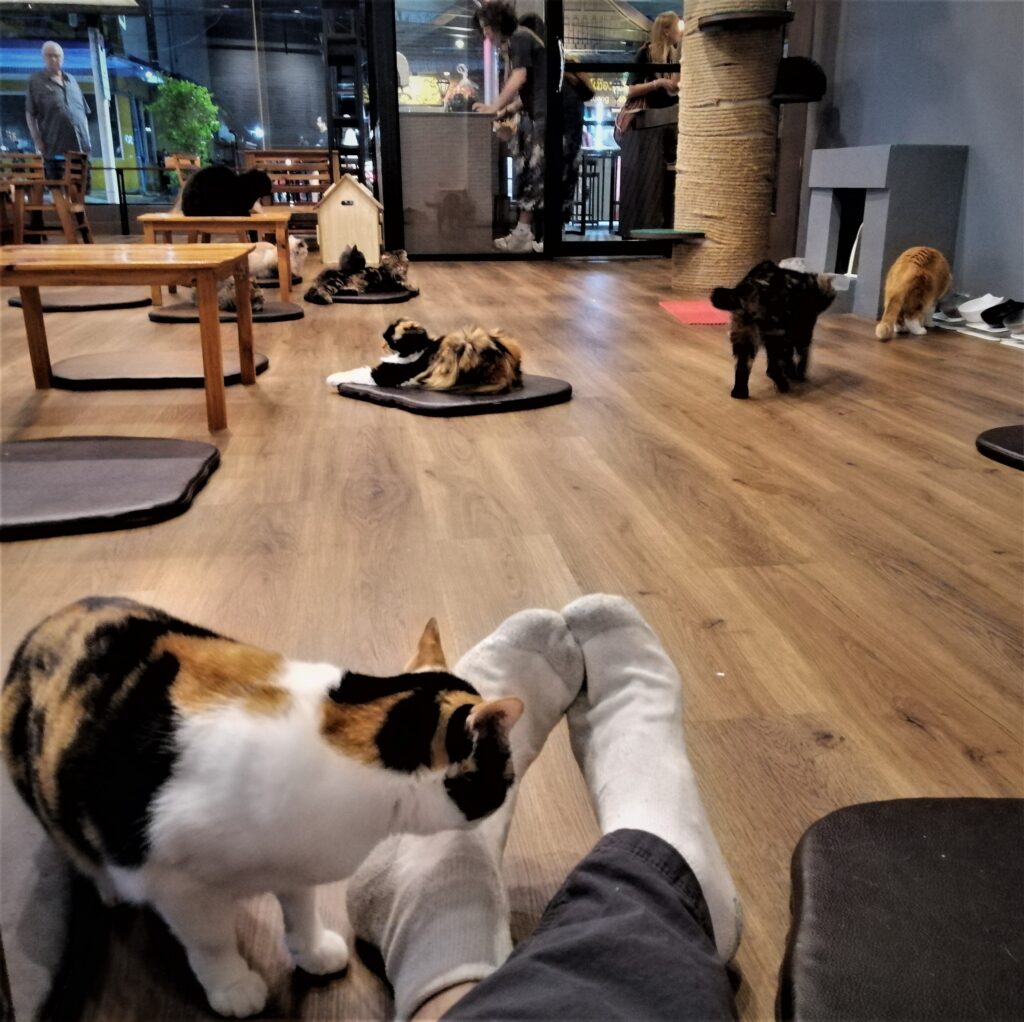 I had only heard of cat cafés as a Korean invention which the Japanese also adopted. This ingenious surrogate-cat idea has obviously spread to Thailand, certainly to Chiang Rai anyway. There you can hang out, have a cup of coffee or other drink or a piece of cake. An impressive note is that they do not jack the prices up because of the feline novelty.
Like most if not all coffee shops in Thai cities, there is a great Wi-Fi connection. Patrons seem to be coming and going, so if this chilled-out cat café is full, check back shortly after or at another time and there will be cushion(s) and a table available. Once a feline feels comfortable enough, it may approach you.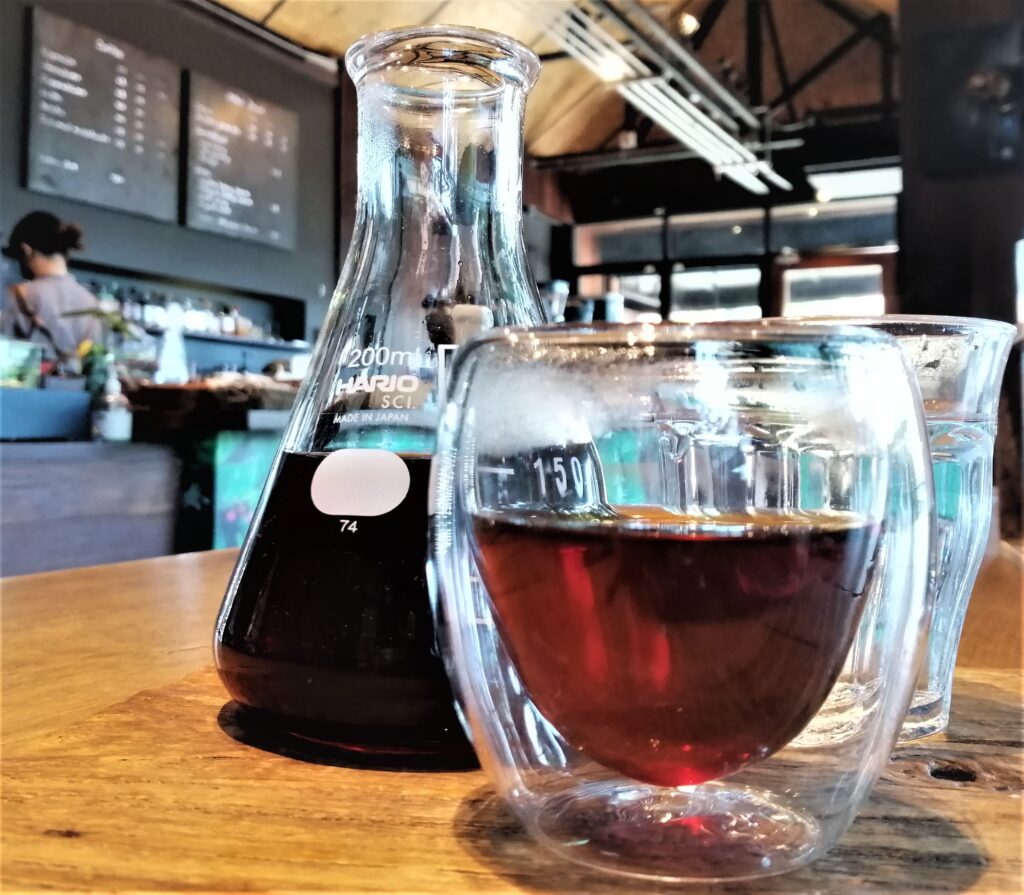 The Roastery by Roj has great ambience, and excellent imported beans as well as Thai beans from Roj's small coffee farm outside of Chiang Rai. While I brought up how I admired the two roasters and the other state-of-the-art coffee equipment, he mentioned that he lived on 50 Baht a day while saving to open his shop. That's less than $1.50. He never deviated from his plan. This budgeting diligence has helped him secure his own designer coffee shop that is now frequented by locals and tourists alike.
Almost everything about the Roastery is great, including talking to its friendly owner. However, like most if not all things, it can not be a utopia. The only flaw I found was in the music. This coffee shop seems to only play modern pop, like a top 40 radio station would, as opposed to something more heartfelt. After sipping eminently-smooth coffee at Roj's Roastery, I found myself with shallowly-written lyrics and their repetitive riffs buzzing through my head.
While not in a café, wandering the city's streets brought about enchanting temples where I could take in the exotic architecture while absorbing extra-peaceful vibes.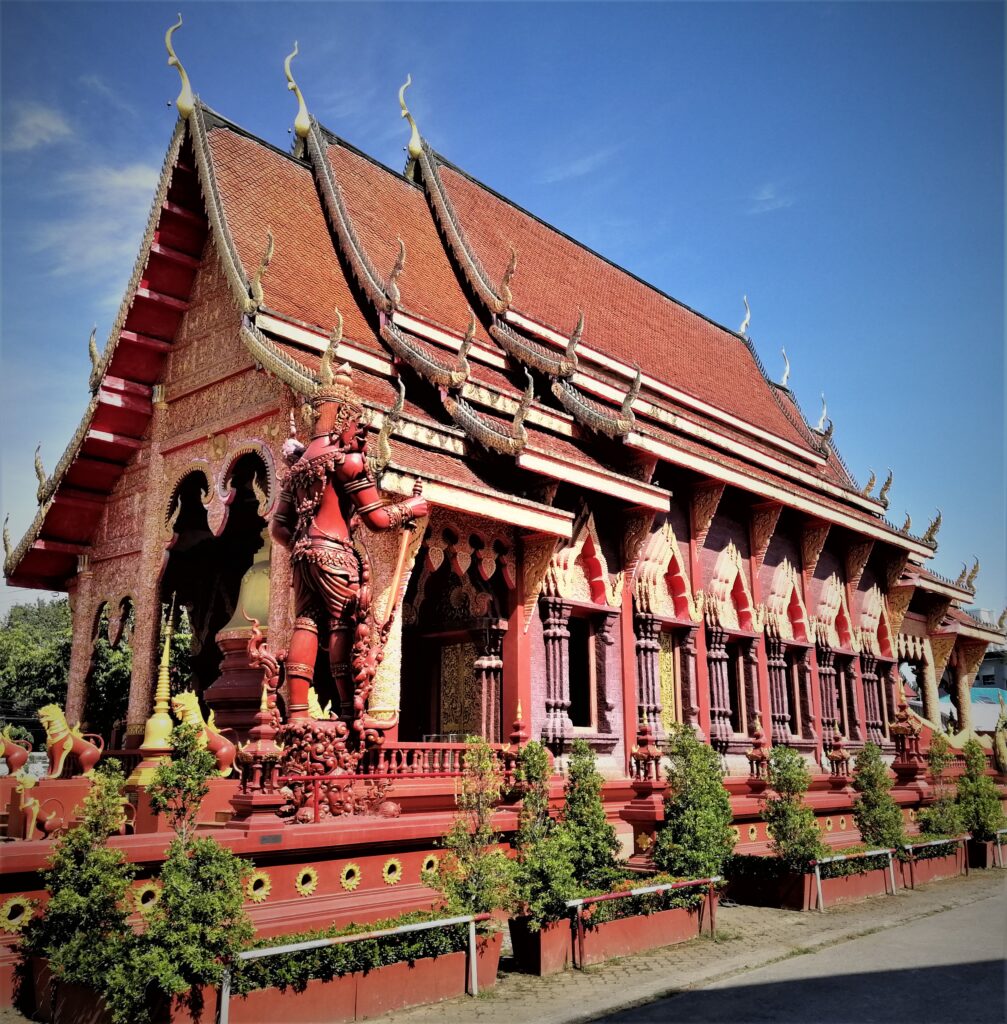 I had no intention of visiting temples in Chiang Rai. However, while rambling its streets and unable to not notice the temples I was passing, I had an epiphany:
Growing up in a western country, a person does not imagine having the ability to lay eyes on such intricate far-eastern design.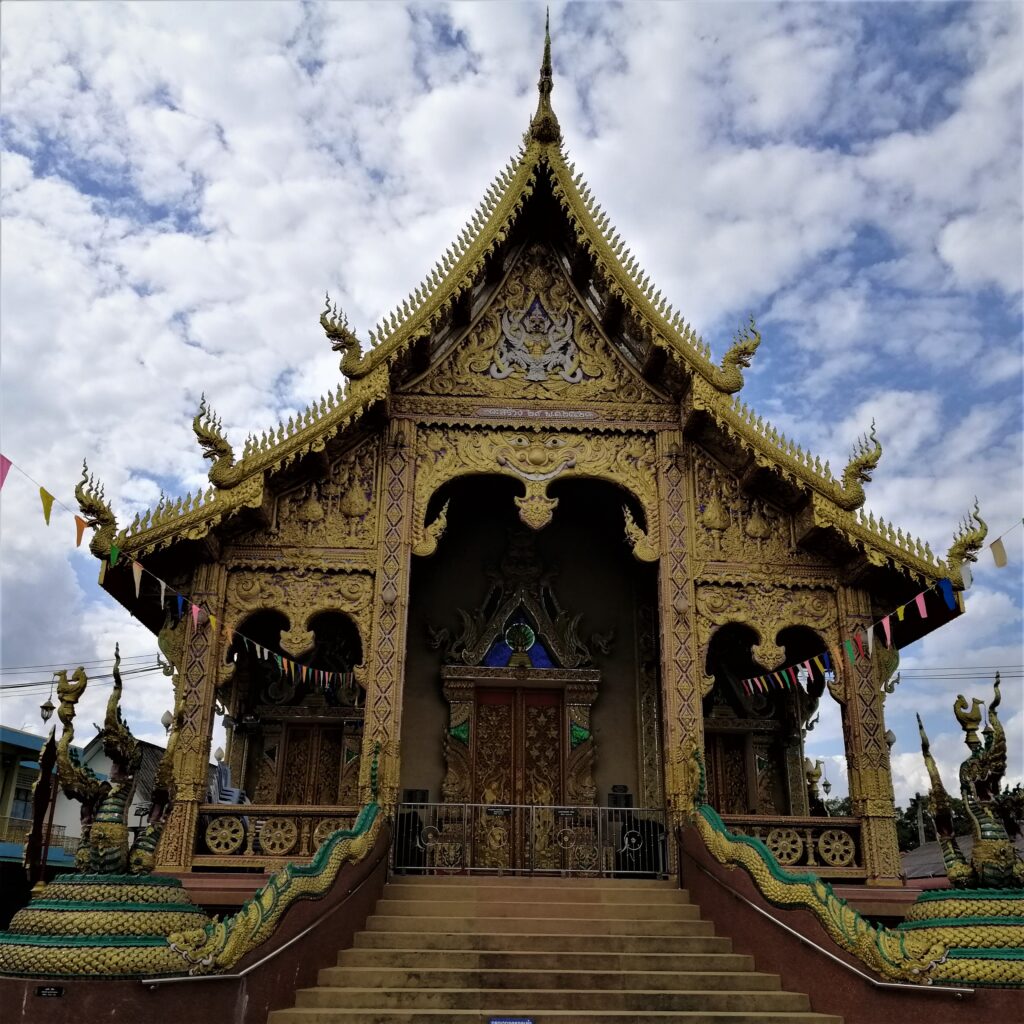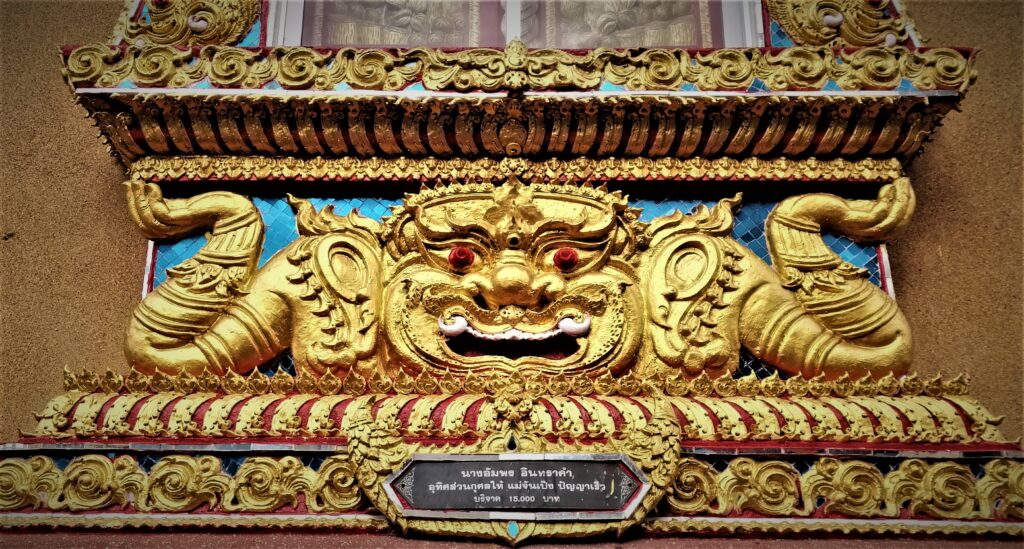 Like with museums, visiting one temple per day tends to be enough as there is usually a great deal to absorb on one holy site's grounds.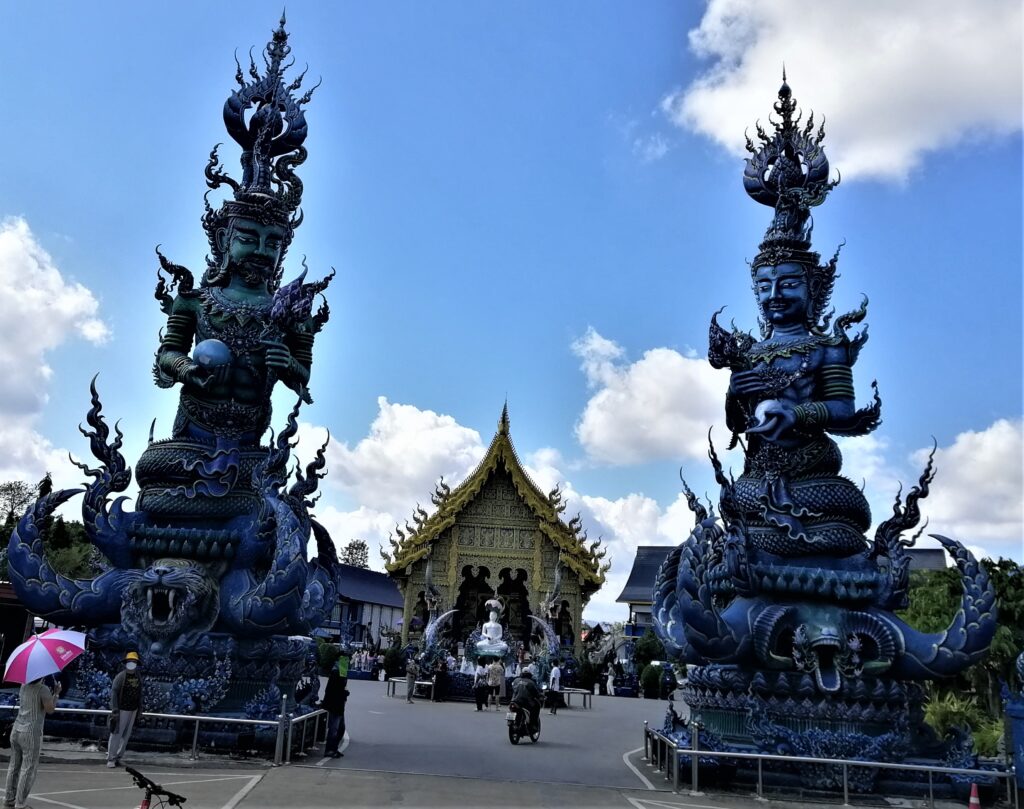 The Blue Temple is one of the extra-famous attractions of Chiang Rai and for excellent reasons. I managed to walk there from the center of town. However, this requires crossing a big bridge over the Kok River. I was the only person on foot but it was easy and pedestrian friendly. If you do not want to do this half-hour to forty-five minute walk from the center then take a short taxi or tuk-tuk ride. A driver will be happy for your business.
As everything is subjective, I do not prefer to use the term: 'must see', but if you are in Chiang Rai, you may want to make it a point to join the rest of the tourists and admire these gaze-worthy grounds.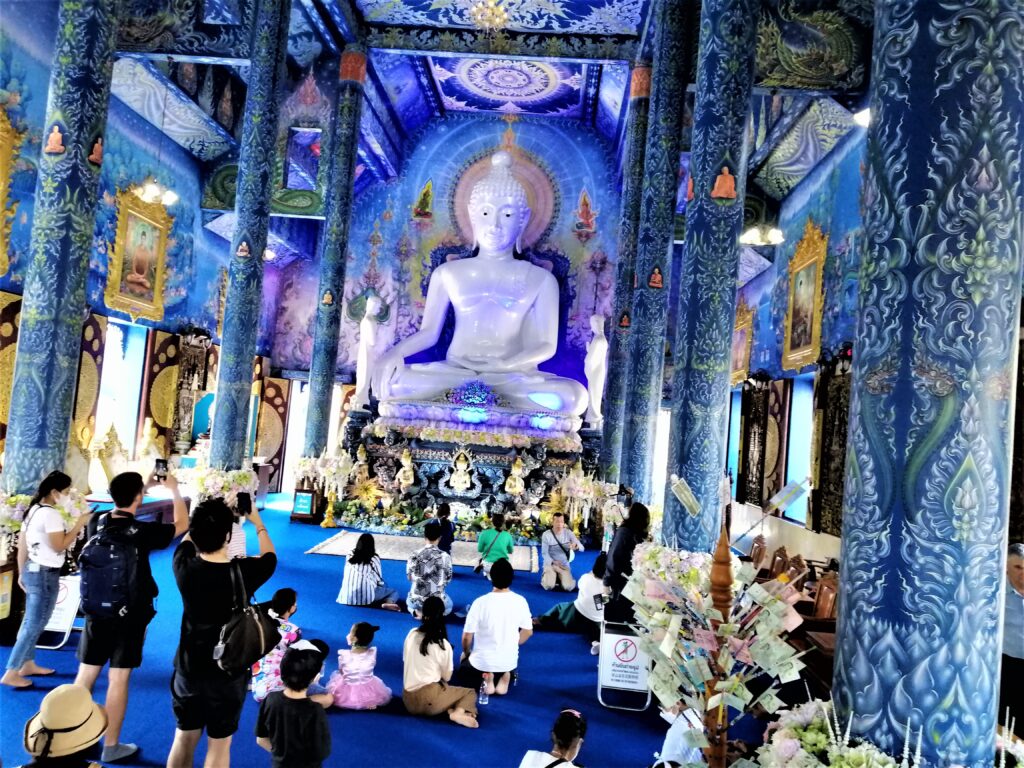 The most famous and visited temple in this, one of the most celebrated temple cities in the world is the White Temple. To get to this architectural world wonder, you must take a taxi or a bus. The most inexpensive solution is to go the downtown bus station, terminal 1. Buses seem to go frequently in the morning. The bus says: 'White Temple' right on it, and the conductor and passengers will probably let you know once you are there. You will also see it from the bus. If you can say:
Wat Rong Kun.
Then you will be even more certain to be put on the right bus and dropped off in the proper place. This wat or temple is about 12 km from the small downtown bus terminal.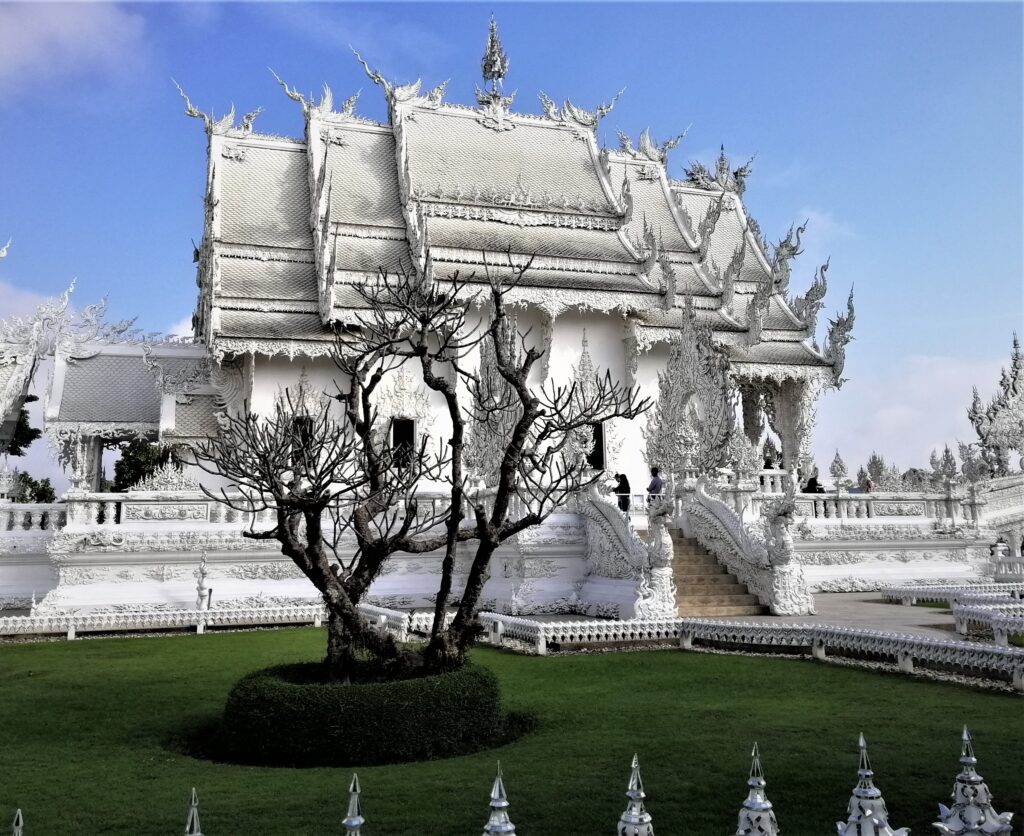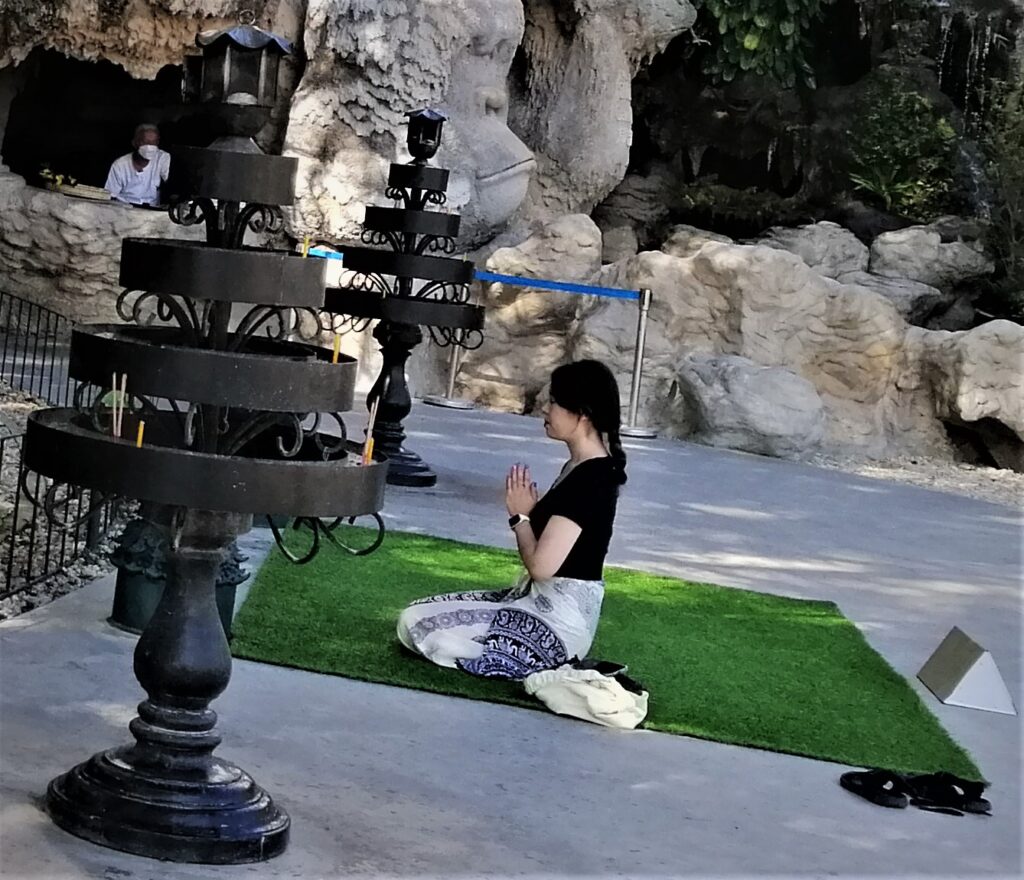 Although very touristy, locals come and admire the grounds, too.
One thing I have just learned

: Kneeling in front of a Buddha statue inside or outside of a temple can bring an extra feeling of internal peace.
I was impressed that the White Temple charges foreigners 100 Baht (around $3). That is a fair price that does not necessarily dent an outlander's daily budget too much.
As beautiful as these grounds were to see, what was even more impressive was visiting the museum. Although the rest of the grounds had a fair deal of people on them, the museum was empty of other people. It featured the visual art of the White Temple architect: Chalermchai Kositpipat. His provocative work digs deeply into the human condition.
Kositpipat's art work in the museum has the following titles: Transend Chaos, Free From Impermanence, Attain Nirvana, Concentration, Confused Mind, Morality, Paradise of Mind, Protect the Relics, Social Media Brain, Social Media Devil, and Way of Endeavor.  
Visiting this museum elevated me with enlightening introspection. I am thrilled to have discovered the work of this revered Thai visual artist.
Photos are not allowed inside the museum.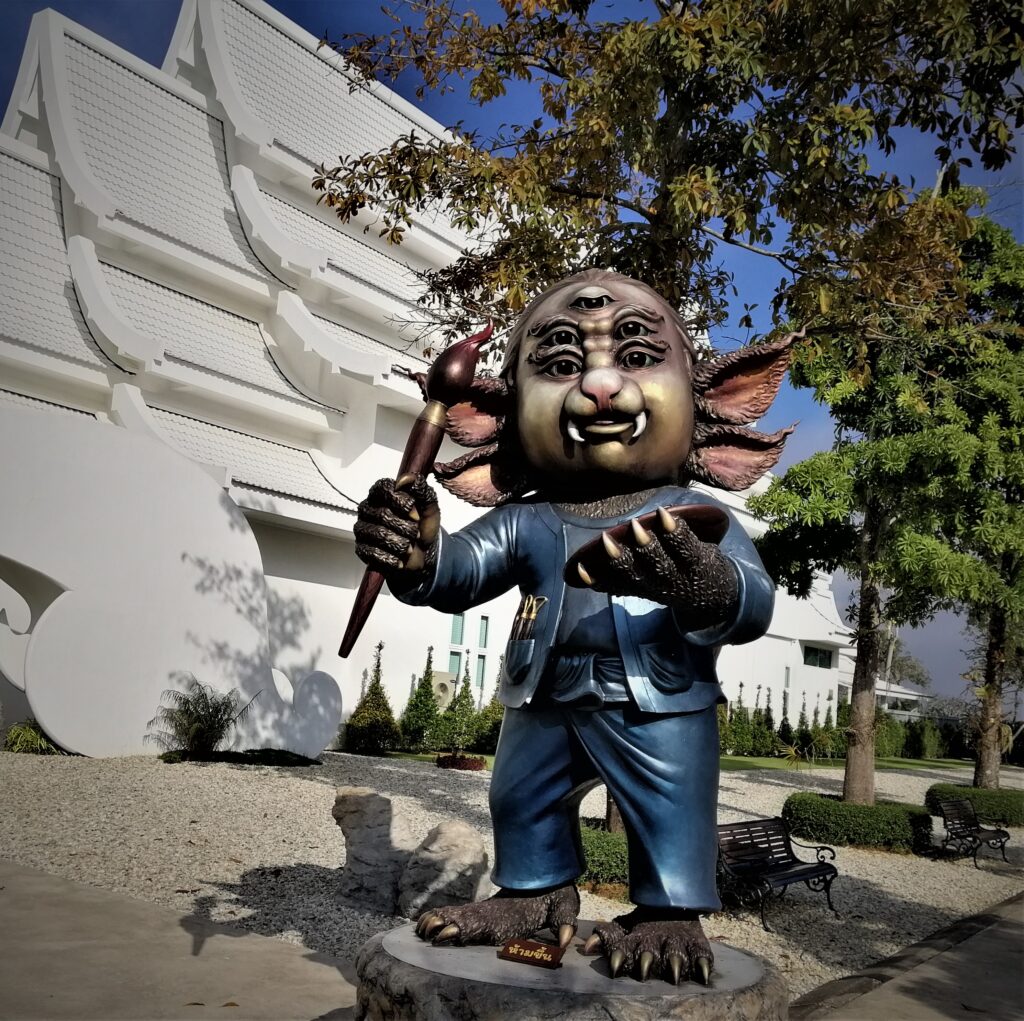 A visit to Chiang Rai may not be complete without seeing the White Temple. And the museum there might have you enthralled.
Along with the White Temple, a visit to Baan Dam, literally the Black House is also a worthwhile journey about 9 km from the Blue Temple, and 12 km from downtown. Do not attempt to walk. I began but retracted as the road does not possess consistent sidewalk integrity. I paid 100 Baht for a taxi each way. You may need to pay 150. I might have gotten a lucky. Haggle nicely and calmly with the driver and see what happens.
At the Black House the visitor will find a quirky museum dedicated to a unique style of art along with more alluring far-eastern architecture in a charming outdoor area that allows for pleasant wandering.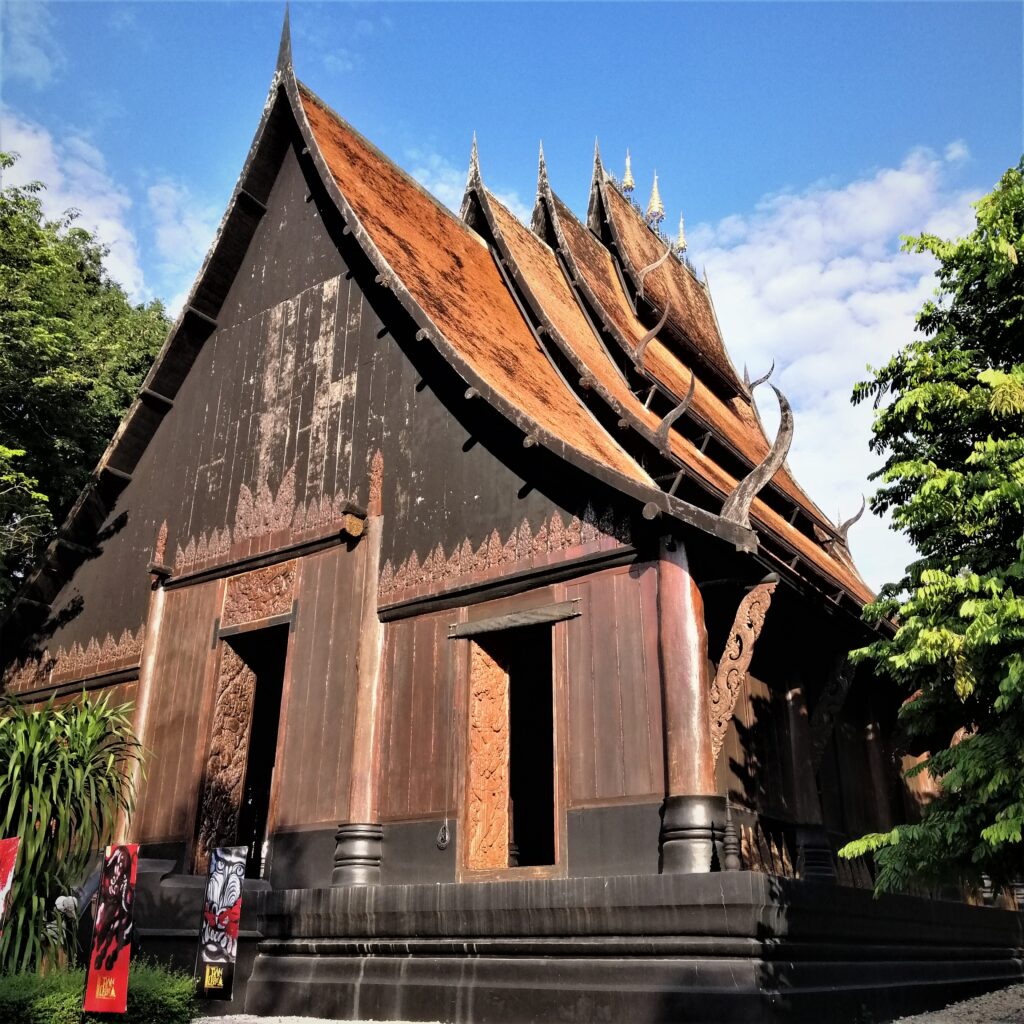 Created by the late Thawan Duchanee, The Baan Dam, literally Black House, blends traditional northern Thai building design with eccentric and modern architecture.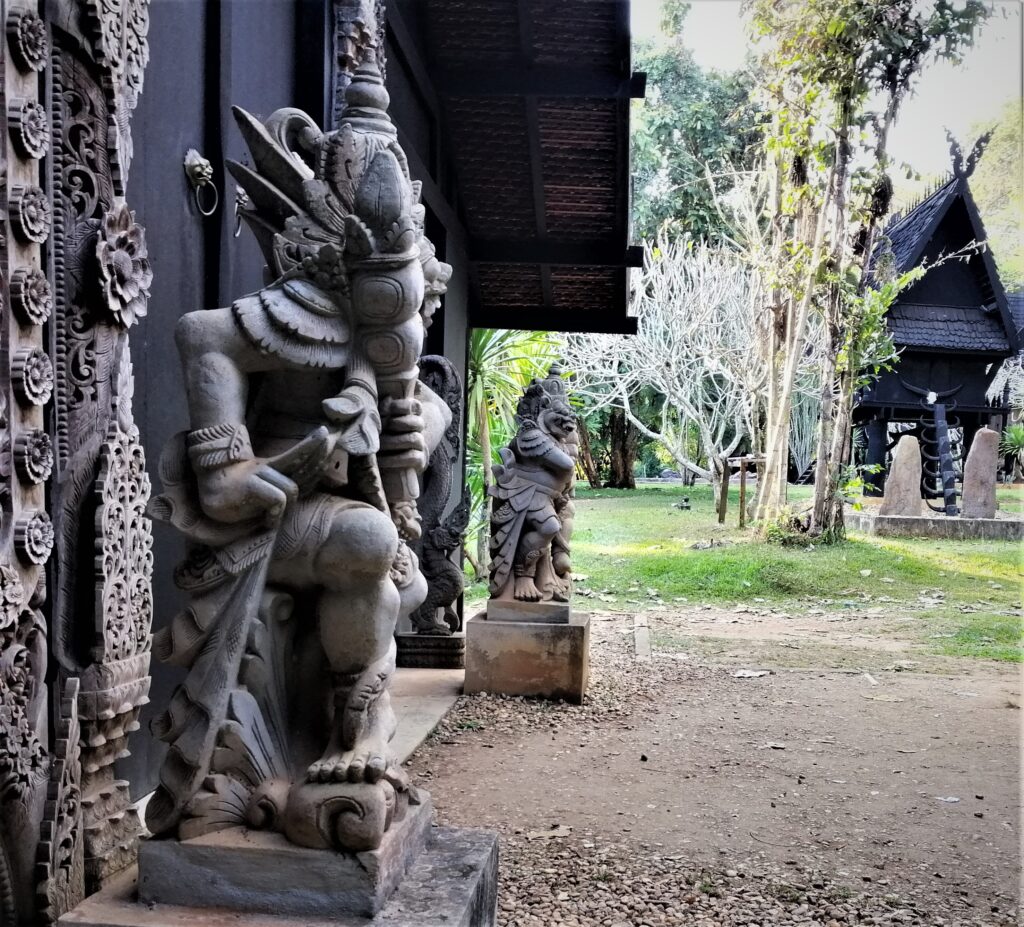 If you are in Northern Thailand, or on your way into or out of Laos, then I highly recommend a stopover in climate-friendly Chiang Rai, a city that wholeheartedly welcomes temple wanderers and café haunters.
Have you been to Chiang Rai? What was your favorite spot there? Leave a message in the comments.
Here is the complete set of 189 photos from Chiang Rai.