I've been in peaceful Pakse on the calm Mekong for three weeks, with nine days before the 30-day Lao visa expires. The original, but loose plan was to stay in Pakse for the full, in-country time allotment. However, during the first few days, the mildly chaotic traffic congestion, God-awful burning fragrance in the air, and lack of bearing caused me to rethink staying in Laos' third biggest city. I thought I would move on sooner.
There are surely extraordinary places to visit outside of the main urban center of tropical southern Laos and its widening Mekong.
A week passed, then two, and now three weeks have gone by in Pakse. That first evening is the only time I witnessed these fires. The air hasn't bothered me too much since. I keep rethinking:
Maybe I'll skip the stellar sites and remain here in this urban Lao setting for the full 30 days. It's so nice to be in one place where everything I do is accessible by foot.
The current $8.50 a night abode is clean, comfy, spacious and wired; exactly what I need. The router is outside my door. Having a solid Wi-Fi connection is often a given in this region of our behemoth earth ball.
For me, comfortable accommodation can make or break a place.
This Deal-of-a-Lifetime Must Come with Drawbacks
For a nightly rate, this is one of the best values I ever recall achieving. Nevertheless, It can't all be positive. There's an on-premises restaurant where copious beer is consumed. It's open and utilized until 11 p.m. sharp, every night, like clockwork. The mostly Lao (Thai) music is blared and there always seem to be people talking loudly over it. Beer Lao is imbibed. Copious, slow-cooked, flesh-cuisine is consumed. This includes the ubiquitous moo or pork, which isn't uncommon to be eaten for breakfast, lunch and dinner. Pork is the most inexpensive of the big-three land animal food products. Chicken is the next cheapest, while beef and fish are more expensive.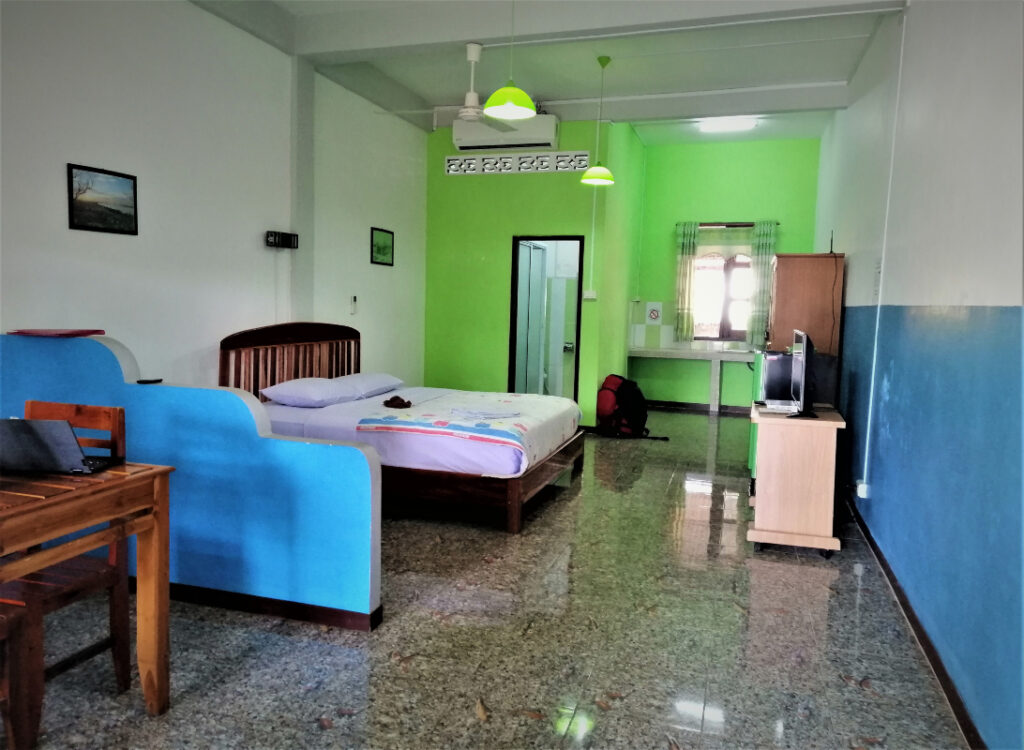 There are also mosquitoes that will find any open piece of skin hanging outside the comfy down blanket. And this is with the air-con cranked.
It's a tropically benign reality that ankle and hand itching are, at times, a part of life. I have citronella essential oil. I mix it with coconut oil and rub it on my head, face, hands, arms and lower legs, ankles and feet. Mosquitoes don't like citronella so the oil suffices, but on some nights only for a few hours, before I wake up itching just my face, head and hands again. Then I need to get up and reapply. It feels annoying, so I make it a point to remind myself:
It could be worse. What if these mosquitos were stinging red jungle ants?
Then I emit a faint chuckle and plop back into bed.
Typically I don't like to kill anything. But when I see a mosquito gliding around the room, I try to clamp it between my hands. I don't need the stain on my palms but that's better than another mild bite or more, and it's easily washed off. Thankfully, the problem has been mostly fixed as the woman of the house who cleans my room and changes my sheets every morning now also fumigates the room. So the mosquitoes have been sparser.
Normally I would probably tell them not to change my sheets daily, however there have been nights when I've woken up in a pool of sweat. I attribute this to daily massage and sauna therapy.
Massage Therapy Culture
I have created a daily makeshift spa experience. There are several massage shops scattered around, mostly in the main area. Massage has been an intricate part of Lao culture for centuries.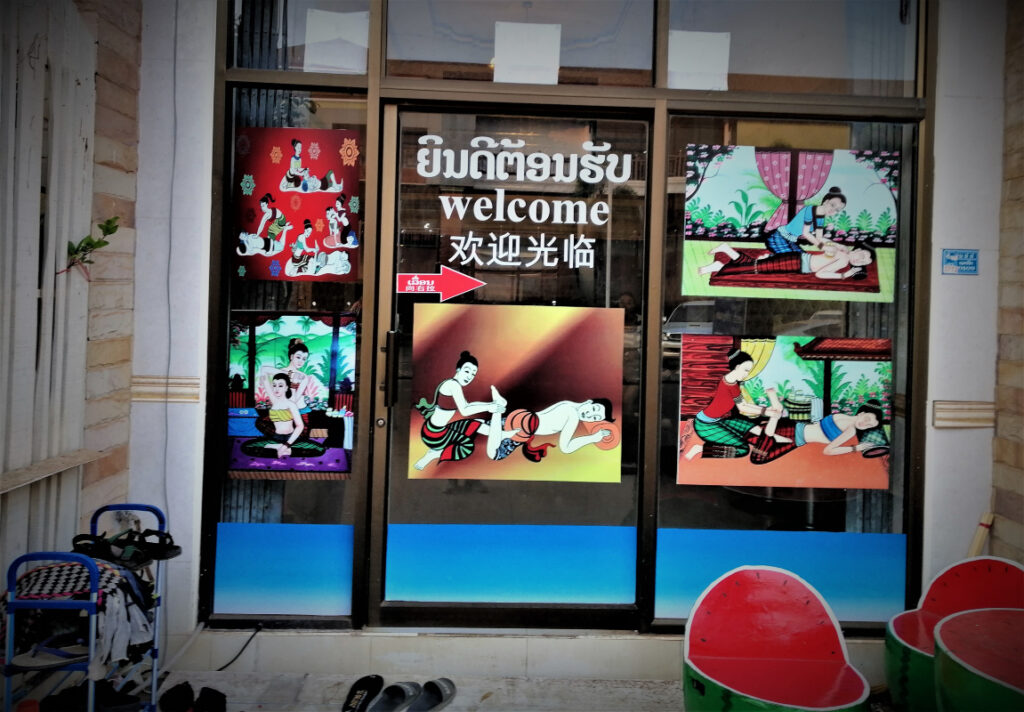 Due respect ought to be paid to the ancestors responsible for this culturally electrifying magic. The therapists know physiology and how to dig right in to the skin. They perform physiological wizardry that induces euphoric fuzziness. I have huge respect for massage therapists for their knowledge of the body and the contribution they make to the human experience. In my opinion, these special beings here in Laos deserve a cash-tip in hand since they perform a gigantically generous deed. Give it to them, not the guy on the street who asks for money for nothing. This is my subjective stance.
In the last three weeks, I've had a therapeutic massage almost every day. This is probably equal to all the massages I'd had in my lifetime prior to arriving in Pakse. Thusly, I have become more interested in massage therapy and its health benefits.
Sauna Culture
Most if not all Lao cities and towns have rustic local sauna services. I have been to five other Lao cities, all of which have at least one sauna that is open in the late afternoon and into the evening. The fee includes a pair of shorts, a towel, key to a locker, shower access and unlimited hot herbal tea. The sauna/steam I use in Pakse also has three barbells available for pumping iron. This is the male side. Most saunas in Laos are segregated by gender. At this particular sauna, the whole outside area is divided.
A Lao sauna is purely local and not a tourist endeavor, so it gives the outsider immersion in the culture while feeling fantastic as the heavenly heat penetrates the skin. Since visiting this sauna about six days a week since arriving in Pakse, I have become interested in the health benefits of body heating.
Café Culture
There is no shortage of coffee shops serving local coffee from the nearby Bolaven Plateau, a place of altitude that I hope to visit soon. Although so far, in three weeks, I have not travelled beyond the central city limits of Pakse. I've been able to walk to coffee shops, restaurants, massage parlors, and the closest sauna/steam facility to my dwelling.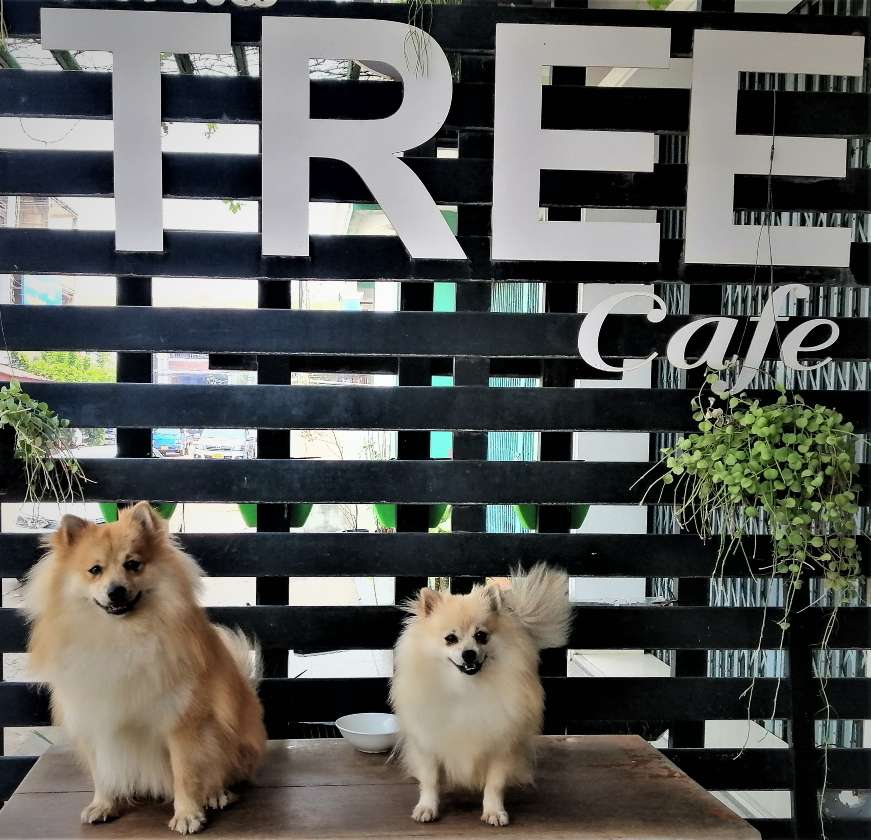 The Tree Cafe is owner run. These are his two ultra-cute puppies that he recently purchased across the border (three hours away) in Ubon Ratchatani, Thailand. They seem to always be there when he's open between 6:30 a.m. and 3:00 p.m. They love people and always want to play.
I haven't wished to transcend my walking radius. Living sans vehicle even for a day is a win for me, never mind for three weeks. So far in Pakse I have managed to walk everywhere despite buzzing traffic and sometimes lack of sidewalks.
Drivers in Laos and Thailand seem to have solid respect for pedestrians. There are often no lights to help a person cross the streets, so the cars will almost always slow down or stop for you. That said, we still need to drift the streets and its sidewalks with caution.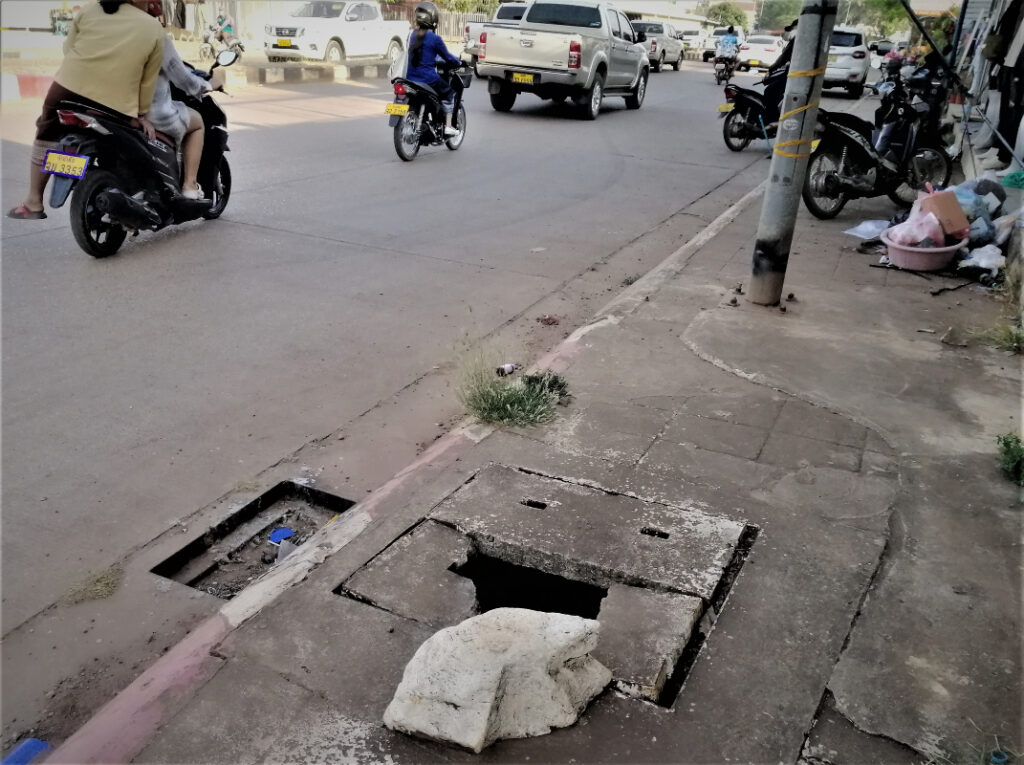 Although rare in Pakse, compromised pavement must be taken into consideration. I would not condone walking around inebriated after dark.
There are a good deal of walkable cafés around the main area of town. Typically, if something doesn't seem like it can be reached on foot, or if I were lost, there are plenty of motorcycles, motorcycles with side cars, tuk tuks and actual taxis that will gladly have your business.
There is language left over from the French occupation of Laos from 1893 to 1953. Chinese is getting more popular; while English is the second language of the land. A Chinese person typically communicates with a Lao person in English, via a phone translator or with makeshift sign language.
Most establishments serve food while a few serve only drinks. All have good Wi-Fi and world-class coffee, tea and cacao drinks. They will need to know if you want your coffee or tea, hot: hon, or cold: yen. Some know these words in English, some don't. A little Lao or Thai can go a long way. Lao is very close to Thai. Most Lao people understand it.
Other than Café Amazon which I've noticed in every Thai and Lao city I've been, the rest of the shops in Pakse, like the two above, are mom & pops with unique characteristics. This lack of monopolization is wonderful and more ideal.
A Culturally Polite and Pleasant People
Other than the incredibly innocuous and nice-enough tuk tuk or side-car drivers who need to put food on the table, no one bothers you.
As Pakse is not a place that sees swarms of tourists, you will get excited waves and hellos from children. I always make it a point to smile, say hello and wave back. It's common to get get smiles from adults. I just smile back. Maybe it's the calm climate. Perhaps it's the peaceful and respectful, ancient attributes. The Buddhist philosophy which encourages respect and meditation, must play a roll. Whatever the reasons, the people are generally polite and appear super-calm, or emotionally intelligent.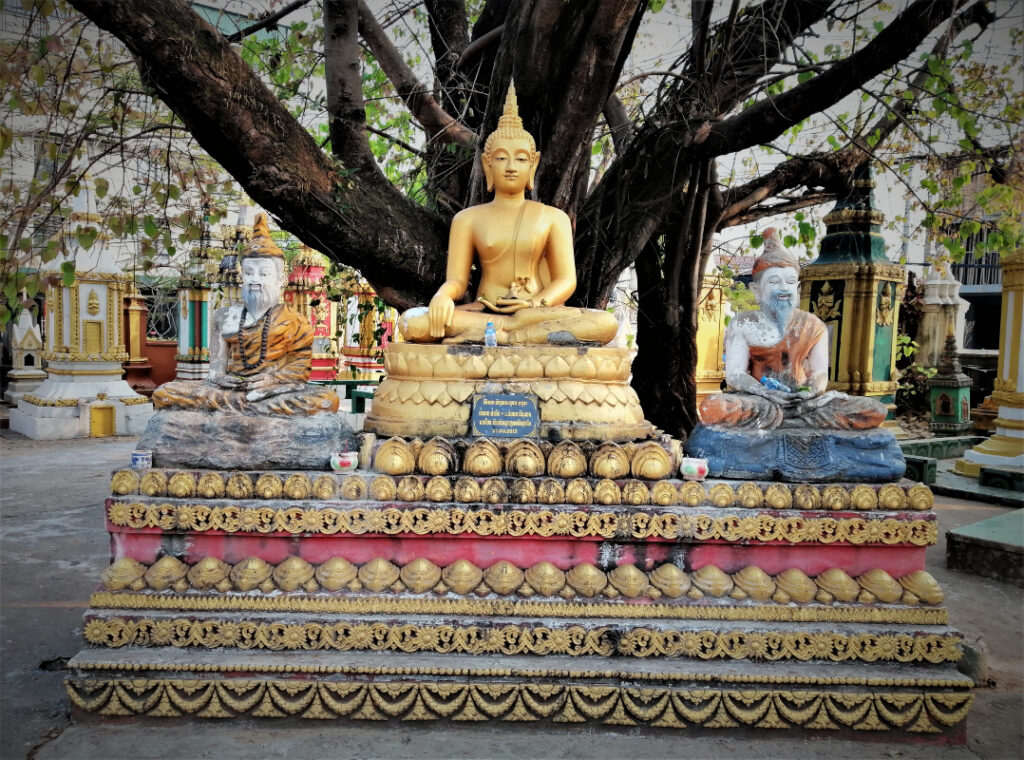 Unlike in Chiang Rai and Luang Prabang, I have not been temple touring in Pakse. So far the only complex I've visited is Wat Prabat as it's just minutes down the road from where I'm staying. I don't feel templed out, things have just happened this way. Apparently Pakse is not lacking in terrific temples.
There tends to be a lofty language barrier as the majority do not seem to speak English. The younger ones can brainstorm and remember numbers and expressions when you're paying for things. And you do find some English speakers working in the tourist trade. They can provide interesting conversation if they have time to spare from their potentially busy work and life load.
A Laid-Back Urban Vibe
Pakse doesn't seem to be on any tourist path per se and is a bit out of the way for many travelers. Tourist services are available. There are always a few drifters around using the city as a hub for the 4,000 islands in the Mekong, the Bolaven Plateau, and other surreal nearby sites. Additionally, there are a few expats living here, too.
Rustic and Not Over Commercialized
It's been wonderful to not step into a vehicle for three weeks. Even though world class sites are short journeys away, I enjoy the routine of having an array of café options in the morning, and sauna and massage on most afternoons/evenings. After the sauna time, I look forward to the electrifying escape of the magical massage.
Because I'm starting to become enamored with southern Laos, I decided to visit the Foreigner Control Office just a 10-minute stroll away from my temporary abode. There I just picked up my passport with a 30-day visa extension, which cost a total of 635 k Kip in cash. That's $38 at the current exchange rate. Along with paying the money, I had to fill out a short form and provide a passport photo and my passport. This morning, two days later, I seamlessly picked up the passport with the new stamp good until April 20. The government workers at the facility were pleasant, talkative and smiling. In the foreigner section they spoke English.
The current loose, wide-open plan is to venture somewhere outside of Pakse the day after tomorrow.
Daily Costs in Pakse
EXPENDITURE
DAILY COST

Accommodation

:
140 K Kip – $8.50

Sauna

:
20 K Kip – $1.25

Massage

:
90 to 200 K Kip – $5.50 to $12 depending on massage

Food & Drinks

:
220 K Kip – $13.30 – rough average eating very well

Lao Visa

:
$40 to enter Laos for 30 days – $1.34 per day

Walking

:
Free
TOTAL
510 K Kip + $1.34 = $31.94 on average daily expenditures
Rough daily expenditures in Pakse, southern Laos
Have you been to Pakse? What did you think? Feel free to leave a comment below.
Here is the complete set of 95 photos from Pakse, on the tropical Mekong.